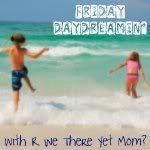 Ahhh…March! March is a wonderfully sunny month for us here in Texas. We fully enjoy the sunny days, cool breezes, and gorgeous color that is painted on our rolling hills in the forms of Texas wildflowers. As we head into Spring, I want to know what or where you are daydreaming about today. What does Spring mean to you & your vacation plans? Where do you WISH you were today?
Tell us all about it in a post, include a picture or two, and link up down below. I LOVE spending my Friday mornings seeing where everyone is daydreaming about.
For me? I'm daydreaming about getting outdoors and feeling that sun on my face. I love exploring the rugged Texas landscape, like we did a few short years ago as we climbed Enchanted Rock in the Texas Hill Country. We tie up our shoelaces, leave our cell phones in the car, and spend quality time with the kids. Makes me want to go right now!!
Where are you Daydreaming about? Tell us!
******************************************************