This is the list you need of Holiday Events in DFW – from Christmas Plays, Trains, and Snow, we have found all the events happening in the Dallas/Fort Worth Metroplex to help you have a memorable Holiday Season. Check out these 16 Holiday Events in DFW: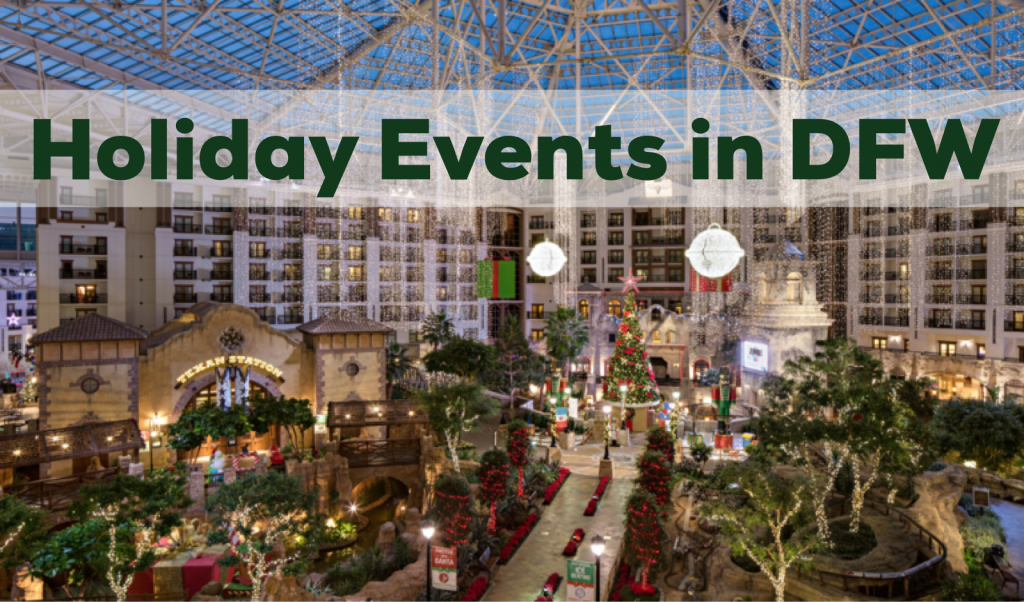 It's hard to believe that the Holidays are soon upon us! And the Dallas/Fort Worth Metroplex really knows how to celebrate the Holiday Season. Check out these fun Holiday Events in DFW happening in November & December.
Holiday Events in DFW: November
---
12 Days of Christmas
Dallas Arboretum
November 9 – December 31
The Dallas Arboretum brings back the Holiday event that started last year to get you in the Holiday Spirit! 25-foot Victorian gazebos filled with costumed characters and whimsical animals that are made famous by the beloved Christmas carol. Each gazebo will be encased in glass and extravagantly decorated on all sides to provide a dramatic, three-dimensional experience, and will feature mechanical parts and festive music that will assist in bringing the characters to an even more life-like state. Special Events are planned throughout the holidays.
---
Lone Star Christmas
Gaylord Texan
November 15- January 5
The Gaylord Texan takes Christmas celebrations to an all new level! Their massive ICE! featuring A Charlie Brown Christmas, display is enough but then they add in Santa's Wild Workshop Snow Tubing, Glacier Glide Ice Skating, Elf on the Shelf Scavenger Hunt, the amazing decorations throughout the resort and more and this is one heck of a fun activity!
---
Boasting Fort Worth's only outdoor ice skating rink, they have plans for visits from Santa, seasonal music and more.
---
Santa has come to Bass Pro Shops! Get a FREE photo with Santa and enjoy crafts & games in his Wonderland. Make sure to sign up for a time online to lessen your wait.
---
The Trains at NorthPark
NorthPark Center
November 16 – January 5
For 30 years, children of all ages have been thrilled to see the amazing holiday train display at NorthPark Center. Benefitting the Ronald McDonald House, there is over 1600 feet of track that cross the USA, including downtown Dallas!
---
Fort Worth Parade of Lights
Fort Worth
November 24
The 36th Annual Nighttime parade along the streets of downtown Fort Worth features over 100 lighted entries!
---
This classic tales comes to life on stage this season. Fun for the whole family, get your tickets early – I hear they sell out every year!
---
With over 2 million LED lights, this drive-thru display of Holiday Lights at the Texas Motor Speedway is a MUST DO!
---
Take a train ride back in time with music, sleigh bells and a visit form Santa make this such a sweet experience for families!
---
Christmas at the Anatole!
Hilton Anatole
November 29 – December 23
Experience holiday magic at Christmas At The Anatole! Featuring breakfast with Santa, face painting, Christmas-themed scavenger hunts, and the new Peppermint Park, which will take place in the Anatole park and will feature games and activities for kids, visits with Santa Claus, holiday shows, train rides around the park, light displays and more!
---
Texas Christkinel Market
Globe Life Park
November 29 – December 22
Inspired by a cherished German tradition, the Texas Christkindl Market in Arlington, Texas is one of the largest open-air holiday markets in the Southwest. Nestled next to Globe Life Park (Road to Six Flags and Nolan Ryan Expressway), this family-friendly market features a unique shopping experience for gifts and holiday decorations along with authentic German cuisine, holiday beverages, live entertainment, children's activities, and much more!
---
The Dallas Symphony Orchestra has several amazing concerts planned in December from Family Concerts with Santa to the Home Alone movie in Concert. Check out their schedule and make a plan to see one.
---
Prarie Lights
Lynn Creek Park
November 28 – December 31
Prairie Lights is the premier holiday light park in Texas located at Lynn Creek Park on Joe Pool Lake in Grand Prairie, Texas. Join the City of Grand Prairie for millions of holiday lights, fun with Santa, holiday shopping, a holiday laser show, and more!
---
Snowday is an immersive experience in the heart of Dallas. Guests will navigate their way thru immersive rooms and experiences and lots of fun photo opps!
---
Holiday Events in DFW: December
---
The Gift of Christmas is a Prestonwood tradition and has become one of the highlights of the Christmas season, with thousands of guests attending every year. This visually stunning, multimedia event is complete with special effects, a thousand voices and instruments, flying angels and much more!
---
This classic tale comes to life with Texas Ballet Theater only at the Bass Performance Hall this year. It's the perfect family traditional Christmas show. Get your tickets now. And don't forget to look into the Nutty Nutcracker – a PG-13 version of the show – I hear it's a riot!
---
This is just a few of the tons of great holiday events that are happening in Dallas & Fort Worth this season. There are so many more! Check out the Visit Dallas Event Calendar and the Fort Worth Holiday Events page for more ideas.
Are you new to R We There Yet Mom?
Welcome! We are a website dedicated to having fun and making memories in Texas and beyond! We love to travel and give you inspiration to take trips with your family as well.
But we know we can't always be traveling (or maybe we can??), so while we are at home, we have lots of fun activities for you to try in the Texas area.
Looking for a unique Holiday Gift idea?? Check out the Pogo Pass! We can get you $10.00 off the retail price – click here!
Are you looking to see what else is going on in Texas over the Holidays? Check out these events:
Top 10 Holiday Events in Dallas/Fort Worth
Top 10 Holiday Events in San Antonio
28 Holiday Events in Austin
Don't miss our big list of Holiday Lights in the Dallas/Ft Worth area!
And we love our BIG LIST of Things to Do in Dallas!! Try to check off some of these over the Holiday season as well!