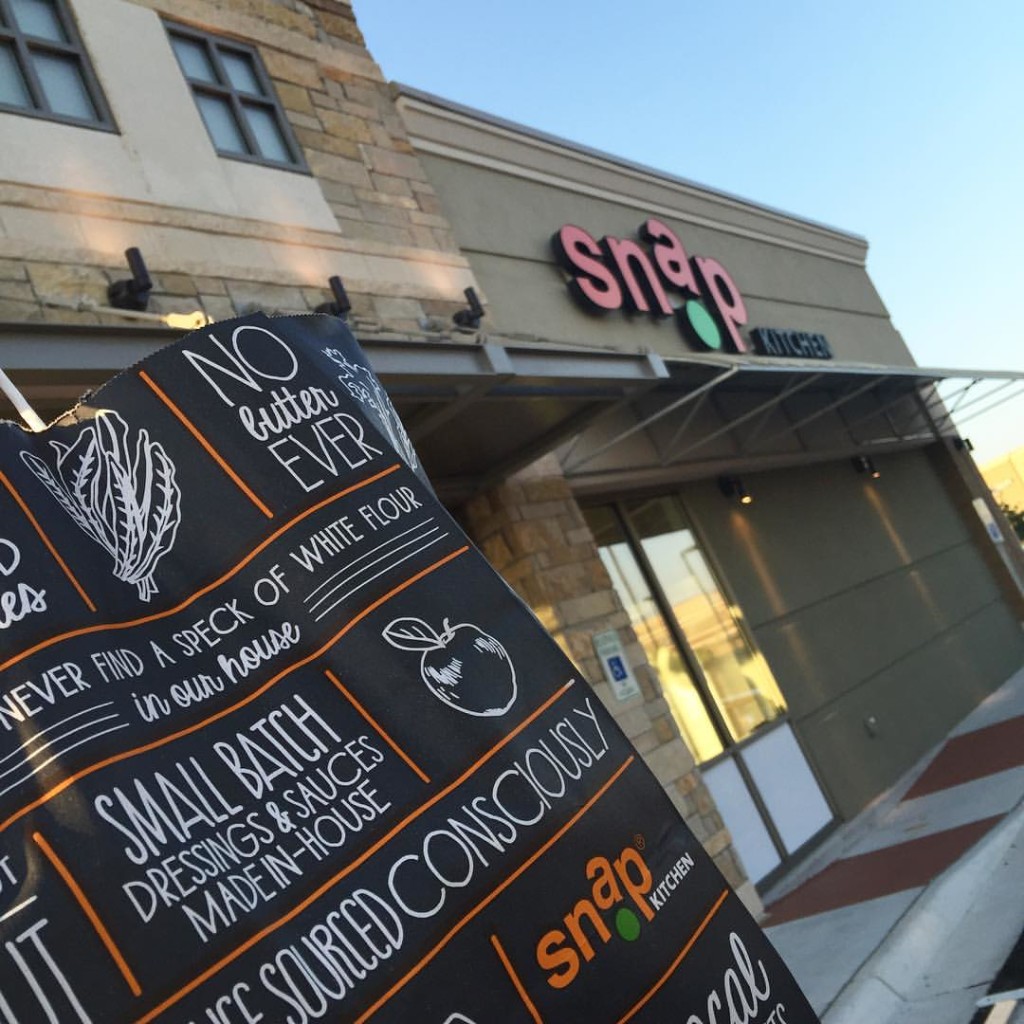 I am at the end of Week 2 of my Snap Kitchen 21 Day Commit program and I'm going to give you the truth – this week was hard.  Temptations were EVERYWHERE.  The first week, the program was all fresh & new and I was committed.  This week…not so much. In no means was it the food, it was having the simple will power to say no to the other foods junk that I wanted. But I did and it paid off.
As a reminder, the Snap Kitchen 21 Day Commit program provides you with 21 days worth of meals – breakfast, lunch, dinner, and 2 snacks – all at 1200 calories (for me – it's adjusted for each person.
My goal is simple:
21-Day Commit Goal: I want to go down 2 clothing sizes by December 2015.
And my tactics to get there are pretty straight-forward:
1. Follow the Snap Kitchen menu for 21 days
2. Cut out Diet Coke and drink water.
3. Exercise 5-6 times a week.
4. Get at least 7 hours of sleep a night.
5. Allow myself a Free Day (meal) each week.
So how am I doing?
Follow the Snap Kitchen Menu for 7 days
After 7 days of Snap Kitchen meals, you start to know which ones you really like and which ones you could do without.  The wonderful thing about this program is that it is NOT SET IN STONE. Mike is the manager at my Snap Kitchen store and once I told him what some of my favorites were, he started adding them in.  For example, I LOVE the Goat Cheese & Tomato tart and I told him that I would like to eat that at least once every 3 days. Done.
At one pickup, he allowed me to go through my next 3 days of food and make some substitutions.  The point being, you are not married to the menu – you are going to eat it, so make it what you want to eat.  Trust me, it makes the program that much easier to get your favorites.
Now Mike & I touch base once every 3 days via email so he knows what I am wanting to eat and more importantly….what I'm not.
Some of my favorites from Snap Kitchen this week:
I really love any of Snap Kitchen's salads.  They have a variety of them from Chinese Chop Chicken to Spinach & Raspberries.  This Greek Salad with Shrimp was so good.  It was huge and so full of flavor. You can't go wrong with any of their salads.  And the best part of them?  There is no guessing how many calories it was as the nutritional label is on the side.
As we move into cooler temperatures, the menus change.  One of my favorite breakfast items (besides the goat cheese tart) is the steel cut oatmeal.  It is perfectly portioned and you feel like you are getting a hearty meal. This week, they introduced the Cinnamon Apple Oatmeal. It has crunchy walnuts. YUM.
Snap Kitchen makes all their own nut blends and they are SO GOOD.  The Necessity Blend is my favorite – there is a perfect balance of sweet and salty with the agave nectar and orange zest and the sea salt and nuts.  This is a really great snack.
Cut out Diet Coke & Drink Water
I drank a diet coke this week.  Bummer. It was really good.  For the most part, I have drank water over anything else (except my morning coffee) and I am finding myself very thirsty at the end of the day when I haven't had enough.  So, I could have done better here.  I need to consciously remind myself to drink it all day long.
Exercise 5-6 Times a Week
This one is easy for me – I am up at dark-thirty 3 days a week to workout with Camp Gladiator – again, it's FUN! Check it out here.
I like to work out in the morning, the earlier the better.  It think it's mainly so I can get it done and get on with my day. The adrenaline gets my day started and I am motivated throughout the rest of the day.
I am finding that having a dog really helps you get in some exercise too.  Twice a week I run with my buddy, Jake.  And anytime I can get my youngest off the bus (when it's not in the 100s – which it still was last week), I try to take Jake with me for a quick walk up the street.  Every little bit helps.
Get at least 7 hours of Sleep each night
It's a nice idea but with the schedule we are keeping, we are lucky to get in 6. At least I can try.
Allow myself a Free Meal each week
This is where temptation got me this week.  I knew I had a free meal on Saturday, so I ate very few calories for the morning & snack.  However, because we had an early start to our day, I was starving by 11 am.  So I decided to take my free meal for lunch instead of dinner.  And I had Chick-fil-a.  And it was so good……
But then I crashed and fell asleep on the couch for TWO HOURS.  I felt awful. Yes, it was probably because I got up at 5 am to take my daughter to catch the bus for her cross country meet, but the grease-ladened sandwich didn't help. at. all.
Week 2 Results
I went into the weekend down 2 pounds (down 7 pounds overall) and I was actually able to maintain that weight by Monday, despite the chicken sandwich. I am also fitting a tiny bit better in shorts and pants and that is my overall goal.
It's hard though.  I want immediate results and I keep having to remind myself that slow and steady will win the race.  So when it's 3 pm and I really want something salty, I am filling a glass of water instead. It doesn't taste as good, but if I want to get to my goal, I have to stay the course.
So that was a paragraph full of cliches' wasn't it?
But it's true. I have to remain committed to lose the weight I want.  Here's to strong willpower in Week 3.
To hear about my First Week on the 21 Day Commit Program, click here.
To hear about my 21 Day Commit and why I chose to do it, click here.
To learn more about Snap Kitchen, click here.