We are on to Car #4 in our search for Mom's Perfect Car! Yes, I know there is no such thing as a "perfect" car, but I really want to do my research and find the perfect car that will fit my family.  Lucky for us, GM is on board with our search and has been kind enough to let us test drive a few of their vehicles that fit my criteria.  Read on to learn more……
Minivans and moms go hand in hand, right?  Especially if you have more than 2 kids, a minivan is just so convenient. And we were there.  Trust me, there is nothing better than automatic sliding doors when you have a newborn.
We ran our mini into the ground – between soccer practices (yes, we OWN that cliche'), school carpools and even a 3 week road trip (our little Honda Odyssey took us all the way to California and back!), we loved our minivan.
But once the kids got older, I was ready to move on.  And that I did. Empowered to get a new SUV, I bought a used GMC Hybrid Yukon at the first car lot I went to.  Some say it was an impulsive move (hubby) some say it was a bold negotiation (me). Regardless, I love my Yukon.  However, it's a 2008 and doesn't have many of the safety, navigation, and other features that newer cars have.  Plus, if I can be honest, as much as I LOVE the gas milage I get with a hybrid vehicle, we hit a big snag this summer when it needed to get repaired (like 9 week snag – not going there….).
So this mom is ready to make a purchase for a new vehicle and I want to really take my time in deciding what our next family vehicle is.  Let's call it a hunt for #MomsPerfectCar
Qualifications for #MomsPerfectCar
Everyone wants something different in a vehicle. I posed the question on Facebook a few weeks ago and had many responses – everything from good gas milage to a good color. But in my hunt, I have narrowed it down to these 4 things:
Has to be an SUV or Crossover – I'm not ready to drive a car
A 3rd row with room for my long-legged teenagers to sit comfortably.
Navigation/Entertainment/Hands-Free Phone System
Not too much to ask, right?  In fact, most of the SUVs these days have all of these features, it's the right fit for my family that is going to matter most in my decision.
2016 Cadillac SRX
The Cadillac SRX is a sporty, zippy vehicle and I didn't think I would like it as much as I did.  And while the SRX did not meet all of my qualifications (see below), I could really have seen myself seriously considering this vehicle.
This is a luxury SUV-crossover that seats up to 5.  There-in being my problem (I need a vehicle that seats more).  The SRX comes with a powerful 3.6L V-6 engine that gives you more than enough performance on the road.  I didn't think I would like the size of the vehicle or being so close to the ground.  However, I felt like it drove like a "big SUV", making me feel safer on the road.  And I really did like that I was able to maneuver in and out of parking lots easier than I could in a bigger SUV.
Qualification #1: Has to be an SUV or Crossover
Yes, the Cadillac SRX is classified as a Sport-Utility Vehicle.
Qualification #2: 3rd row with room for my long-legged teenagers
No, the Cadillac SRX does not have a 3rd row. Despite this, the SRX really fit my family nicely.  Unfortunately, it would only fit my family.  And where we are in life right now (carpools, road trips, etc.), with 3 kids, we need a vehicle that seats more than 5.  That said, had I only had 2 kids, I would seriously consider this vehicle.
The leg room in the 2nd row was great.  My long-leggeded teens fit very comfortably.  3 adults could easily fit in the back seat.
Qualification #3: Navigation/Entertainment/Hands-Free Phone System
The SRX features the  Cadillac CUE which includes 3D GPS Navigation, Doppler weather, and NavTraffic beyond the all the standard music features.  As I mentioned last week, I was impressed with the clearness i experienced with the bluetooth phone. And everything is easy to get to on the system, with touch-screens like your phone.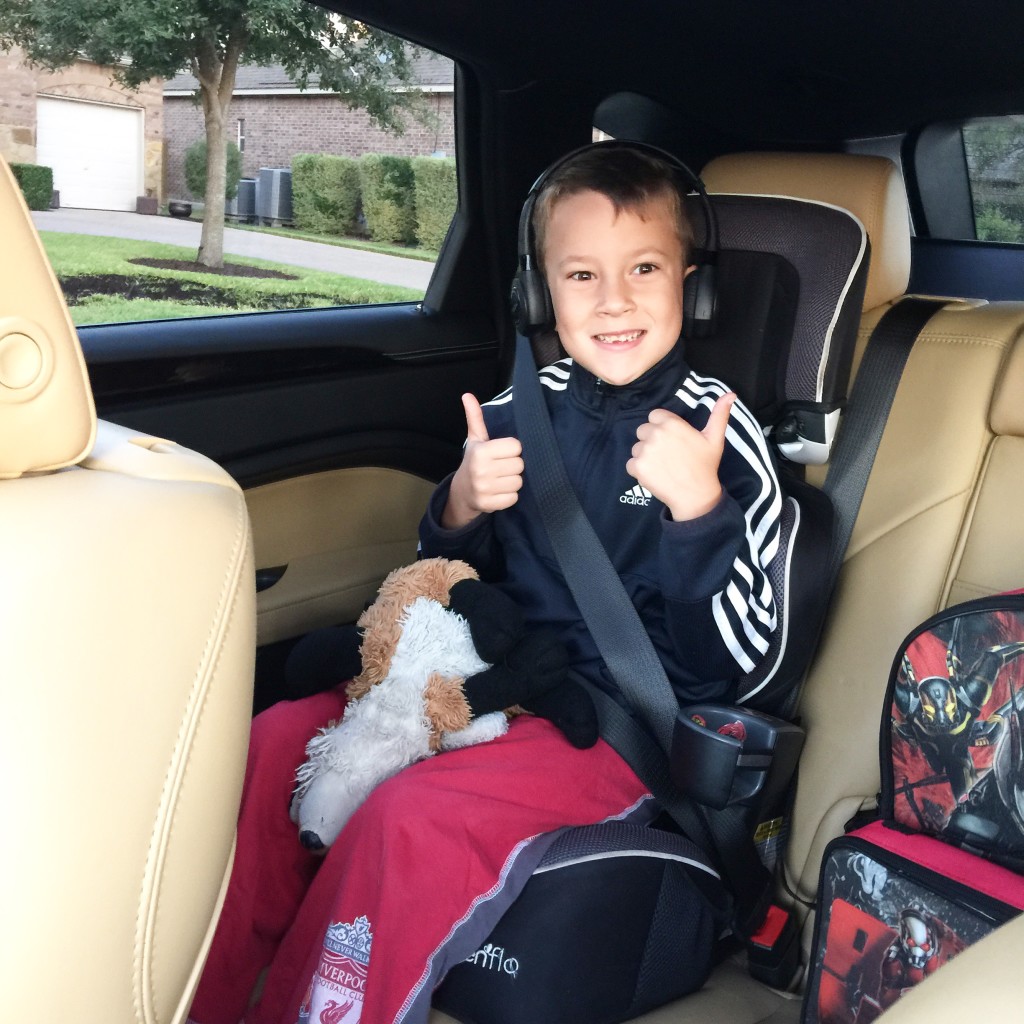 The headrests in the 2nd row both had a Blu-ray DVD player that my 6 year old gave two big thumbs-up to.  He insisted on watching a movie each morning on the way to school (despite it being a 2 minute drive).
Qualification #4: Safety Features
The Cadillac SRX is the smallest of all the vehicles I have tested so far in my #MomsPerfectCar search.  Yet, I felt it had all the safety features I came to love with the other GM vehicles I have driven:
Safety Alert Seat – sends pulses through the seat to alert you to a variety of potential hazards. (available with Luxury, Performance, & Premium packages)
Standard side blind zone alert – Great for changing lanes.
Standard forward collision alert – Lets you know when you are approaching a vehicle ahead of you too quickly.
Standard lane departure warning – Alerts you when you are crossing into another lane. It can become a lot and you start to tune this on out, but it would be useful on long trips.  You can turn this feature on and off.
Dual-stage frontal and side-impact driver and right-front passenger air bags; head-curtain side-impact air bags
Drive Assist package includes adaptive cruise control, automatic collision preparation, and front and rear automatic braking collision preparation. (available on Luxury, Performance, & Premium packages)
What did I like best on the Cadillac SRX?
As I mentioned previously, I really liked the Cadillac SRX.  Had it not been for it not having a 3rd row, this would be a contender.  Beyond the SUV-feeling in a sports car, there were some unique features that I really enjoyed about this vehicle.
The functionality of this vehicle was impressive, as their use of space is smart. The cargo area in the back is HUGE.  I was impressed with how much space there was (like all 3 kids and their friends could fit in that space with room to spare). Now that clearly is not what that area is for, but I can see fitting lots of luggage in back here.  The backseat does a 60/40 split or a full lay down if needed. And it has a U-rail systems with adjustable cargo fence to help keep it all organized.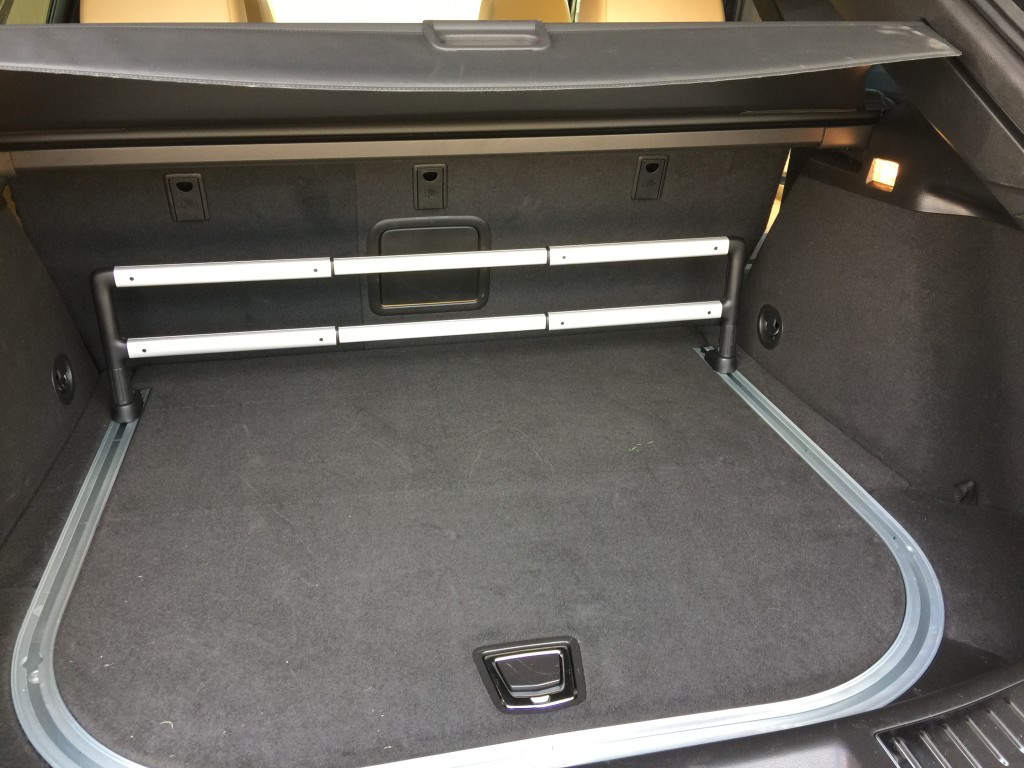 A few of the GM vehicles that I have tested have these headlamps that moved when you turned corners. With the SRX, I finally did a little research to learn more about these "HID Headlamps".  Adaptive Forward Lighting guides you around corners at night, while IntelliBeam® technology automatically turns on high beams when they're needed. And when oncoming traffic is detected, they automatically switch to low beams. Nice!
And lastly, look at this moon roof – it ***almost*** makes you feel like you are in a convertible. Almost.
2016 Cadillac SRX Details
Fuel Economy: 16 City / 23 Hwy / 18 Combined
Engine: 63.6L V-6 DOHC VVT with direct injection
Warranty: 4-year/50,000-mile Bumper-to-Bumper Limited Warranty
Price: $51,730.00 – 57,820.00
Please keep in mind, these are my opinions of the Cadillac SRX and how the car and features work for MY family.  I recognize that every family is different and will have different needs, wants, & desires for a vehicle.
Other #MomsPerfectCar Vehicle Reviews:
2015 GMC Acadia Denali
2016 Buick Enclave
2016 Cadillac Escalade
Disclosure: I was provided with the 2016 Cadillac SRX for a week to conduct this review. I was not compensated for this article. All opinions are my own.