I was invited to attend the D23 Expo in Anaheim, California where not only did I hear all the announcements and presentations from Disney, Marvel Studios and Lucasfilm, but I saw legendary awards ceremonies, witnessed some of the coolest cosplay, and met so many incredible people, it too many to count. Read on to learn why I think you should start planning to attend D23 Expo in 2019!
I was incredible honored to be invited to attend the D23 Expo as a blogger for Disney a few weeks ago.  I had always heard about how incredible of an experience it was to hear & see all the latest news from Disney first hand. But I could never have imagined how amazing each presentation was, how much the cosplay would blow me away, how many cool discoveries I would find on the Expo floor, and most of all, how dedicated Disney fans who attended were.
If you have any question about attending D23 Expo in 2019, read on to hear some of the once-in-a-lifetime experiences I had at D23 Expo 2017.  That will have you booking your trip immediately!
6 Reasons Why You Will Want to

Attend D23 Expo in 2019
#1: Disney Legends Awards Ceremony
The D23 Expo kicks off with a very special awards ceremony honoring those whose contributions to Disney has been well, legendary.  Along with Actors, Singers, and Entertainers, Disney honors Animators, Writers, Imagineers, and even Costume Designers.  I love that people both in front of the camera and behind it are recognized for this special award.
The Disney Legends Awards Ceremony had 11 recipients this year – Carrie Fisher (Film), Clyde "Gerry" Geronimi (Animation), Whoopi Goldberg (Film & Television), Manuel Gonzales (Publishing), Mark Hamill (Film), Wayne Jackson (Imagineering), Jack Kirby (Publishing), Stan Lee (Film & Publishing), Garry Marshall (Film & Television), Julie Taymor (Theatrical) and Oprah Winfrey (Film & Television). Disney CEO Bob Iger had touching things to say about each and every recipient before calling them onstage to accept their award (some accepted by family members).
It was very touching to be in the same room as the Disney Legends.  Many were extremely humble and made us tear up.  Especially hearing Mark Hamill comment on his friend Carrie Fisher's award.  "If Carrie was here, she'd be flipping me the bird right now."
Along with their award, the Legends capture their handprints in a special cast to be added to Legend's Plaza at the Walt Disney Studios in Burbank, CA. I have visited the studio several times and it is so fun to walk around to find the Legends you know.  Now I will know 11 more.
What a memorable experience to see these Disney Legends receive their awards.  Only at D23 Expo can you witness this much Disney greatness first hand.
#2: See Disney News Before Anyone Else
Some of the coolest D23 Expo moments came for me from the Great Hall Panels through out the weekend.  We were some of the first audiences to hear and see clips & peeks from Walt Disney Studios, Pixar, Marvel, & LucasFilm.  We were some of the first audiences to hear the plans for Disney Parks & Resorts.  And we were literally standing in the same room as many of the directors and stars of upcoming Disney films.  Here's a peek at what we saw: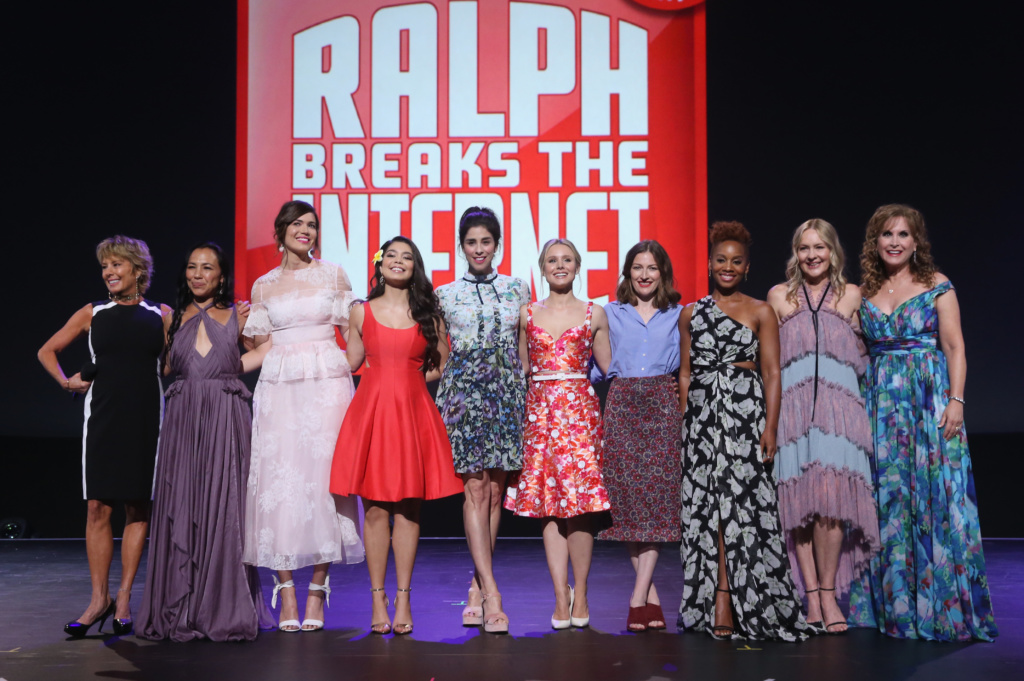 All the Disney Princesses together in an animated feature? Yes. With a scene with them all from Ralph Breaks the Internet: Wreck it Ralph 2 that is not available online. (learn more here)
All the Avengers on the stage at once?  Yes. With a 3 minute peek at Avengers: Infinity War that is NOT available online. (learn more here)
Hearing about the Star Wars Hotel before anyone else does? Yep. That too. (learn more here)
Oh my goodness, I wish you could hear the cheers & screams from the fans in the Disney & Pixar Animation Panel, the Disney Live Action Films Panel, and the Disney Parks & Resorts Panel.  Only at D23 Expo can you be in the room where ALL THIS HAPPENS! 
#3: Historical Memorabilia from the Walt Disney Archives
The Walt Disney Archives holds a treasure trove of Disney history and it was so cool to have a private tour of a special collection that was brought out of the Archives for the D23 Expo.  Archivist, Becky Cline, walked us through A Pirates Life for Me – a 12,000 square foot exhibit that covered the history of Pirates with Disney.
We learned the history of the Pirates of the Caribbean theme park ride that included actual animatronics and the score from "A Pirate's Life for Me."  We saw animation cels from Mickey Mouse toons that featured pirates, a car from the Peter Pan's Flight attraction from Disneyland and costumes from many of the Pirates of the Caribbean movies.
What a treat to see some of these artifacts that will not be on display for anyone else.  Only at D23 Expo can you see living Disney history like this.
#4: Cool Finds on the D23 Expo Floor
While attending the D23 Expo, you must walk the Expo Floor at least 3-5 times.  At the very least.  There are so many cool displays to see that you miss only going around once or twice.  At this D23 Expo, fans could take a virtual walk onstage at Broadway's The Lion King. Jump in Scrooge McDuck's Money Bin (I did!! Check it out here!) And you could shop for any possible Disney memorabilia you could think of.
Star Wars fans got a sneak peek at the new Star Wars Galaxy's Edge coming to Disneyland and Walt Disney Word in Summer 2019.
Oh My Disney had animators to sketch you, panels of Disney stars for Q&A,  and some of the coolest Disney products – Disney Expresso Makers that sketch Mickey Mouse in the latte foam? Yes!
I spent some time in the Disney Music Emporium checking out their display of classic Disney albums.  It took me back to my childhood as memorized so many Disney albums as a kid.  Vinyl albums are very popular now too. At this D23 Expo, fans could pick up Robin Hood, released with the Walt Disney Records Legacy Collection – you can pick one up for yourself here!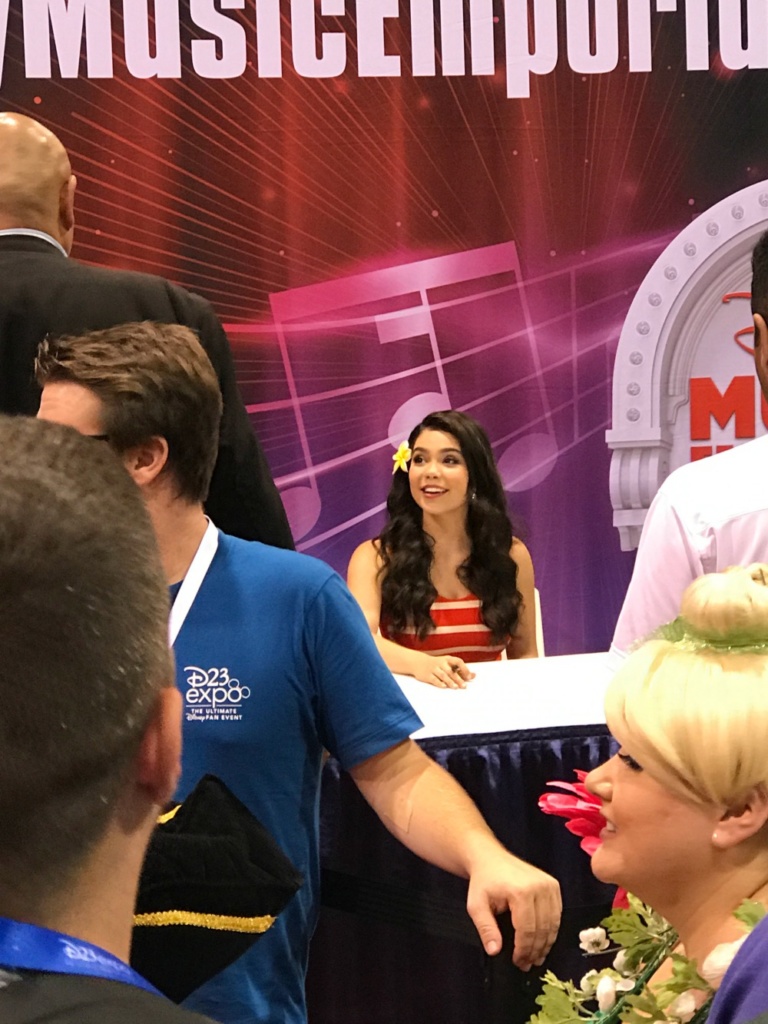 Fans could also interact with their favorite Disney singers at the Music Emporium, such as Moana's Auli'i Cravalho.
The Expo would satisfy any Disney fan's dreams – from Disney memorabilia to Disney treats, there is no place in the world that had as much exciting Disney fun as this.  Only at D23 Expo will you be able to pick up one-of-a-kind Disney merchandise. 
#5: Jaw Dropping Cosplay
Y'all.  I was BLOWN AWAY by how dedicated Disney fans were when it came to the elaborate cosplay at the D23 Expo.  It was incredible to see the costumes.  Some of my personal favs was Maui and the 80's Disney Princesses.
But you didn't have to go all out to fit in.  Several of us tried our hand at Disney bounding for the event too.  Can you guess who I was going as?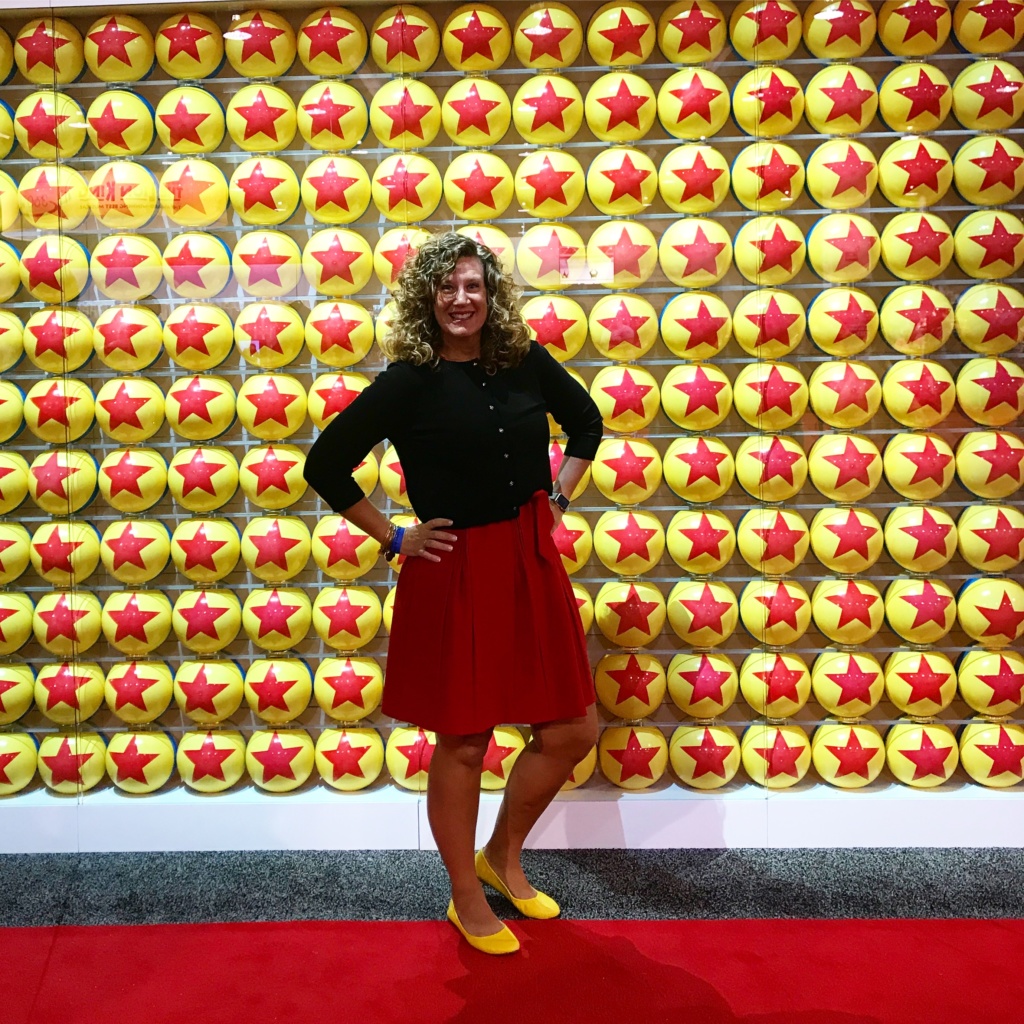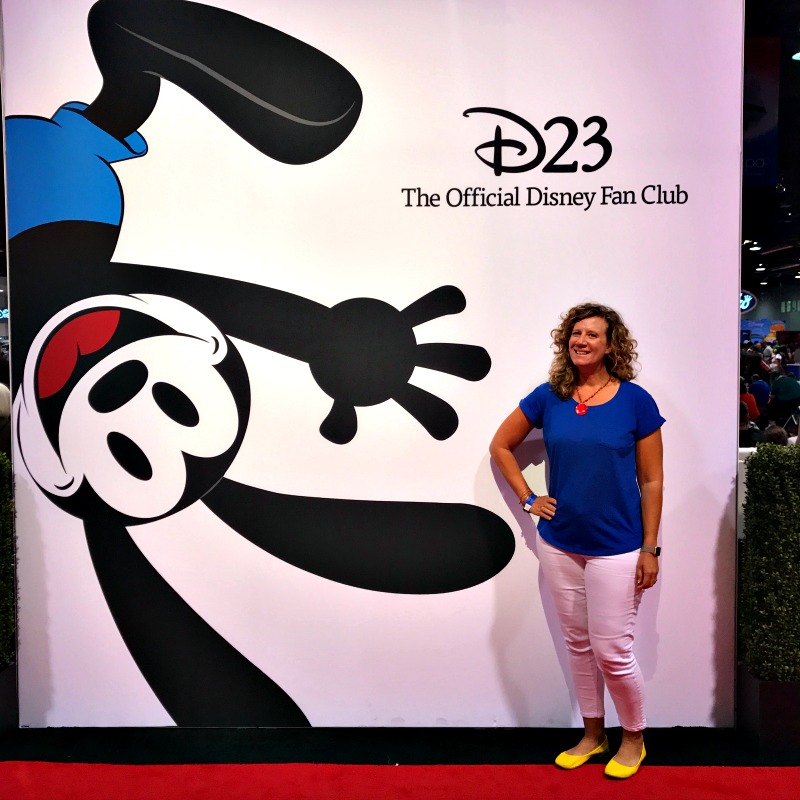 But take a look at some of the fun ones seen over the entire 3 days:
The costumes were incredible and just as fun as the Expo!  Only at D23 Expo will you see such creativity and pure joy in Disney cosplay.
#6: Private Concerts from Disney Legends – Alan Menken
Alan Menken.  Have you heard of him?  I guarantee you know his music – "A Whole New World. Under the Sea. Tale as Old as Time." – yes. THAT Alan Menken.
On Sunday, Alan Menken sat down with an audience of 5000 (2 separate times) to sing to us some of his best known hits from musicals that he had written – Little Shop of Horrors, Aladdin, Newsies, The Little Mermaid, Beauty and the Beast, and more.  He told us stories – from how he got into songwriting, to his flops, and even his heartbreaks. Along with the chills that came from hearing him sing his beautiful ballads, many of us shed a few tears hearing all that he had gone thru to get where he was today.  It was an incredible way to close out the D23 Expo.
What an incredible experience to hear first hand a legend sings the songs I had grown up singing. Only at D23 Expo can you hear memorable concerts such as this.
Become a D23 Fan Club Member
You don't have to wait until 2019 to get fun Disney news and perks!  By becoming a D23 member, you have the chance to attend exclusive D23 events across the nation, receive a quartile publication, and a gift once-a-year (depending on the membership level). Michael Vargo- Vice President, D23: The Official Disney Fan Club, says there are perks to being a D23 member at D23 Expo, including free-with-purchase items, exclusive discounts, and even exclusive experiences only available to D23 Fan Club Members. Learn more about becoming a D23 member here.
And while the next D23 is almost 2 years away, they are already working on making it even bigger and better than this one.  So, knowing that exclusive fun & surprises like the above I mentioned, what are you waiting for? Start planning!
Other Fun News from the D23 Expo
Live Action Films Panel from D23 Expo
News from the Pixar & Walt Disney Animation Panel from D23 Expo
7 Disney Parks Rumors Confirmed at D23 Expo
Jump into Scrooge McDuck's Money Bin with me for DuckTales!
6 Reasons Why You Will Want to Attend D23 Expo in 2019
9 Things You Don't Want to Miss at the Disneyland's Summer of Heroes
Disclosure: I was invited by Disney to attend the D23 Expo, learn about DuckTales and visit Disneyland's Summer of Heroes. All opinions are my own.