Experience the fun of an Urban Scavenger Hunt in downtown Austin. This Smart Phone guided adventure lets you and your family experience the fun of the Amazing Race in 2-3 hours. You solve clues and complete challenges while learning about the city in a fun new way.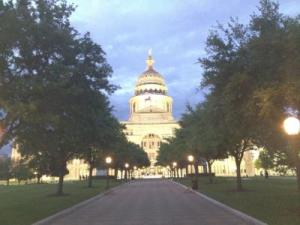 Here's what the website has to say about the Austin Urban Adventure Quest:
Welcome to Austin, a city where music and people play to their own beat.

Your Urban Adventure Quest – Austin will start you in the heart of the state's capitol and will take you on a journey among the historic sites of the city while experiencing the excitement of 6th Street and other unique facets of this high energy town. You will explore both famous sites as well as hidden gems as you make your way down to the scenic riverfront.

So put down that guitar and grab your groupies…play the game, see the sights and experience Austin in a whole new way.
This family friendly adventure is appropriate for ages 7-70 and is perfect to get the family out on a day of doing and learning. Start on your schedule and play at your own pace. Cost: $39.20 for a team of 2-5 people after Promo Code: USFamily
Register on-line at www.UrbanAdventureQuest.com
Save $10 With Promo Code: USFAMILY
We haven't tried Urban Adventure Quest yet, but when we do, we will be telling you all about it!