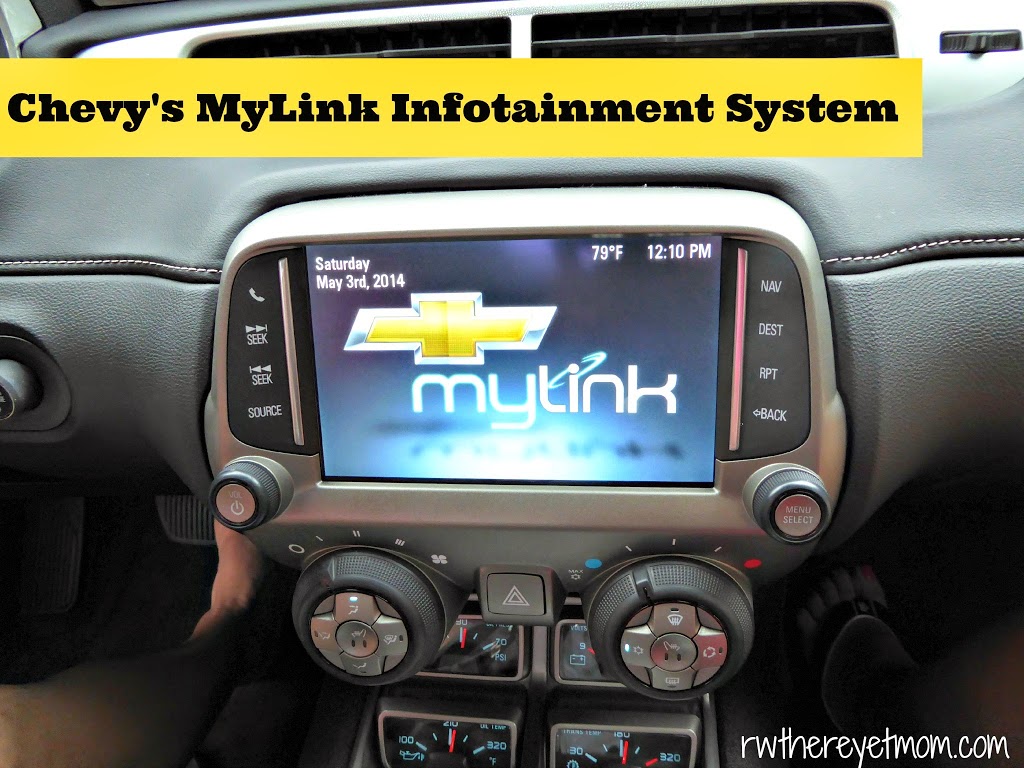 Last summer, we took a 3 week road trip to California. And while my children were great at entertaining themselves and rarely asking "Are We There Yet?", I found out about a feature in the new 2015 Chevy vehicles that would revolutionize our whole trip.
Recently, I was invited to learn about and test-drive a few different
2015 Chevrolet vehicles
at the TravelingMom Retreat at Walt Disney World (we were there to see the new
Seven Dwarfs Mine Train
too!).  Being a mom, I hopped into the
Suburban
and
Tahoe
and got a glimpse of all the cool features they offer, but the one that struck my fancy the most? The
MyLink Infotainment System
offers hands-free information and entertainment for everyone in the car.
What is MyLink?
Infotainment – like that term? Here's the "Info":  MyLink pairs with your phone to allow you to safely talk and drive and give you perfect navigation with turn-by-turn directions. And the "tainment"? MyLink connects you to several different music applications and even gives passengers access to the Internet. Most cars on the market offer some sort of "infotainment" system these days, but I spent some time with a Chevy MyLink expert and she showed me some really cool features you may not find anywhere else.
Time Shift Radio
When I used to work in sales and would be in my car 70% of the day, I would often find myself caught up in a radio talk show and not want to leave the car when I arrived at my destination.  MyLink offers Time Shift Radio, which acts like a DVR, recording the last 25 minutes of what you are listening to.
You can back up if you missed a joke and fast-forward through commercials.
And if you need to step out of the car for an errand, you can record the next 10 minutes and listen to it when you get back in the car.
Pair Your Phone
MyLink pairs with your phone to allow hands-free talk and driving. It will access your contacts in your address book to provide you with turn-by-turn directions.
  And 
MyLink will answer your incoming text messages with pre-programmed answers such as , "I'm Driving. Talk to you later."
WiFi Signal
Chevy partners with
On-Star
to provide you with a WiFi signal that can hold up to seven devices in one vehicle. This is the one my children would be most excited for.  They can watch streaming movies as we are road tripping around the country! The signal is 4G LTE, provided by AT&T, is promised to be more reliable than a hotspot on your phone. And Chevy will be offering an AppShop on MyLink that allows
customers a range of apps that include iHeartRadio, Priceline, The Weather Channel, NPR, Slacker Radio, TuneIn Radio, Cityseeker, Eventseeker, Glympse and Kaliki.
The plans have not been announced yet as to pricing.
MyLink also has these cool features:
Connect to your Pandora account through your phone

Over 140 SiriusXM Satellite Radio channels

Save your favorite artists, playlists, songs, and genres through Gracenote Technology

USB connectivity to listen to music from your phone, iPod, or flash drive

Voice Control

On-Star turn-by-turn navigation

And you can store up to 60 contacts, radio stations, destinations, or songs right to your home page.
So my biggest fear with MyLink is 

how complicated is it?

 

Is it easy to learn?

 

Is MyLink easy to navigate for a passenger?
I tend to really like gadgets and will take the time to learn them, and I found MyLink to be really easy to use.
As there are a lot of moving components to the system, it might take a few weeks to learn them all.
It's pretty intuitive and once you get it down, it would be easy to show a passenger. And children will have no problems figuring it out.
Because it does offer so much at your fingertips, if you are going to invest in a car with this system, take the time to learn it. There is so much capability with MyLink that it would be a waste to not learn how to use it.
But don't take my word for it, see for yourself all the cool features of MyLink:
It's a great system for busy moms in general, not just roadtrippers!

This is a sponsored post by Chevrolet.  I was invited to try out their MyLink system and all opinions are my own.