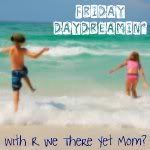 It's the last week of February….and the LAST week to show us all a place you LOVE!! Show us a site that you can't wait to go back to. Show us something you love to do on vacation. Show us your favorite activity- come on…it's your last chance!
I've shown you my
favorite place
that I LOVED seeing in person, I've shown you a
city
I would LOVE to go back to, and I have shown you a
favorite dish
that I LOVE to eat…..
One last thing to show you that I love….
Exploring with these guys!
I have always loved to travel, but I think it became even more fun, once I could experience it with my kiddos, see things through their eyes. These guys are my sidekicks, up for almost anything.
well, almost. This picture is pretty typical.
My almost-11 year old drama queen on the right, my 9 year old who absolutely hates me taking his picture, and my mischievous 2-year old who is along for the ride and doesn't complain (most of the time).
I drag take them to museums, parks, cool eateries, factory tours, and in this case hunting for cool murals in Austin (I hear a post coming soon….). We have fun wherever we end up and the best part? I am making incredible memories with the kids I love the most!
What or Where do you LOVE? Link up for one last week of fun and we get back to our normal Friday Daydreamin' next week!
********************************