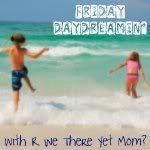 We are still celebrating Spring Break over here at R We There Yet Mom? Across the country, families are having a great break, traveling to new places and spending time together as a family. We love to recognize all the fun things everyone is doing, so we asked you all to send us a few pictures of your Spring Break.
Many escaped to the water! Here are some fun water pics submitted by R We There Yet Mom friends:
I LOVE IT!!! Do you see the grins from ear to ear? The sweet smiles of happiness? Vacations bring out the best in us!
Big thanks to all who submitted a water picture! We have lots more to feature next week here and on our Facebook page. We would still love for you to submit your favorite Spring Break picture too. Email to
[email protected]
Lastly, post your favorite vacation pictures and link up with us today for Friday Daydreamin'. There is nothing I like better that sipping my coffee and daydreaming about traveling.
But I do get a mini-vacation this weekend! I am running a half-marathon with my bestie at a resort outside of town. The flip side is that we stay at the resort all weekend for a girls get- away! Woo-Hoo!