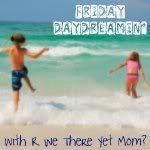 Happy Friday and welcome to Friday Daydreamin'! It's my favorite day of the week, asI can sit back in the comfort of my own home and daydream about all these wonderful locations y'all take us to. So please link up today!
What does your summer have in store for you? Road Trips? Theme Parks? Historical Sites? Beach???
That is where we are going in 4 short weeks!! Woo-Hoo!! We had such a relaxing time in Santa Rosa Beach last summer, that we all wanted to go back again.
Link up a picture of your favorite summer travels!
A BIG THANK YOU for all the amazing link ups we get each week! I love visiting all of your blogs, please continue to do so all summer long. Additionally, I am looking for guest posts to feature all sorts of fun places to visit across the US – please send me a quick
email
if you are interested!