Ever catch yourself wishing you were far away on vacation? Readin' about an amazing vacation a blogging buddy went on and find that you are jealously wanting to go on one too? Or just flipping through your vacation photos and wanting to go back?
Here at R We There Yet Mom, we are always wishin' we were on vacation and are constantly daydreaming about fun spots to take the family. So we are creating "Friday Daydreamin'", a fun blog hop to showcase your vacation photos so we can all take a quick mental daydream…..
Every Friday, post your favorite vacation photo and tell us a little about it. Got a great shot of your daughter's first roller coaster ride? Maybe the perfect sunset over the Pacific Ocean? Or dad driving the Winnebago in 1974? I know everyone has fun vacation photos – pull them out and share them!! Grab my fun Friday Daydreamin' bloggy button and link up to the party.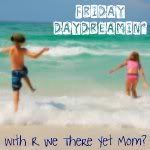 The fun starts the Friday, August 5. Can't wait to start Daydreamin'!!