I have always had a fear of skydiving.  It's not a fear of heights.  It's not a fear of falling.  It's the physical jump out of the plane that frightens me.  I imagine once you do that, the rest of the dive is smooth sailing (no pun intended).
And I know what the free fall will be like, thanks to a trip to iFly Austin a few years ago. It's an amazing rush. And one I wanted to share with my children.
Indoor Skydiving is a safe & easy way to experience skydiving without a parachute or an airplane.  The vertical wind tunnel provides enough lift to allow you to "fly".  With a little bit of training, it is possible to float in the air, and after a just a few "flights" you can learn to move on your own.  Flights are with an instructor and they are with you in the tunnel at all times, providing you with guidance & assistance during your flight.  Flights are in 1 and 2 minute increments and you typically do 2 during a session.
This past 3 day weekend, the kids and I were able to visit iFly Austin.  I had initially signed my older kids up to fly, they are 13 & 12.  I wrongly assumed that my 5 year old would want to fly.  Oh yes he did – he took one look at the fun people were having in the tunnel insisted he try too.  So can a 5 year old fly?  Absolutely – as they advertise:  "We fly people from ages 3 to 103. No experience necessary and all training is included."
The entire experience lasted about an hour & a half and it goes like this:
We watched a quick video that described the experience and taught us a few hand signals.  You can not hear anything with 100MPH winds whipping past you, so make sure you know these signals.
We donned flight suits over our clothes, wear comfortable pants/jeans, a t-shirt, and tennis shoes. They also give you earplugs, goggles, and a helmet.  Don't wear any jewelry – if you do wear a wedding ring, they will ask you to take it off or wear a provided glove (they have lockers to put valuables in).  If you have long hair, you will want to secure it back.
We load into the bay in a single-file line and sit on the bench to watch everyone one-by-one fly.  We flew in 2 one-minute increments.  The first flight was to get comfortable, the second one was a little more relaxed and included a few flights to the top with the instructor.
Once everyone had flown, our instructor asked us to stand near the glass – he had a special flight planned.  He showed us some amazing tricks and zoomed around the tunnel effortlessly, as if he was a real-life superman.  The kids were in awe.
After the flight, you have the option to look at your pictures & video of the flight.  These pics are obviously much better than any you can take, as the camera is in the tunnel.  You can purchase them and you get a downloadable link to share them with family and friends. Like this:
I have to say, watching my kids do something fun & fearless was so exciting as a mom.  I had done it before, so I knew the adrenaline-filled feeling you get, so I couldn't wait to experience this with them.  The older 2 were both nervous, thinking they would fall, but both came away asking when they could do it again. As you can see in the below video, the instructors are very patient with their eyes on you the entire time.  They hold onto your kids when they need to and catch them as they come down.  I was completely comfortable with them taking my 5 year old to the top.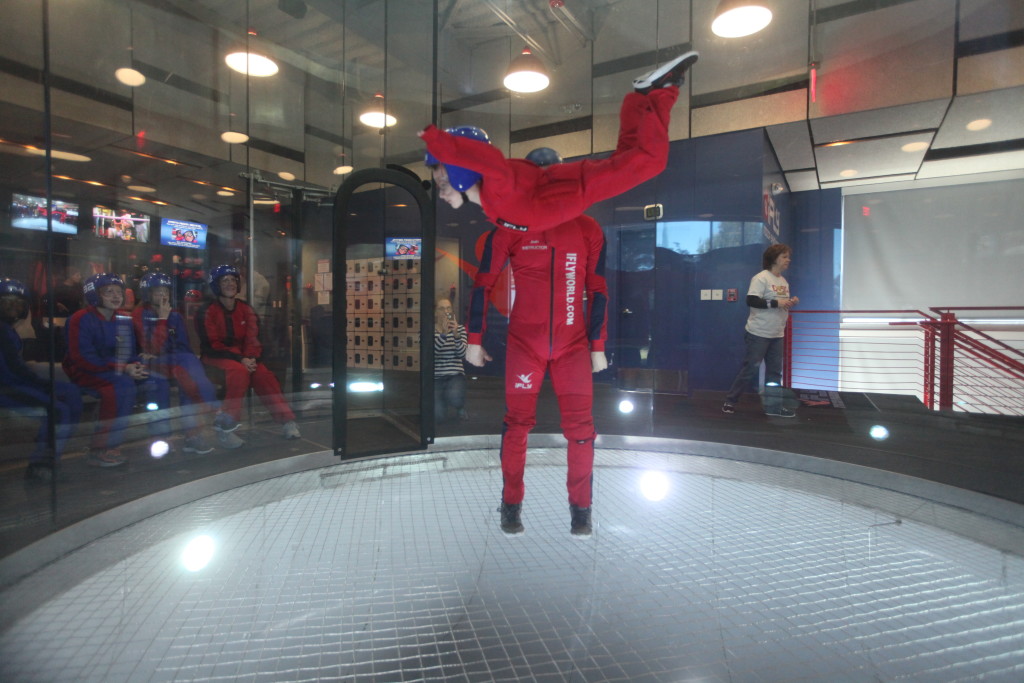 So how did my 5 year old do?  No hesitation what-so-ever.  He jumped right in and was a pro.  He talked about it all afternoon, telling everyone that he "flew" today.  And he totally wants to go again.  I love that even little kids can enjoy this fun sport.
I was extremely nervous because all the people who were flying when we got there were so experienced and good! I thought I would fall on my face. But when I stepped into the wind tunnel, it was such a rush, you completely forget about falling and have fun. The first flight is to get a feel for the air and balance yourself out.  I wasn't the best and our instructor kept telling me to relax.  So the second flight,  I did just that and had so much fun. It was the best going up to the top with the instructor.  I would definitely recommend this for all ages.
Morganne, Age 13
My mom didn't tell us we were going because she thought we would be nervous and she was right. You look at that tunnel and wonder if the wind is strong enough to hold you up. But it totally is.  I laid into the wind and it picks you up.  It's not hard to do, its really very simple. All you have to do is listen to what the instructor tells you to do – straighten your legs, put your chin up.  We only got to go for two 1 minute sessions, I totally wanted to do more.  Everyone definitely needs to try this.
Jack, Age 12
So is this a fun family experience? Most definitely. We only wish Dad was there to fly with us that day.  AS the kids reminded me, "we can all go do it again.  Yes we can.
iFly Austin has all kinds of fun opportunities for children, including party packages, school field trips, and even a Monday & Wednesday night Kids Club.
iFly Austin Giveaway
iFly Austin has given me a complimentary Flight Certificate to giveaway to a lucky reader.  Use the below rafflecopter to enter to win.  Giveaway begins on Tuesday, January 20, 2015 and lasts through Friday, January 30, 2015 at midnight. Winner will be choose randomly through rafflecopter on Saturday, January 31, 2015 and sent an email.  If the winner does not respond with an email to claim their prize within 24 hours, another name will be drawn.  Good luck.
Disclosure: My family and I were invited to fly and were provided the flights by iFly Austin.  I was not paid for this article.  All opinions are my own.