Carnival Cruise line does an incredible job with children's programming and with their new "Seuss at Sea" they have stepped it up a notch.  Dr. Seuss-themed activities on board ships throughout the fleet bring fun entertainment for kids of all ages.
We recently traveled on the Carnival Freedom out of Galveston for a 7-day cruise to the Western Caribbean.  We have always enjoyed Carnival cruises for a variety of reasons, but one being that they have terrific children's programming – for all ages.  Most recently, my 6 year old son loved going to Camp Ocean each evening where he enjoyed parties, games, face-painting and more.  My older two – 15 & 13 – met new friends and had fun watching movies & playing games at Circle C.
Beyond the Kid's Clubs, Carnival has brought in several Dr. Seuss-themed activities that have enhanced what they offer for children, in addition to the pools, watersides, and golf/rock walls.  Here's what we enjoyed on Carnival Freedom last week:
Seuss at Sea on Carnival Cruises
Seuss at Sea:
Dr. Seuss Bookville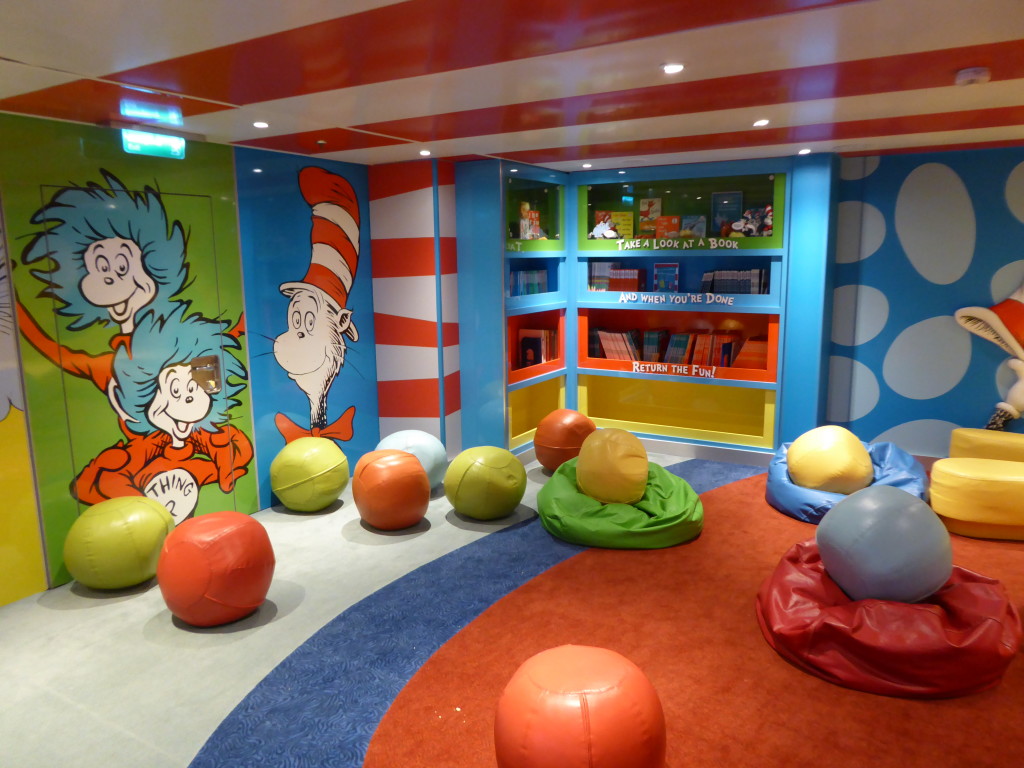 This colorful library is filled with tons of copies of your favorite Dr. Seuss books and playful furniture, perfect to curl up and read together.  We liked to visit in the afternoons to have a little downtime together.  It was actually the perfect way to keep up with my first-grader's reading minutes (shhh….don't tell him he was doing homework…) but there were plenty of parents enjoying a cozy nook to read to their children.  Currently, the Carnival Freedom is the only ship that has Dr. Seuss's Bookville, but that will be changing soon once Carnival Vista launches this summer.
Seuss at Sea:
Seuss-a-palooza Parade
On one of the cruise's sea days, your family is invited to join the Cat in the Hat, Things One & Two, and Sam-I-Am in a noisy parade around the ship.  Everyone is provided with signs, pom-pons, and noise-makers to show the other cruisers just how much fun it is to be a kid.  We chanted "Dr. Seuss is on the loose!" from the front of the ship to the back, heading into the Seuss-a-palooza story time.  Tons of families joined in the fun.  It was adorable!
Seuss-at-Sea:
Seuss-a-palooza Story Time
After the fun parade, children are invited on stage to participate in an interactive story time telling of a Dr. Seuss favorite.  On the Carnival Freedom, we saw the "reading" of Cat in the Hat, complete with characters from the audience, fun props, and lots of audience participation.  The Cruise Director leads this fun story time and ours did a fantastic job with it.  It's another fun, family event that every age will enjoy.
Seuss-at-Sea:
Green Eggs & Ham Breakfast
On the last sea day, we were thrilled to join the Green Eggs & Ham Breakfast.  This event was over-the-top FUN! The tables were decorated adorably, the menu was themed, and even the wait staff had fun outfits to wear.  They played lively music and the characters joined each table for fun.
The choices for breakfast were pretty sweet with cereal-crusted french toast, Belgian waffles, and strawberry pancakes to name a few.  And of course, they offered the green eggs and ham – served on an english muffin.  If you can get past the fact that you are eating GREEN eggs, it actually tasted pretty good.  My son didn't have a problem with it one bit!
The breakfast is a nominal fee of $5 per person but we all agreed that it was worth it.  Even the big kids had a little fun!
Most of these Seuss-at-Sea activities are available on all the Carnival ships. Yet another reason to consider a Carnival cruise when booking a cruise for your family!
Other Carnival Cruise Articles You May Enjoy:
11 Things We Loved on the Carnival Freedom
12 Fun Family Surprises on Carnival Magic
An Open Letter to the Carnival Magic Employees
50 Tips for Cruising with Family
Disclosure: My family & I were invited on the Carnival Freedom. I was not compensated for this article.  All opinions are my own.