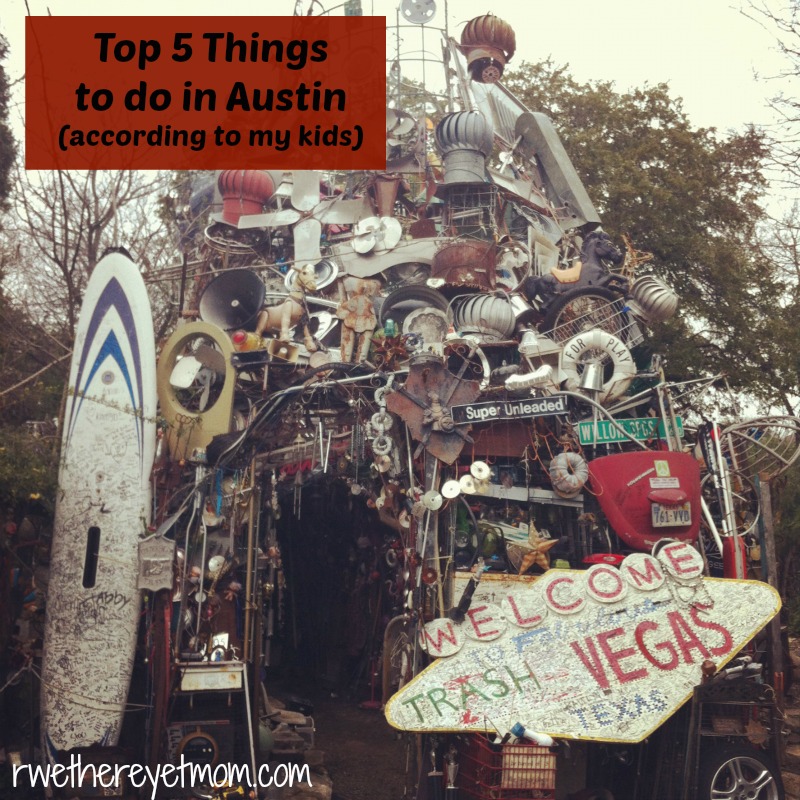 Even though I have only lived here for 5 years, we have experienced so much in Austin, Texas.  There is so many things to do here – for all ages!  So I thought it would be fun to ask my children, from their perspective, what they liked best to do in Austin.
I asked my 12 and 10 year old their favorites and why, and this is what they said:
1. Cathedral of Junk –
 As my kids mentioned, the
Cathedral of Junk
is basically a junk pile – but a very fun & artsy one at that.  We spent an entire hour walking around and looking at the mountain of amazing stuff –  old TVs, telephones, a motorcycle, toys – it;s like walking back into your childhood.  Kids are fascinated by it too.
2. Austin Murals – 
Austin is not only a city of live music but very cool art as well.  About 6 months ago, I developed an Austin Mural Scavenger Hunt and took my kids out to "test drive" the hunt.  They LOVED it.  They liked finding the different murals and then taking the time to look at all the details.  But of course, their favorite part was taking the pictures of them.
3. Krause Springs –
 Austin has some pretty cool places to swim with the multiple lakes and rivers around the area.  We also have several natural springs that we can enjoy too.  One of our favorites is
Krause Springs
which lies southwest of Austin. Krause Springs has over 32 natural springs, a huge sunbathing rock, a rope swing, a waterfall – and COLD water – just what you want on a hot summer day!
4. Lake Travis Zipline Adventures – 
My children are now addicted to ziplines thanks to our recent visit to Lake Travis Zipline Adventures, though I don't know how we can top the 3rd, 2nd, and longest zipline in Texas, all located here.  This is a really fun afternoon adrenaline high for the whole family.
5. Big Top Candy Shop- 
Technically not an attraction, my kids can't go into downtown Austin without a stop at the
Big Top Candy Shop
on South Congress.  And yes, there are TONS of other fun things to do here in Austin (click here for a whole list), but this is my kid's list and they think other kids need to know about this mecca.  It's a modern-day Willie Wonka Candy Shop, with everything you can imagine, including chocolate covered bacon (which is yummy!).
Other Top 5 Things to Do Lists in Great Texas Cities: