Corn mazes are becoming a very popular fall activity, and we have some great ones here in Texas.  The bigger the better, as seen in these 6 corn mazes below.   These top Texas corn mazes have elaborate themes, take a while to get through, and are fun for the whole family!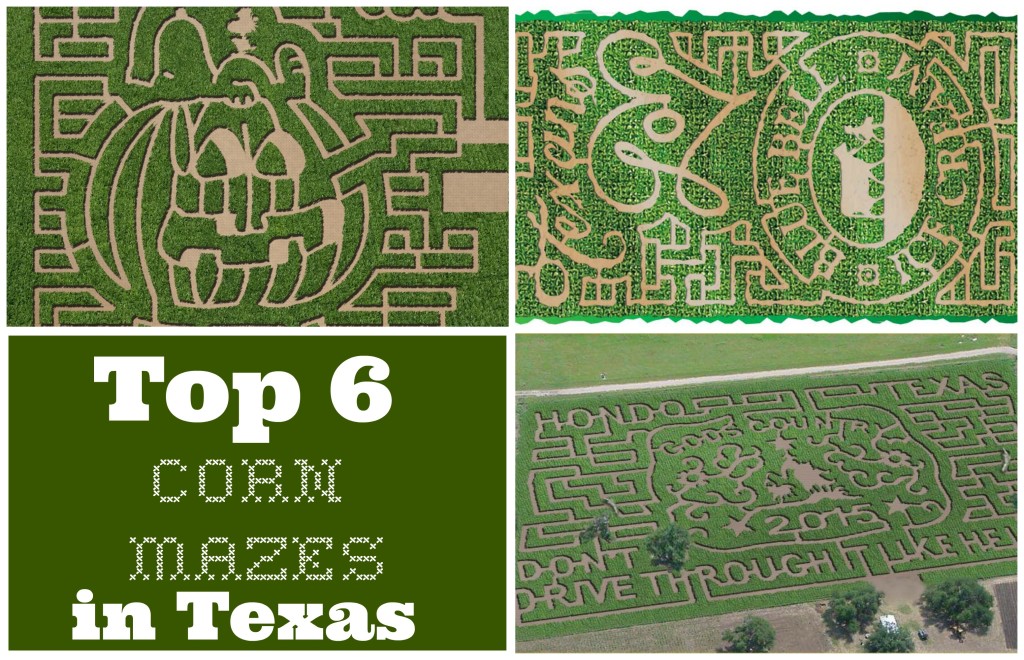 Top 6 Texas Corn Mazes – 2017
Texas Corn Mazes: Barton Hill Farms (Bastrop):  Open Weekends September 23rd – November 5th
On the banks of the Colorado River outside of Bastrop lies a 5 acre Corn Maze – this year, they are inviting you to come & get lost in their Flying Jenny.  Open on weekends, this maze is designed for you to get lost in!  It has interactive clues (a Passport) to help you get through and generally takes 45 minutes to complete. General admission is $14 & covers the pumpkin patch, maze, frontier games, live bands, and more. Buy your tickets online and save $1.
Texas Corn Mazes:  Rocky Creek Maze (Moulton): Open Weekends October 6th – November 19th 
Chaloupka Farms features this 8 acre maze that leads you down 2.5 miles of twisting paths.  Choose to navigate yourself through the maze, use the passport clues or use their texting feature to find your way out.  Text a code number you find on a sign to receive a clue to make your way through the maze! So cool! Admission is $10 (3 & under are free) and includes unlimited admission to the maze, hayrides, barrel train, butterfly garden and more.
Texas Corn Mazes:  South Texas MAiZE
 (Hondo): 
Open Fridays, Saturdays, & Sundays September 16th- November 26th
This corn maze is 7-acres big, located on the Groff Family Farm in Hondo, and is known for elaborate, twisty, mind-bending fun.  Taking more than an hour to complete, everyone comes back year after year, as this maze continues to out-do itself.  Admission is $15 (adults & children 2 & up) and includes hayrides, bouncing pillows, pick your own pumpkins, and more (additional fees may apply).
Texas Corn Mazes:
Sweet Berry Farms
 (Marble Falls):
Open September 23rd – November 5th
Sweet Berry Farms always has an "A-Mazing Texas" Maze.  In the shape of Texas, this year's theme is Presidents – Pedestrians walking through our Texas shaped maze will be looking for towns (that exist in the real state of Texas) whose name resembles a past President or Vice President.  Start with a map, find each of the twelve towns and receive a "punch" for each town.  Find them all to win a free soda or water. This is a complex maze that takes a bit of work and time to complete, but fun nonetheless. Admission is $7 for each person ages 6 and up. There is a ton of additional Fall Fun (hayrides, train rides, pick your own pumpkins, etc.), so make a day of it.
Yesterland Farms feature a pumpkin patch, amusement rides, an apple cannon and more – perfect for a fun all day.  This year's 3 acre corn maze is in the begin of The Great Pumpkin.  Enjoy the corn maze during the day or try the "Creepy Corn Maze" for a scare at night. Various passes can be purchased for the different activities – $12.95-$39.95.
Texas Corn Mazes:  Dewberry Farm (Katy): 
Open Weekends September 30th – November 12th
This farm features a fun fall pumpkin patch & corn maze, over 35 attractions and yummy fall treats.  The maze this year is all about the upcoming election and features several fun puzzles to solve along the way.  Admission begins at $29.95. (ages 3-54).
Dress appropriately – wear pants and closed-toe shows.
Sunscreen/Hat or Bug spray might be a good idea.
Take water – just in case you get lost…..
Weather is a big factor on availability of a maze – most farm owners will not be open if the fields are too muddy.
Check the websites for all the below mazes – most have status updates on the mazes.
So plan a fun fall afternoon and go get lost in a maze! 
Other Great Texas Fall Articles you may be interested in: