Halloween is so much fun in Austin – tons of events happen for all ages, from parties to concerts.  We narrowed it down to the top 9 Halloween events in Austin, Texas for you!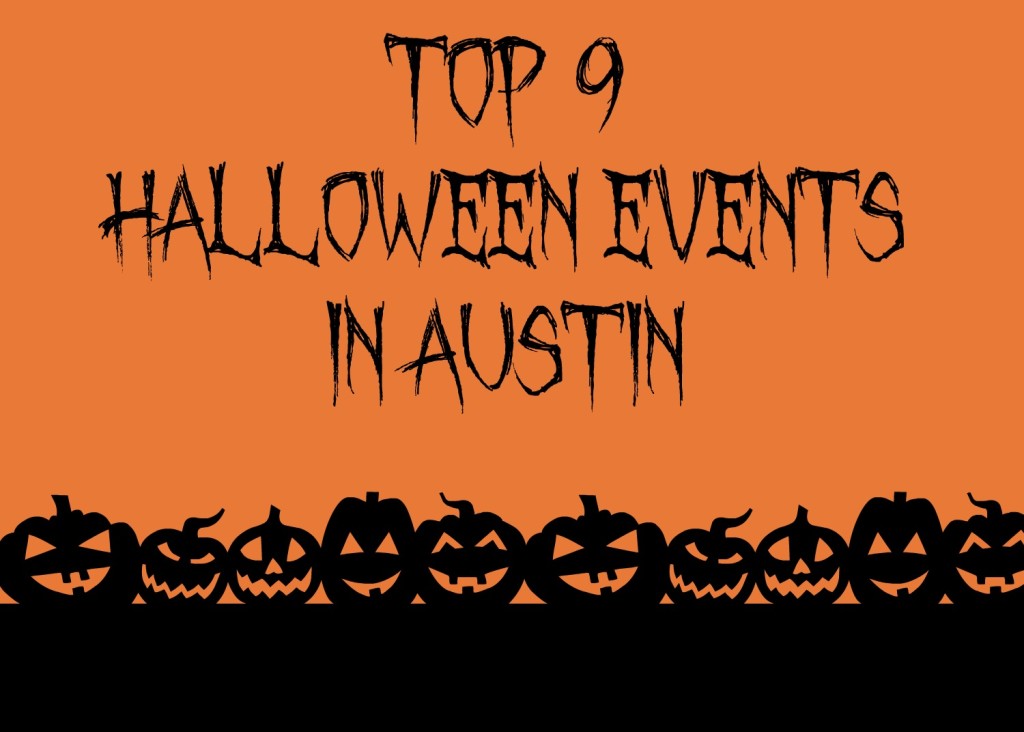 It's that time of year to get spooky – Lots of Fun Halloween Events in Austin!
Top 9 Halloween Events in Austin, TX
Halloween Events in Austin: Boo at the Zoo!
October 6th & 7th and 13th & 14th and 2oth & 21st and 27th & 28th, 2017 6:30 PM – 9:00 PM
Enjoy after hours at the zoo! Come dressed in costume and make sure to bring a flashlight to see the animals at night.  Take a ride on the Haunted Train, all decked out for Halloween. Tickets are $17.50 and include a train ride and unlimited Haunted House visits.  Purchase tickets in advance through the website. So fun to see the zoo at night!
Halloween Events in Austin: Haunted Trails
October 13th & 14th, 20th & 21st and 27th & 28th, 2017 7 PM – 11 PM
Walk the 3/4 mile trail all decked out for the holiday with spooky scarecrows, lanterns, historic haunted houses, story-tellers, and more! This year will feature three separate spooky trails each night — one for young children (amusing, rated G), another for those who want spooky surprises (rated PG) and a scary, scary trail for the adventurous (frights galore, rated PG-13). Fortune tellers & hayrides are available for an additional fee. 
Admission is $15.
Halloween Events in Austin: Salado's Halloween Fright Trail
October 14th, 21st & 28th, 2017 6:30 PM – 10:00 PM
Talk a walk along this spooky trail and see scenes from chosen classical tales of terror and Grimm's Fairy Tales will be reenacted for both the young and the young at heart. $3 per child, $5 per adult
Halloween Events in Austin: Spooktacular
October 27, 2017 5:00 PM – 8:00 PM
Explore the Bullock after hours at this family-friendly Halloween extravaganza, featuring performances, games, interactive activities, art, and more. Museum admission is free.
Halloween Events in Austin:Halloween Hootenanny
Thinkery
October 27, 2017 6:00 PM – 9:00 PM
Celebrate Halloween, Thinkery-style. Dress in your Halloween best and learn to make your own spooky sounds, become a gross-ologist and face your fear of freaky foods. Activities for kids and adults make this fall celebration enchantingly fun for all. Complete all activity stations and receive a special prize! $13-15 per person
Halloween Events in Austin: Pumpkin Express
oin us for this annual fall tradition! The Pumpkin Express takes you to the sleepy town of Bertram where we will step off for 30 minutes to pick a pumpkin from the Depot Pumpkin Patch. Kids of all ages will enjoy a chat with Farmer Brown, take a tour of our historic 1912 train depot, and sip apple cider. So pack a lunch and jump on board! All ages are welcome in all cars on this special ride. All cars are pulled by a diesel locomotive. Parties of two may be seated at shared tables. This ride is 3 hours round trip with a 30 minute layover. Various ticket prices.

Halloween Events in Austin: Halloween at the Y
October 28, 2017 2:00 PM – 9:00 PM
Come to one of the largest Halloween events in Central Texas, this festival includes carnival games, inflatables, rides, climbing walls, FREE Halloween candy, music, prizes, concessions, and more.  There will also be a fun costume contest!  Admission is $9 per person
Halloween Events in Austin:
 Halloween Children's Concert
October 29, 2017 1:00 PM & 4:00 PM
A family fun "spook-tacular" show featuring chilling songs for everyone.  Come dressed in your best costume!  What a fun way to get you in the spirit! At the Long Center for Performing Arts, tickets are $15 for adults and $10 for children.
Halloween Events in Austin: Fall Fun Fest
October 31, 2017 9:00 AM – 11:30 AM
This Fall Fest is THE place to be if you have a pre-schooler! Featuring pre-school & toddler carnival games, hayrides, and fun entertainment. Bring canned goods to donate, as all donations benefit the Round Rock Serving Center. Free Admission
Have a Spook-tacular Halloween!!
Other Great Texas Fall Articles you may be interested in: