Hey friends! Have you seen the newest Marvel movie, Guardians of the Galaxy Vol 2 yet? Chances are, you have and as soon as you walked out the movie with the kids, they were asking for some Guardians swag. Take a look the 10 Guardians of the Galaxy Vol 2 Toys you must have.
10 Guardians of the Galaxy Vol 2 Toys You MUST have  
pin
---
Imagine gearing up like Star-Lord with this out-of-this-world Star-Lord mask! Kids can pull on the mask and imagine blasting into intergalactic battles with a rag-tag teams of guardians that might be more than the galaxy can handle. Mask fits most heads. Superpowers not included.
Gear up like Star-Lord with the Star-Lord Elemental blaster! The Star-Lord Elemental Blaster boasts 3 unique blasting settings with different lights and sound effects that just might pack enough galaxy-saving dominance to shut down the bad guys. Rotate the blaster to access new elemental modes, including Water, Fire, and Electricity.
Guardians of the Galaxy Vol 2 Sound Machine
You'll be in tune with Star-Lord and the rest of the Guardians of the Galaxy with this cool Sound Machine. Inspired by the "Awesome Mix" cassette tape in the original, this features cool sound effects and music at the touch of a button.
Groot dances to music from Guardians of the galaxy Vol. 2! 2 modes: free dance lets you control Groot, and Groove mode Let's him do his own moves to any song. Groot can even get back upright after dancing on his side! "Shout out" button triggers 4 different "I AM Groot" phrases.
Let your imagination do the talking and jot down your brilliant ideas in this notebook inspired by Groot from Guardians of the Galaxy Vol. 2. It comes with a galaxy of pages and a handy little bookmark so you never lose your place!
The local landfill will be thankful when you upgrade from disposable bottles – this one holds 25-ounce, and is made of durable, shatterproof Tritan(T) for long-lasting utility. It fits in most car cup holders and has a built-in carrying loop in the lid, so it's easy to take anywhere you go. The bottle has a wide mouth that fits ice cubes for cooling down on hot summer days. With an extremely clear surface that won't craze over time, it's effortless to see the beverage inside. The lid is made of high-impact ABS plastic, with silicone inserts over the spout and vent to make it watertight and leak-proof. The cap flips open easily and locks in place, so it won't swing around while you're drinking. This bottle is entirely BPA free and top rack dishwasher safe. Do not microwave. Recommended for children ages 12+.
A 32-page bedtime picture book told through the eyes of Marvel's lovable characters Rocket and Groot. It's been a long day for baby Groot and he's ready to be tucked in for bed. Just as his eyes start to close, Rocket Raccoon bursts onto the scene! Groot can't go to sleep yet, there's a whole galaxy that needs to be defended and they must work together to save the day! Then maybe, just maybe, Groot will finally get the rest he deserves!
Guardians of the Galaxy Vol 2 Legends Series 
Assemble a rag-tag team of misfits from Guardians of Galaxy with the Marvel Legends Series! With the Marvel 6-inch Legends Series, both kid and adult Marvel fans can start a legendary collection of comic- and movie-based Marvel characters. This 6-inch Star-Lord figure is highly articulated and features a movie-inspired design, making it an epic addition to any Marvel collection.
Guardians of the Galaxy Vol 2 Funko POP Figure
For anyone who collects POP figures, you must add these to their collection.
Guardians of the Galaxy Vol 2 Soundtrack
Every fan need to download the soundtrack to this movie – every kids will love it!
---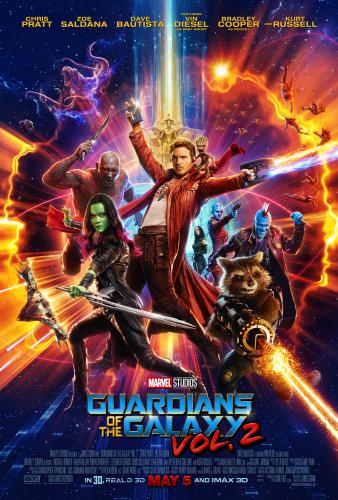 Guardians of the Galaxy Vol 2 opens in theaters nationwide Friday, May 5, 2017
Like GOTGVol2 on Facebook: https://www.facebook.com/guardiansofthegalaxy/
Follow GOTGVol2 on Twitter: https://twitter.com/Guardians
Follow GOTGVol2 on Instagram: https://www.instagram.com/guardiansofthegalaxy/
Visit the official GOTGVol2 website here: https://marvel.com/guardians
Other Articles from the Guardians of the Galaxy Vol 2 Event you may enjoy:
I'm Heading to LA for the Guardians of the Galaxy Vol 2 World Premiere!
Fun Facts About Born in China
That Time When the Dancing With the Stars Cast Taught Me How to Dance
My Purple Carpet Experience at the World Premiere of Guardians of the Galaxy Vol 2
Chris Pratt Reveals Peter Quill's Favorite Snack: Guardians of the Galaxy Vol 2 Easter Eggs
Radio Disney Music Awards
Disney Channel's Descendants 2 Spoilers
Zoe Saldana Reveals Why She'd Like a Break From Playing Kick Ass Science Fiction Females
Does American Housewife Katy Mixon Read Our Thoughts?
Dave Bautista: Guardians versus the Avengers
Meet the Ladies of Guardians of the Galaxy Vol 2: Karen Gillian, Pom Klementieff & Elizabeth Debicki
10 Guardians of the Galaxy Vol 2 Toys You Must Have
Kurt Russell Reveals Why He Thought He Would Kill Guardians of the Galaxy Vol 2
Disclaimer: Disney sent me to Los Angeles on an all-expenses paid press trip, in exchange for my coverage of the red carpet premiere of Guardians of the Galaxy Vol 2. All opinions are my own.