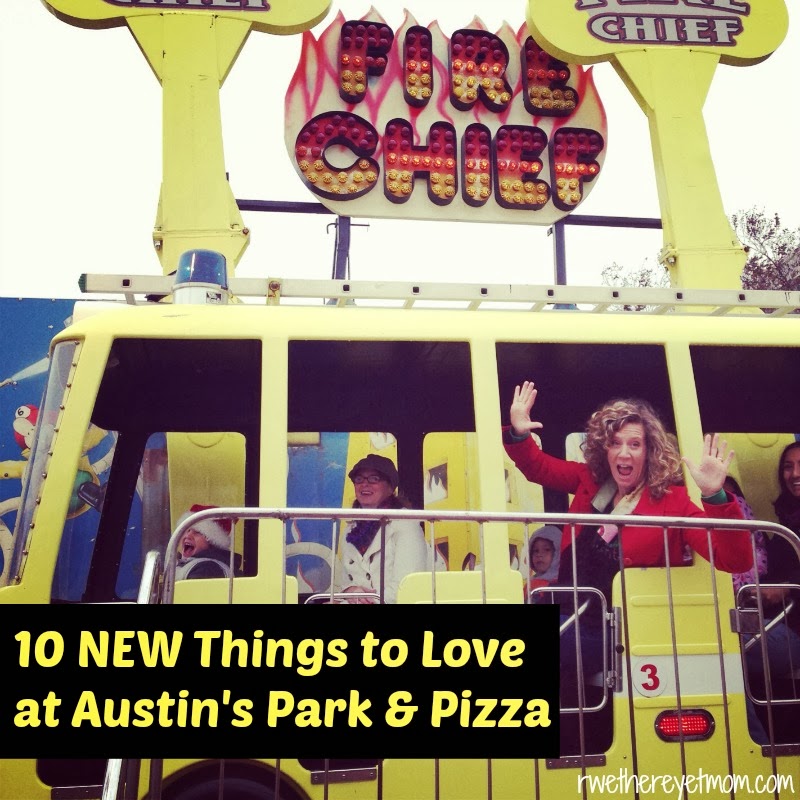 Austin's Park n' Pizza turns 10 this year and have spent the last year upgrading & renovating the park.  My family & I were recently invited to see all the changes & improvements, so I thought it would be fun to show you as well.
Here are 10 NEW Things to LOVE at Austin's Park n' Pizza
1.  3 New rides especially tailored to little ones.  Indoors, they have added Swings in the Park.  And outdoors it's the Crazy Fire Chief & Samba Balloons.
2. Tie Die Party.  How adorable is this?? Kids can create their own tie-died shirt at the party to take home!
3. All new Prize &Video Games inside – including game card systems to keep track of your points.
4. New Slick Track Go Carts.
5. Amazing Salad Bar.  Look at this gorgeous salad bar that they offer – YUM!
6. The Fiesta Roller Coaster.  Yes!!  They have a roller coaster now for little ones!
7. Laser Tag for all Ages.  Even my 4 year old can play laser tag now!
8. Gluten-free Pizza. Not only has Austin's Park n' Pizza worked hard to improve their pizza, with every ingredient made in house, they now offer gluten-free pizza for those who ask.
9. Fresh, new feel to the whole place.  With new carpeting, revamped audio/visual systems and more, the whole park feels new – not 10 years old!
10. Austin's Park n' Pizza was recently named the Top Family Entertainment Center in the World/North America at the International Association of Amusement Parks and Attractions Expo Brass  Ring Awards in November 2013.
Austin's Park n' Pizza is a fun place to take your family for the day.  The food is great, the entertainment is reasonably priced- with the unlimited pass, you can try almost everything – and there is a great, family atmosphere. I love that we have this fun entertainment center available to us here in the Austin area.
Texas Travel Facts for Austin's Park n' Pizza:
Location: 1623 IH-35 Pflugerville, Texas
Hours: Monday-Thursday: 11:00 am – 9:00 pm
             Friday: 11:00 am – 10:00 pm
             Saturday: 10:00 am – 10:00 pm
             Sunday: 11:00 am – 9:00 pm
Admission: Various prices depending on the activities
Recommended Time: 2-4 hours
Good to know: Admission is good for all day; busy weekends; bring sunblock for outdoor activities; stroller friendly
Austin's Park n' Pizza invited my family to see all the attractions and improvements.  All opinions are my own.