Whether you are heading to the beach or the pool this summer, we have found some great summer beach reads.  Even if you are looking for some great books for summer reading, this is your list.
10 Great Summer Beach Reads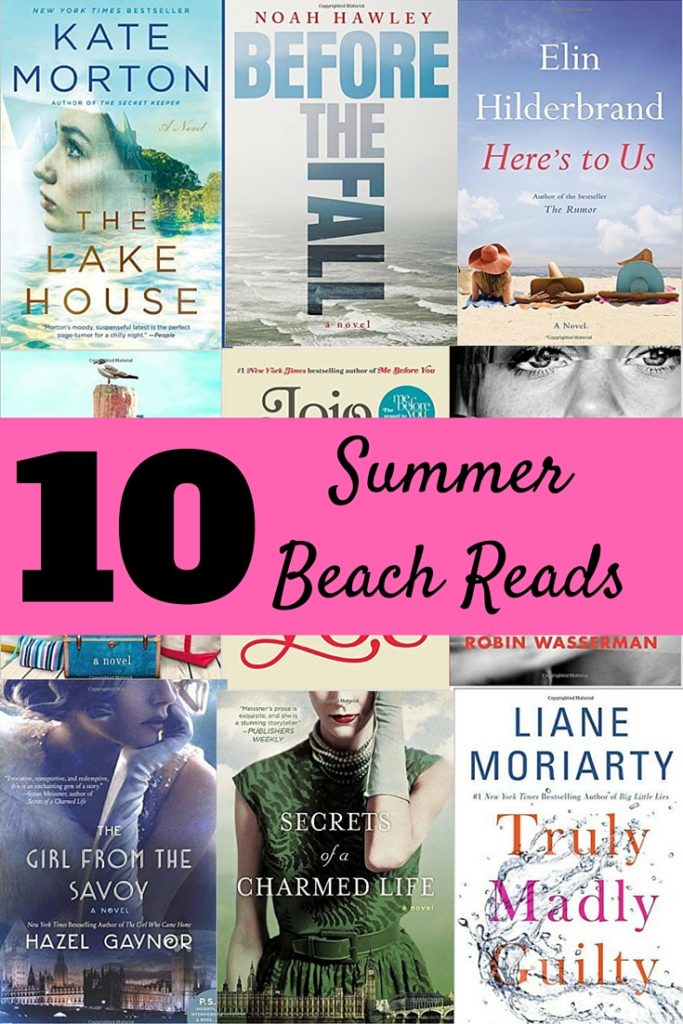 10 Great Summer Beach Reads: Here's to Us by Elin Hilderbrand
Laurel Thorpe, Belinda Rowe, and Scarlett Oliver share only two things; a love for the man they all married, Deacon Thorpe–a celebrity chef with an insatiable appetite for life–and a passionate dislike of one another. All three are remarkable, spirited women, but they couldn't be more different. Laurel: Deacon's high school sweetheart and an effortlessly beautiful social worker; Belinda: a high-maintenance Hollywood diva; and Scarlett: a sexy southern belle floating by on her family money and her fabulous looks. They've established a delicate understanding over the years–they avoid each other at all costs.
But their fragile detente threatens to come crashing down after Deacon's tragic death on his favorite place on earth: a ramshackle Nantucket summer cottage. Deacon's final wish was for his makeshift family to assemble on his beloved Nantucket to say good-bye. Begrudgingly, Laurel, Belinda, and Scarlett gather on the island as once again, as in each of their marriages, they're left to pick up Deacon's mess. Now they're trapped in the crowded cottage where they all made their own memories–a house that they now share in more ways than one–along with the children they raised with Deacon, and his best friend. Laurel, Belinda, and Scarlett each had an unbreakable bond with Deacon–and they all have secrets to hide.
Elin Hilderbrand is one of my favorite summer time authors.  Her books grab you immediately and you can't seem to put them down.  Find Here's to Us here.
10 Great Summer Beach Reads: The Lake House by Kate Morton
Living on her family's idyllic lakeside estate in Cornwall, England, Alice Edevane is a bright, inquisitive, and precociously talented sixteen-year-old who loves to write stories.
One midsummer's eve, after a beautiful party drawing hundreds of guests to the estate has ended, the Edevanes discover that their youngest child, eleven-month-old Theo, has vanished without a trace. He is never found, and the family is torn apart, the house abandoned.
Decades later, Alice is living in London, having enjoyed a long successful career as a novelist. Miles away, Sadie Sparrow, a young detective in the London police force, is staying at her grandfather's house in Cornwall. While out walking one day, she stumbles upon the old Edevane estate—now crumbling and covered with vines. Her curiosity is sparked, setting off a series of events that will bring her and Alice together and reveal shocking truths about a past long gone…yet more present than ever.
Another author I pour through, I loved The Lake House when it first came out last year. Find The Lake House here.
10 Great Summer Beach Reads: Before the Fall by Noah Hawley
On a foggy summer night, eleven people–ten privileged, one down-on-his-luck painter–depart Martha's Vineyard on a private jet headed for New York. Sixteen minutes later, the unthinkable happens: the plane plunges into the ocean. The only survivors are Scott Burroughs–the painter–and a four-year-old boy, who is now the last remaining member of an immensely wealthy and powerful media mogul's family.
With chapters weaving between the aftermath of the crash and the backstories of the passengers and crew members–including a Wall Street titan and his wife, a Texan-born party boy just in from London, a young woman questioning her path in life, and a career pilot–the mystery surrounding the tragedy heightens. As the passengers' intrigues unravel, odd coincidences point to a conspiracy. Was it merely by dumb chance that so many influential people perished? Or was something far more sinister at work? Events soon threaten to spiral out of control in an escalating storm of media outrage and accusations. And while Scott struggles to cope with fame that borders on notoriety, the authorities scramble to salvage the truth from the wreckage.
Amid pulse-quickening suspense, the fragile relationship between Scott and the young boy glows at the heart of this stunning novel, raising questions of fate, human nature, and the inextricable ties that bind us together. Find Before the Fall here.
10 Great Summer Beach Reads: The Weekenders by Mary Kay Andrews
Some people stay all summer long on the idyllic island of Belle Isle, North Carolina. Others come only for the weekends-and the mix between the regulars and "the weekenders" can sometimes make the sparks fly. Riley Griggs has a season of good times with friends and family ahead of her on Belle Isle when things take an unexpected turn. While waiting for her husband to arrive on the ferry one Friday afternoon, Riley is confronted by a process server who thrusts papers into her hand. And her husband is nowhere to be found.
So she turns to her island friends for help and support, but it turns out that each of them has their own secrets, and the clock is ticking as the mystery deepens…in a murderous way. Cocktail parties aside, Riley must find a way to investigate the secrets of Belle Island, the husband she might not really know, and the summer that could change everything.
Told with Mary Kay Andrews' trademark blend of humor and warmth, and with characters and a setting that you can't help but fall for, The Weekenders is the perfect summer escape. Find The Weekenders here.
10 Great Summer Beach Reads: Girls on Fire by Robin Wasserman
On Halloween, 1991, a popular high school basketball star ventures into the woods near Battle Creek, Pennsylvania, and disappears. Three days later, he's found with a bullet in his head and a gun in his hand—a discovery that sends tremors through this conservative community, already unnerved by growing rumors of Satanic worship in the region.
In the wake of this incident, bright but lonely Hannah Dexter is befriended by Lacey Champlain, a dark-eyed, Cobain-worshiping bad influence in lip gloss and Doc Martens. The charismatic, seductive Lacey forges a fast, intimate bond with the impressionable Dex, making her over in her own image and unleashing a fierce defiance that neither girl expected. But as Lacey gradually lures Dex away from her safe life into a feverish spiral of obsession, rebellion, and ever greater risk, an unwelcome figure appears on the horizon—and Lacey's secret history collides with Dex's worst nightmare.
By turns a shocking story of love and violence and an addictive portrait of the intoxication of female friendship, set against the unsettled backdrop of a town gripped by moral panic, Girls on Fire is an unflinching and unforgettable snapshot of girlhood: girls lost and found, girls strong and weak, girls who burn bright and brighter—and some who flicker away. Find Girls on Fire here.
Dolly Lane is a dreamer; a downtrodden maid who longs to dance on the London stage, but her life has been fractured by the Great War. Memories of the soldier she loved, of secret shame and profound loss, by turns pull her back and spur her on to make a better life.
When she finds employment as a chambermaid at London's grandest hotel, The Savoy, Dolly takes a step closer to the glittering lives of the Bright Young Things who thrive on champagne, jazz and rebellion. Right now, she must exist on the fringes of power, wealth and glamor—she must remain invisible and unimportant.
But her fortunes take an unexpected turn when she responds to a struggling songwriter's advertisement for a 'muse' and finds herself thrust into London's exhilarating theatre scene and into the lives of celebrated actress, Loretta May, and her brother, Perry. Loretta and Perry may have the life Dolly aspires to, but they too are searching for something.
Now, at the precipice of the life she has and the one she longs for, the girl from The Savoy must make difficult choices: between two men; between two classes, between everything she knows and everything she dreams of. A brighter future is tantalizingly close—but can a girl like Dolly ever truly leave her past behind? Find The Girl from The Savoy here.
10 Great Summer Beach Reads: Truly Madly Guilty by Liane Moriarty
In Truly Madly Guilty, Liane Moriarty turns her unique, razor-sharp eye towards three seemingly happy families.
Sam and Clementine have a wonderful, albeit, busy life: they have two little girls, Sam has just started a new dream job, and Clementine, a cellist, is busy preparing for the audition of a lifetime. If there's anything they can count on, it's each other.
Clementine and Erika are each other's oldest friends. A single look between them can convey an entire conversation. But theirs is a complicated relationship, so when Erika mentions a last minute invitation to a barbecue with her neighbors, Tiffany and Vid, Clementine and Sam don't hesitate. Having Tiffany and Vid's larger than life personalities there will be a welcome respite.
Two months later, it won't stop raining, and Clementine and Sam can't stop asking themselves the question: What if we hadn't gone?
In Truly Madly Guilty, Liane Moriarty takes on the foundations of our lives: marriage, sex, parenthood, and friendship. She shows how guilt can expose the fault lines in the most seemingly strong relationships, how what we don't say can be more powerful than what we do, and how sometimes it is the most innocent of moments that can do the greatest harm. Find Truly Madly Guilty here.
10 Great Summer Beach Reads: After You by Jojo Moyes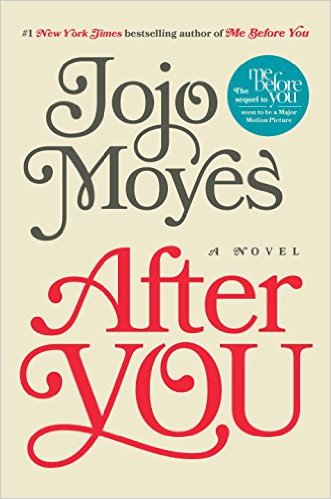 How do you move on after losing the person you loved? How do you build a life worth living?
Louisa Clark is no longer just an ordinary girl living an ordinary life. After the transformative six months spent with Will Traynor, she is struggling without him. When an extraordinary accident forces Lou to return home to her family, she can't help but feel she's right back where she started.
Her body heals, but Lou herself knows that she needs to be kick-started back to life. Which is how she ends up in a church basement with the members of the Moving On support group, who share insights, laughter, frustrations, and terrible cookies. They will also lead her to the strong, capable Sam Fielding—the paramedic, whose business is life and death, and the one man who might be able to understand her. Then a figure from Will's past appears and hijacks all her plans, propelling her into a very different future. . . .
For Lou Clark, life after Will Traynor means learning to fall in love again, with all the risks that brings. But here Jojo Moyes gives us two families, as real as our own, whose joys and sorrows will touch you deeply, and where both changes and surprises await.
If you saw Me Before You in the theaters this summer, this is the follow-up must read. Find After You here.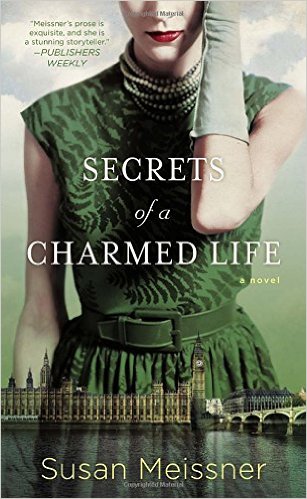 Current day, Oxford, England. Young American scholar Kendra Van Zant, eager to pursue her vision of a perfect life, interviews Isabel McFarland just when the elderly woman is ready to give up secrets about the war that she has kept for decades…beginning with who she really is. What Kendra receives from Isabel is both a gift and a burden–one that will test her convictions and her heart.
1940s, England. As Hitler wages an unprecedented war against London's civilian population, hundreds of thousands of children are evacuated to foster homes in the rural countryside. But even as fifteen-year-old Emmy Downtree and her much younger sister Julia find refuge in a charming Cotswold cottage, Emmy's burning ambition to return to the city and apprentice with a fashion designer pits her against Julia's profound need for her sister's presence. Acting at cross purposes just as the Luftwaffe rains down its terrible destruction, the sisters are cruelly separated, and their lives are transformed… Find Secrets of a Charmed Life here.
10 Great Summer Beach Reads: Mystic Summer by Hannah McKinnon
A chance run-in with a college boyfriend puts a young woman's picture-perfect life in perspective in this warm-hearted and lyrical novel—from the author of The Lake Season.
Since finishing graduate school, Maggie Griffin has worked hard to build an enviable life in Boston. She's an elementary school teacher in a tony Boston suburb, a devoted sister, and a loving aunt. With her childhood best friend's wedding quickly approaching and her own relationship blossoming, this is the summer she has been waiting for.
But when Maggie's career is suddenly in jeopardy, her life begins to unravel. Stricken, Maggie returns home to seaside Mystic, Connecticut, where she expects to find comfort in family and familiarity. Instead, she runs into Cameron Wilder, a young man from her past who has also returned home, and whose life has taken a turn that puts Maggie's city struggles in harsh perspective. When tragedy strikes for Cameron, Maggie is faced with big decisions as she weighs what matters most and strives to stay true to the person she's become.
Set against the gorgeous backdrop of a New England summer when past and present collide, Mystic Summer is a gorgeous novel about looking back, moving forward, and the beauty that blooms when fate intervenes. Find Mystic Summer here.
Disclosure: This post contains affiliate links.