We recently spent the week aboard the Carnival Freedom for a 7-day Western Caribbean cruise to Cozumel, Mexico, Georgetown, Grand Cayman, and Montego Bay, Jamacia. The Carnival Freedom was the perfect ship to cruise as a family. Below, we want to show you the top 11 things we enjoyed the most about the Carnival Freedom.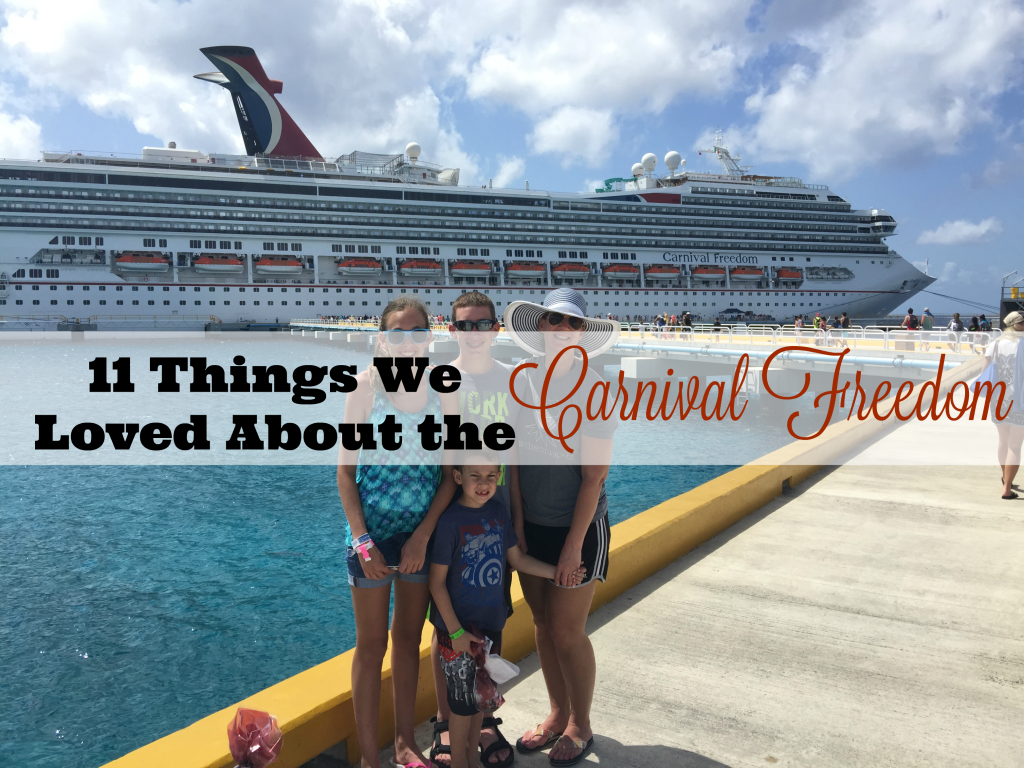 The Carnival Freedom is one of 24 cruise ships in Carnival's fleet and it was the perfect size for our family. It wasn't a mega ship, holding only 2400-ish passengers. We never felt crowded or that we had to wait in any extrobant lines for anything. And as we have come to find out about Carnival's crew, the staff aboard the Carnival Freedom went above and beyond, making our cruise that much more memorable.
There are countless things to love about the Carnival Freedom, but with my family – 2 teenagers and a 6 year old, we wanted to count down the top things we enjoyed the most for you.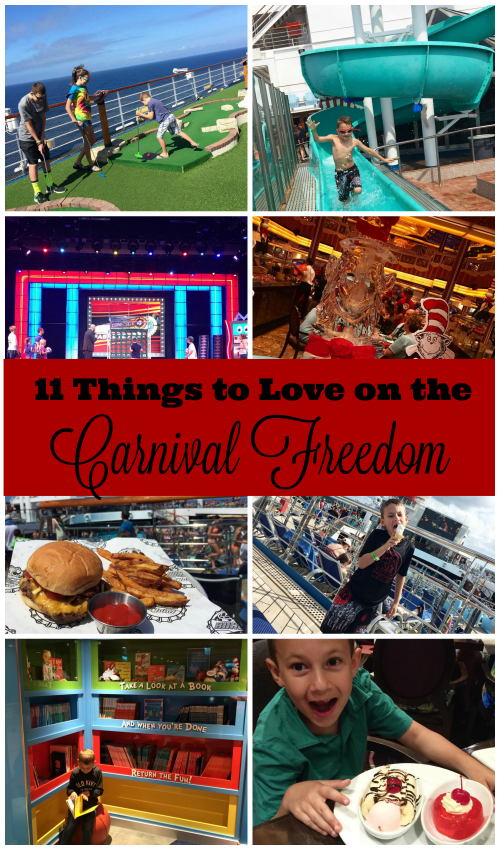 11 Things We Loved About the Carnival Freedom
11. Mini Golf
Truth be told, I'm not the craziest about mini-golf. The game frustrates me, probably because I am no good. But my 6 year old wanted to play mini-golf on day 1 of our cruise. Located on the back of the Carnival Freedom, this 9-hold golf course is nothing fancy, until you look all around you. Cause your playing mini-golf out in the middle of the Caribbean Sea! We actually ended up laughing so much at each other playing and even scored a few holes-in-one. It was windy up top, but fun to do as a whole family.
10. Guy's Burger Joint
So how does a burger end up on my Top 10 list? (Well, you do know we like to eat….) On several of the Carnival ships, Guy's Burger Joint is available to build your own burgers for lunch and mid-afternoon snacks. These burgers are WAY flavorful on their own, but you can add onion rings, sautéed mushrooms, special sauces, and more to make it your own. And the fries are just as good. Guy's Burgers are a huge improvement over a regular burger.
9. Dr. Seuss's Bookville
Only available on the Carnival Freedom, Dr. Seuss's Bookville is filled with tons of new Dr. Seuss books. It's bright and comfortable and inviting and was the perfect spot to curl up with a book for your new readers. We called it "naptime."
8. Hasbro: The Game Show
A few years ago, Carnival partnered with Hasbro Games to bring this fun, family game show to it's ships. Life-sized Hasbro games, like Sorry Sliders, Connect 4, and Simon Flash come to life on stage with audience members as contestants. I just loved the variety of family-entertainment that Carnival offers in the evenings, so you can hang out with your kids.
7. The Carnival Freedom Staff
I have always been a big fan of the high level of customer service you experience though out the Carnival fleet (you can read all about it here), and again, we had a superb experience onboard the Freedom. We like to get to know our stewards and wait staff, so I always engage them in conversation – I like for the kids to hear about where they are all from and what life is like on the other side of the world. And as a benefit, when you get to know your waiters, they like to surprise you – with escargot (yes, Flavivu MADE me try it) and 2 desserts!
6. 24 Hour Ice Cream
So the ability to get an ice-cream cone at 2PM or even 2AM may not be a big seller for most. But my kids loved the freedom they had to go get their own soft-served ice cream (or frozen yogurt) at any time of the day. And yes, I let them – they are on vacation y'all!
5. The Punchliner Comedy Club
Another fun way to spend the evening with your kids is at the PG shows in The Punchliner Comedy Club. Each night they have comedy shows, there are two "PG" shows for kids that are 18 and below. Carnival brings in fresh & funny comedians – we had 4 different ones on our cruise- that put on a clean show (as well as an adult one later in the evening). We all enjoyed laughing together – another fun way to spend the evening as a family.
4. Dr. Seuss Fun
Carnival offers a variety of fun Dr. Seuss-themed programming for younger kids. My 6-year-old was the perfect age to still enjoy the fun. As well as the Bookville library, the Carnival Freedom hosted a Dr. Seuss Parade, Seuss-a-polooza Storytime, and a Green Eggs & Ham breakfast. We went to all of them and thought they were terrific.
3. The Twister Waterslide
The Carnival Freedom features this twisty waterside on the top of the Lido Deck that was a huge winner with my 6 year old. He must have gone down the slide 20 times each day.  And truth be told, the teens liked it too.  It was a welcome addition to the various pools & hot tubs the Freedom has around the ship.
2. Dive-In Movies
Each night, the Freedom showed movies out on the lido deck – and good, new-release movies y'all. We watched Pitch Perfect 2, Antman, Creed, and the Avengers: Age of Ultron this week. And that was just a handful of the list of fun movies they showed each night. Kids can sit in the hot tub, swim, or just claim a deck chair to watch the movie. Grab a bucket of popcorn….or another ice cream cone….
Lastly, Club Ocean
With 2 different ages of kids, I was concerned that we wouldn't find enough to do on the Carnival Freedom. And in fact, the first day at sea, my 2 teens sat on the lido deck by the pool all day with me, plugged into their iPods. But once I pushed them to go try Club O2 (kid's programming for 12-14 year olds), I hardly ever saw them again. They were busy playing basketball, doing scavenger hunts, playing video games, and making friends.
My 6 year old loved spending time at Club Ocean and kept asking to go back.  He would spend part of the day there (after he wore himself out on the Twister Waterslide) and after dinner.  He would come home with crafts, his face painted and lots of stories.  The staff was very good with the kids and the amount of security they used to check him in & out put my mind at ease.  I was way impressed with how much effort Carnival puts into children's programming.
We had a fantastic week onboard the Carnival Freedom and I have lots more to tell you about this ship and why I think it makes a terrific family vacation.  Come back to hear more about the unique Dr. Seuss fun, my kid's favorite spots on the ship and lastly, how the adults can find some rest, relaxation, and FUN onboard!
For now, I leave you with my sunset view from my balcony each night (mom's favorite!).
Other Carnival Cruise Articles You May Enjoy:
Seuss at Sea with Carnival Cruises
11 Things We Loved on the Carnival Freedom
12 Fun Family Surprises on Carnival Magic
An Open Letter to the Carnival Magic Employees
50 Tips for Cruising with Family
Disclosure: My family and I were invited to cruise on the Carnival Freedom.  I was not compensated for this article.  All opinions are my own.