Life is busy enough. Don't get overwhelmed by piles of laundry. We found a few incredible laundry hacks that will help make laundry day less of a chore.  Check out these 12 laundry hacks for busy moms that will change your life:
Laundry Day ranks right up there with Grocery Day – my least favorite "mom chores".  I purposely do them at the beginning of the week to get them done.  So in order to not dread the endless sorting, washing, folding, & putting away that seems to take all day, I started looking for ways to make it less boring and more enjoyable.  Not that I can promise to make laundry day enjoyable…..
12 Laundry Hacks for Busy Moms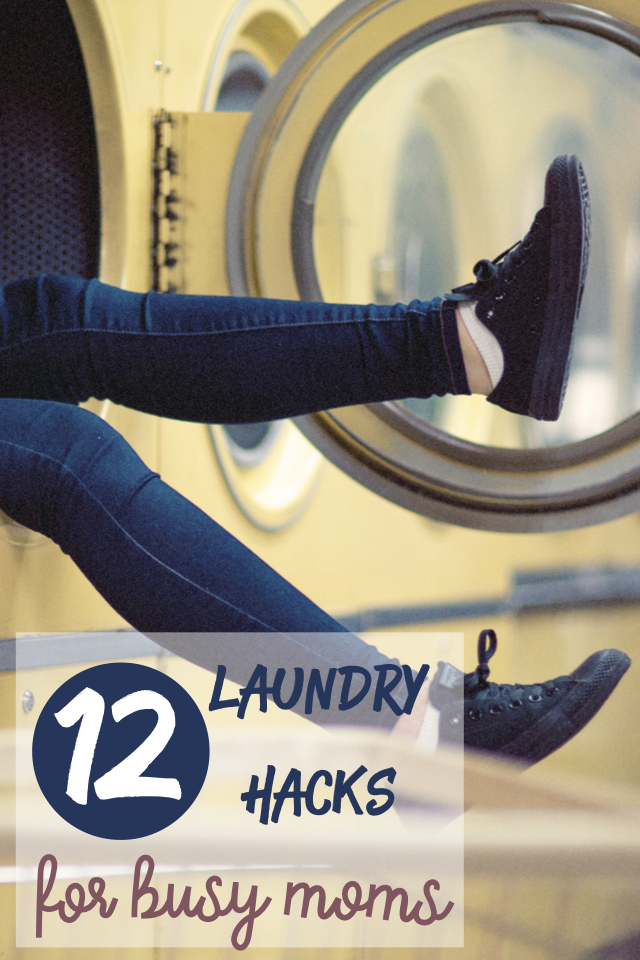 Laundry Hacks: Inside Out = Inside Out
Do your kids peel their clothes off their body inside out and throw them into the hamper without a thought? For years, I have turned my childrens' clothes right-side out when sorting the dirty laundry and it would take up so much time. I politely reminded my kids for months to take the extra 10 seconds to put their clothes right-side out when taking them off, but it never seemed to register.  So, a few weeks ago, I stated washing & folding all their clothes inside out.  Well, wouldn't you know it? It worked. No more inside out clothes.
Laundry Hacks: Sorting Baskets for Adults
Save time by sorting your clothes when you take them off. In our master closet, we have 4 laundry baskets on the floor to automatically sort our clothes as we take them off.
Laundry Hacks: Sorting Baskets for Kids
During the summer, I make my 3 kids do their own laundry, but when school & sports are in session, they have less time to get it done and it is just easier to wash all the clothes in the house on the same day. However, I still feel like they need to take a bit of ownership in their laundry.  The night before laundry day, I set up 4 baskets on the floor of the living room and make them bring down their dirty clothes and sort them into their corresponding piles (colors, whites, towels, grey, etc.). This shaves off so much time on laundry day.
Laundry Hacks: Sock Bag
Put all your kids socks into a washable bag to help keep them together while laundering them.  It cuts down on lost socks and makes matching & folding much easier.  Bonus – give the bag to your kids to have them match & fold.
Laundry Hacks: Brighten with Pepper
Sounds suspicious, but we have actually tried it! A teaspoon of black pepper in your load of bright colors will keep them bright by preventing color bleeding from the fabric. And no, your laundry won't smell like a spice rack, it rinses out.
Laundry Hacks: Dark Clothes actually Do go Inside Out
Wash your jeans inside out to keep them nice and dark.
Laundry Hacks: Say No to Musty Towels
We can't stand to use a towel that has a mildewy smell to it and we finally discovered how to completely get rid of it. Wash your towels separate from the rest of the laundry with a cupful of Persil ProClean.  You will never smell must in them again.
Laundry Hacks: Drying Racks
Our clothes last much longer because we tend to air dry most items.  Especially items we don't want to shrink, like t-shirts, sweaters, and jeans.  It takes longer, but you won't hear the "it's too small" complaint.
Laundry Hacks: Sweater Dryer
Dry sweaters easily by laying them out on a dry towel and rolling them up like you would a yoga mat.  Don't wring them out, just press gently.
Laundry Hacks: Save that Lint
Add a container or bag in your laundry room to collect all the lint.  It makes for a terrific fire starter.
Laundry Hacks: Collecting Coins
Without fail, each laundry day we collect quarters, LEGOs, cars, and washed up bits of paper.  We started a tin above the washing machine to collect all these odd bits. Now when someone can't find something, they check the bin.
Laundry Hacks: Use this as your Dryer Sheet
A crumpled up ball of aluminum foil works perfectly to absorb all the static electricity your clothes seem to build up.
Laundry Hacks: Towel Trick
Have a few damp clothes you need to quickly dry?  Add a dry towel to the load for 15 to 20 minutes – it helps absorb the moisture.
Laundry Hacks: Ice Cubes for the Wrinkle Win
Don't pull out the iron and board for just one wrinkled shirt! Toss it in the dryer with a dryer sheet and an ice cubes for just a few minutes – it will come out smooth and smelling great.
Laundry Hacks: Quiet Sneakers
When washing tennis shoes, tie the laces together and shut the dryer door with them in it.  No more banging shoes.
Persil ProClean Laundry Detergent
I mentioned this previously, I recently discovered Persil ProClean Laundry Detergent.  I was mutually complaining with a neighbor about how our towels seem to stink after a few months and we were constantly buying new ones.  I thought it was the hard water that we have, but my friend suggested I try Persil ProClean. (It's my favorite way to discover tips – from my friends.)
I immediately suggested it to my husband and it worked – honestly, we can use our towels on multiple days and they never smell musty with Persil ProClean.  So we gradually started washing everything with Persil ProClean – sheets, clothes, even our stinky soccer uniforms and workout clothes. It's now our go-to detergent for stains, smells, and all that life brings our busy family.
Persil laundry detergent is available at Walmart – you can find all varieties here, including the new Pro10 formula. To give it a try, the makers of Persil are offering a $2 off coupon here.
I hope these Laundry Hacks help make laundry less of a chore for you & your family – If you have any great laundry hacks, I would love to hear them! Please leave them in a comment!
Disclosure: This is a sponsored post on behalf of Persil ProClean Laundry Detergent.  All opinions are my own.