Last week, I had the pleasure of driving the 2016 GMC Yukon XL Denali to Houston and back for the Houston Car Show.  Here is my review of the 2016 GMC Yukon XL Denali.
2016 GMC Yukon XL Denali
The GMC Yukon XL Denali is my dream car.  No seriously, I have dreamt about this car.  My last SUV was a Yukon and I loved the feel of it on the road.  The 2016 version? SO much better.
My friends and family made fun of me, but I made them listen to the growl of the engine as I started it up.  Sounds dumb, right? Stay with me. The Yukon had a deep, heavy growl when you started it up, indicating strength, resilience, and safety to me.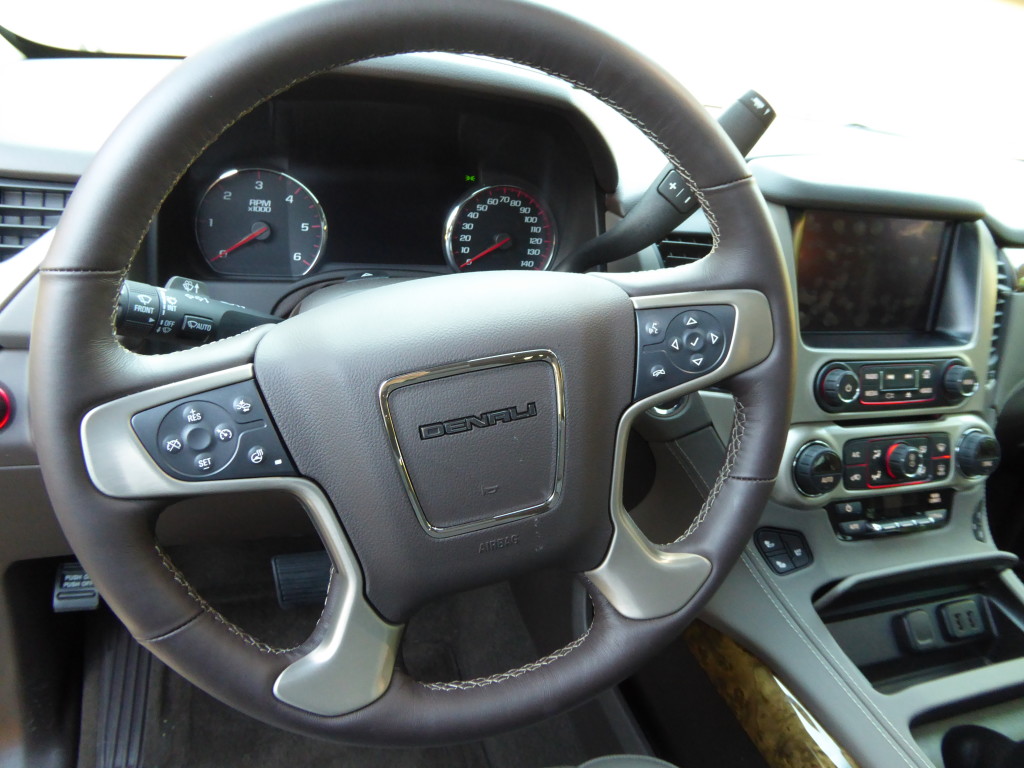 The vehicle drives heavy on the road – you feel a big presence. And I liked the secure, heavy feeling that I had driving, especially on rainy, slick roads, which we encountered the week I drove it. The engine is a 6.2 L V-8 with incredible speed, which comes in handy when you are trying to quickly pass someone.
And despite feeling tall and big on the road, the Yukon drove so smoothly.  We were all very surprised at how well it handled bumps on the road, as we expected it to ride like a truck.
Inside the 2016 GMC Yukon XL Denali 
The Yukon XL Denali has a large 3rd row.   And where we are in life right now (carpools, road trips, etc.), with 3 kids, we need a vehicle that seats more than 5. This particular model had a middle row bench seat, where we would prefer to have captain's chairs for easy access to the third row. My teens sat in the 3rd row and were very comfortable.  I climbed in and was impressed with how the 3rd row did not feel like your typical hard bench.  It was very comfortable with room to stretch your legs.
Now what exactly does the XL give you? And additional 39.3 cubic feet of cargo room. Hello??? That's an amazing amount of space for groceries, soccer gear, the dog, and luggage! And if needed, you can fold both the 2nd & 3rd rows with a button. No more hauling out the third row to store in the garage like my old Yukon!
Navigation/Entertainment/Hands-Free Phone System in the 2016 GMC Yukon XL Denali
New for the 2016 Yukon, the enchanted GMC IntelliLink system features the Apple CarPlay capability that displays messages, music, maps and more on the screen. You better believe I LOVED this feature.  I was able to find my way to our hotel in Houston, get a text message read to me AND create one to reply back with, and play all my favorite artists' music all with VOICE COMMAND.  There were only a few "hiccups" of having to repeat what I said, but I was very impressed with the clarity and responsiveness of the entire system.
Here's how Carplay works:
The biggest thing that impressed my 6 year old was the fact that the 2 DVD players were blu-ray.  I know it doesn't sound like much, but it is getting more and more difficult to find movies in just standard now a days.  All the movies we have bought in the last 6 months have been blu-ray, which means we don't watch them in the car. Boo.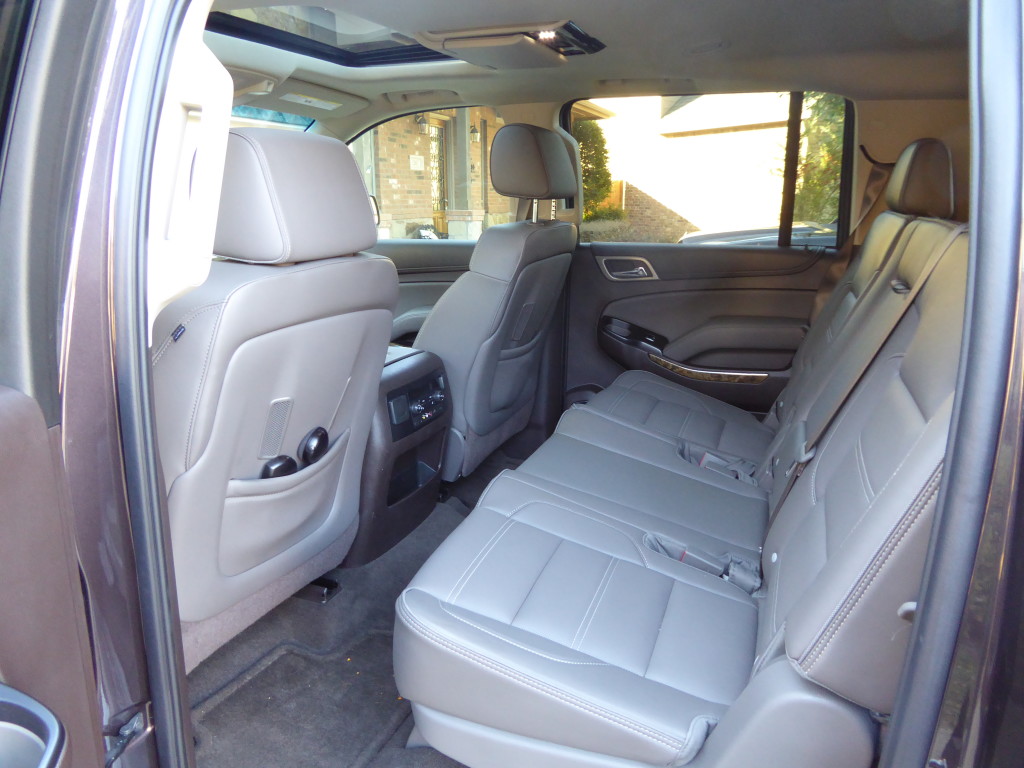 Safety Features on the 2016 GMC Yukon XL Denali
Depsite feeling safer in the Yukon simply because it was a bigger vehicle on the road, it comes with many of the safety features I came to love with the other GM vehicles I have driven:
Safety Alert Seat – sends pulses through the seat to alert you to a variety of potential hazards.
Standard side blind zone alert – Great for changing lanes.
Standard forward collision alert – Lets you know when you are approaching a vehicle ahead of you too quickly.
Standard lane departure warning – Alerts you when you are crossing into another lane. It can become a lot and you start to tune this on out, but it would be useful on long trips.  You can turn this feature on and off.
Dual-stage frontal and side-impact driver and right-front passenger air bags; head-curtain side-impact air bags
Adaptive cruise control, which I have come to depend on and love
What did I like best on the 2016 GMC Yukon XL Denali?
The safety & entertainment features are very important to me, however, what I liked best in the Yukon was simply the look of the SUV.  I have always loved the boxy look of the Yukon, all thru the years, but the 2016 was nice. If you lined up all the SUVs on the market in a row, I would pick the Yukon every time.
So, I know that the look should not be the only determining factor when selecting a vehicle, but I am a firm believer that you HAVE to love the car you are in as you will be driving it for a long time (hopefully).  So yes, loving the look of a car is important.
But it's not the only reason why I would purchase a Yukon.  It drives wells and it has several safety features to allow me to feel confident on the road. And that IS important.
2016 Yukon XL Denali Details
Fuel Economy: 14 City / 20 Hwy / 16 Combined
Engine: 6.2L V-8 VVT DI with Active Fuel Management
Warranty: 4-year/50,000-mile Bumper-to-Bumper Limited Warranty
Price: $70,745.00 – $76,600.00
Please keep in mind, these are my opinions of the Yukon XL Denali and how the SUV and features work for MY family.  I recognize that every family is different and will have different needs, wants, & desires for a vehicle.
Other #MomsPerfectCar Vehicle Reviews:
2015 GMC Acadia Denali
2016 Buick Enclave
2016 Cadillac Escalade
2016 Cadillac SRX
Disclosure: I was provided with the 2016 Yukon XL Denali for a week to conduct this review. I was not compensated for this article. All opinions are my own.