Looking for something fun to do in Austin?  Here's our list of 25 Things to do this Spring in Austin!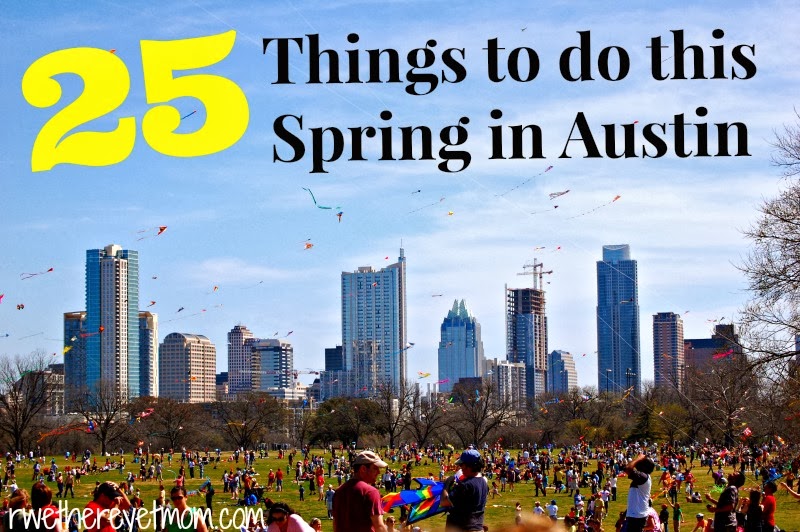 As we all patiently wait for the sun to peek out this Spring in Austin, there are some pretty fun events to look forward to!
Top 25 Things to do this Spring in Austin
1. Double Dare Live – Children of the 80's & 90's will remember this meet but fun game show for kids on Nickelodeon! Take the whole family at Bass Concert Hall. April 14, 2019
2. ABC Kite Festival at Zilker Park  – One of the best spring events in town is the ABC Kite Festival at Zilker Park. If the weather is great (which it should be this year), it's a ton of fun to do.  Here's a few tips if you go – March 31, 2019
3. SXSW Family Events – Who says you can't enjoy SXSW with your kids??  Nope – Free Fun In Austin has some great posts on how you can enjoy the 2 week event with your family.  March 8- 17, 2019
4. Texas Stars & Austin Spurs – We have two semi-pro teams that play up at the Cedar Park Center now. Check out a new sport or just root for the home team this spring at a Texas Stars or Austin Spurs match. Now thru April 13, 2019
5. Austin Water Bikes – We tried water bikes on Lady Bird Lake for the first time last Spring Break and had so much fun! You can also try renting a canoe, kayak or stand-up paddle boards to tour the lake on. anytime
6. Rodeo Austin – Rodeo events, Concerts, Midway games & rides….y'all! Nothing says TEXAS more than the rodeo and Austin puts on a Good one!  Here are 7 Tips for Rodeo Austin (including how to get discount tickets) March 16 – 30, 2019
7. Austin Scavenger Hunt – Last spring, I created a scavenger hunt for teens to see cool sites & learn all they could about downtown Austin.  It's a fun and free way to spend an afternoon! Find out more here. anytime
8. Disney on Ice Presents Frozen – The HEB Center brings this popular performance group back to Austin this Spring.  Check out this fun theatrical experience with the whole family. May 8-12, 2019
9. St. Patrick's Day Festival in Austin – Billed as the "largest St. Patrick's Day Event in Central Texas", this festival includes local Celtic bands, Irish dancers, food, and all things to make your St. Paddy's day FUN!  March 17, 2019
10. Strawberry Picking at Sweet Berry Farms – The farm opens in Mid-March and strawberry picking lasts through May.  This was one of my kids favorite activities last spring! Learn more about it here. anytime (except Wednesdays)
11. Monster Jam – The Frank Erwin Center hosts this fun truck event this Spring. April 13 & 14, 2019
12. Fidler on the Roof – We love the traveling Broadway musicals that come to Bass Concert Hall and this one is no exception! April 2-7, 2019
13. HONK! TX – Have you heard of HONK! TX yet? It's a Festival of Community Street bands with a weekend full of Brass Band performances and parade all for FREE!  Sounds fun! March 29-31, 2019
14. Round Rock Express Game – So many fun things going on up at the Dell Diamond from Kids Days (Sundays) to Dollar Dog Night (Mondays) to Fireworks Fridays. They have so many fun events happening this year, including Star Wars & 80's Nights, Bob Schneider & other great concerts, and a fun Kid's Club. Check out their Full schedule seen here Games start April 9
15. Pictures in the Bluebonnets – Hands down, number one must do in the Spring – Click here to find a gorgeous patch of flowers and take a few shots. It's a family tradition! anytime
16. Zilker Faerie Homes & Gardens – The Zilker Botanical Gardens have been invaded by faeries this Spring for the 5th year and your invited to see their homes & gardens.  Events such as a home tour, tea parties, flashlight trail tours, and more are fun for all ages! April 23–June 24, 2019
17. Red Poppy Festival – The 16th annual Georgetown festival lasts all weekend long and features a 5K, arts & crafts, shopping, great food, bands, and so much more! And Pat Green will be performing this year!  April 26-28, 2019
18. A Day in the Hill Country – Take a free weekend day, drive a little bit west and you will find so much to do in the Hill Country!  Hike up to the top of Enchanted Rock, have a piece of pie at Bluebonnet Cafe, walk inside a submarine at the National Museum of the Pacific War, or make some butter at the Sauer-Beckmann Living History Farm! Don't miss the newest museum – the Hill Country Science Mill in Johnson City – my kids loved it! anytime
19. Eeyores Birthday Party – This annual event is always a little controversial, but I say go!  Everyone is invited to wear a costume, dance around the Maypole and help raise money for non-profit groups in Austin.  Children events until 4 pm.  April 27, 2019
20. Austin Lemonade Day –  Teach your children how to put their entrepreneurial skills to work with a lemonade stand.  May 11, 2019
21. Pecan Street Festival – Love Austin Love Art is what the annual event is all about.  With over 275 artisans and vendors, the festival is great for families.  Lots of performances, live music, food, and workshops.  May 4-5, 2019
22. Cats! – Another outstanding Broadway show makes it's way to Bass Concert Hall.  May 7-12, 2019
23. Play a Round of Old-School Mini-Golf – Peter Pan Mini Golf takes you back in time with it's whimsical 18-hole golf courses (two of them!).  There's not too many of them around the Austin area, so this is a fun treat for the kiddos – especially those who have never played mini-golf! anytime
24. Drive in Movies –  Did you know we have a Drive-in Theatre here in the ATX?   The Blue Star Lite Drive In has some family friendly movies this spring.  Go show the kiddos how we used to watch movies when we were kids! selected dates
25. Enjoy a Farmer's Market – Spring is a great time to load up on fresh produce.  Here is a small sampling of a few Farmer's Markets we have in town….
Austin Farmer's Market
Barton Creek Farmer's Market
Cedar Park Farmers Market
Mueller Market
With lists like these, do you ever wonder why anyone would choose to live anywhere else? Have a wonderful Spring in Austin y'all.