Thinking about a quick trip to Houston, Texas?  You should go & take the kids! We had so much fun on a recent weekend there.  Here's 3 Days in Houston with kids!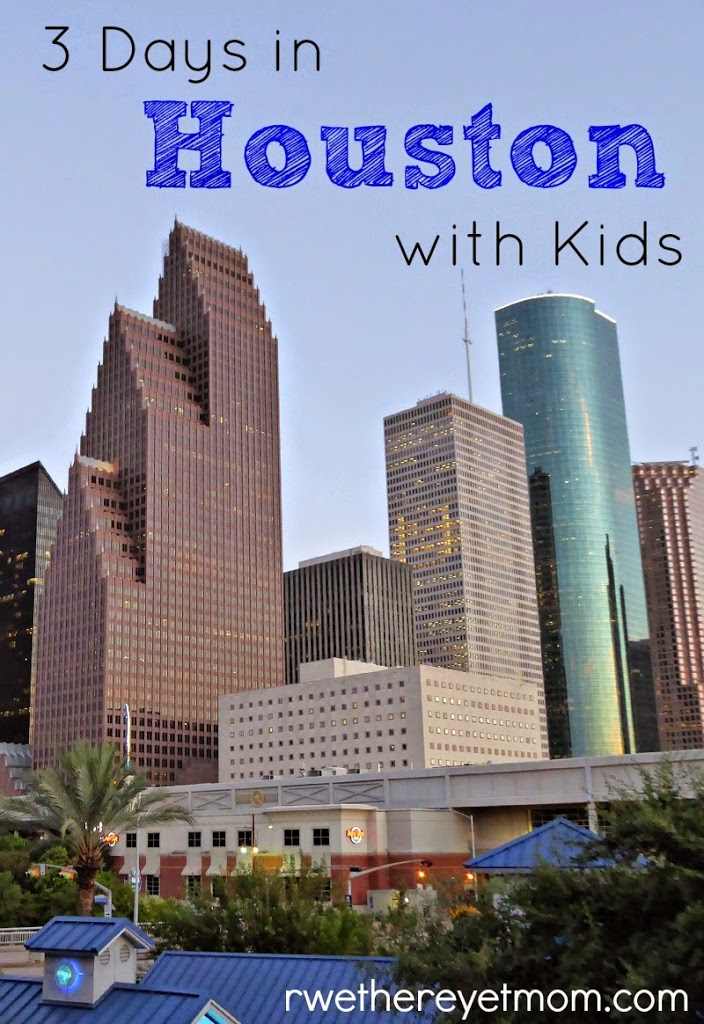 Houston, Texas is a big city with a ton of different things to do. When visiting, you can choose from cultural, historic and outdoor activities to name a few.  I recently visited and when it came to figuring out our 3 day itinerary, I had a hard time. But being that I was traveling to Houston with kids, it was simple to plan out some "must-sees" while we were there.
The Greater Houston Convention and Visitors Bureau hosted our stay and provided us with the Houston CityPass to get around.  Their website was a great starting place, as they have suggested itineraries, restaurants, shopping and more.
3 Day Itinerary in Houston with Kids
Day 1: Houston with Kids
We arrived in the afternoon and once settled into our hotel, we were ready to start exploring.  We stayed downtown at the Embassy Suites  which was a great, central location for the attractions we wanted to see.  The hotel itself was perfect for a family with 2 queen beds and a fold out couch.  We enjoyed their amazing full breakfast each morning and the happy hour snacks in the afternoon.
Discovery Green: That afternoon, we walked over to Discovery Green to check out their splash pad, model boats, and playground.  On some evenings, they host free concerts, movies on the lawn, yoga classes and more.  And in winter, they offer ice skating.  It's a fun green space smack dab in the middle of downtown and worth spending an afternoon or evening here.  They do have 2 restaurants, but we were excited to head to the Aquarium for dinner.
Discovery Green
1500 McKinney, Houston, TX 

Downtown Aquarium: Dinner at an Aquarium? Yes! The aquarium is a bit small, but does have a stingray tank where you can pet & feed the stingrays.  My kids found the real fun to be the rides outdoors, including the shark train – where you ride through a tank filled with sharks.  The Downtown Aquarium is also home to a seafood restaurant where the main attraction is the 150,000 gallon tank of beautiful fish.  My kids could barely take their eyes off it to eat their meal.
Downtown Aquarium
410 Bagby St, Houston, TX
Day 2: Houston with Kids
Space Center Houston: History & Science collide at Space Center Houston and it is definitely a must-do when visiting Houston. We had been here a few summers ago (see our 10 Tips to visit here), but we were happy to go back, as they have rotating, hands-on exhibits the my kids really enjoy.  We spent the entire morning here at the Mission to Mars (rotating exhibit being changed now), learning how to live on the Space Station, and taking a walk through history on the tram tour to Mission Control. Recently, they added the Space Shuttle Independence replica to the top of the actual Space Shuttle Aircraft they house in front of the building. You can easily spend an entire day here, but we found it was nice to choose what we all wanted to see and we were finished by lunch time.
Space Center Houston
1601 NASA Pkwy, Houston, TX
Kemah Boardwalk: We spent the afternoon at Kemah Boardwalk, a 35-acre park with amusement rides, restaurants, & shopping. With the CityPass, you can get an all-day pass to ride most of the rides, including the Aviator, Pharaoh's Fury, and the Boardwalk Bullet.  Lines were short (due to it being midweek and August), so my kids rode ride after ride and really enjoyed themselves.  We got some great pictures! The boardwalk offers themed-restaurants including Landry's, Bubba Gump Shrimp & Saltgrass Steakhouse – you can easily do lunch or dinner here.  I liked the fact that we were right on Galveston Bay and were able to watch boats come in and out of the bay and catch a cool, salty breeze.
Kemah Boardwalk 
215 Kipp Ave, Kemah, TX
Jus' Mac for Dinner: This Houston favorite has been on my list to try for years, so despite it being all the way back north of downtown, we hunted it down.  And I'm so glad we did. Jus' Mac is gourmet macaroni and cheese – and not anything like what mom makes. There are a ton of creative varieties you can try from buffalo chicken, to cheeseburger to BBQ brisket. It is rich and delicious and a totally fun restaurant to take the kids to. It was very affordable and we left so very full.  Jus' Mac has 3 locations in town.
Jus' Mac 
2617 Yale Street, Houston, TX
106 Westheimer, Houston, TX
16525 Lexington Blvd, Sugarland, TX– 
Day 3: Houston with Kids

Children's Museum of Houston: One of my favorite children's museums I have ever been to, the Children's Museum of Houston is FANTASTIC.  Each of my 3 kids – 13, 11, and 5 – love this museum for different reasons.  The 5 year old is easy – so many hands on exhibits from making levers and launching balls, to climbing the multi-storied PowerPlay to making water flow outside at FlowWorks. My 11 year old son loves to go downstairs and create planes to make them fly or cars out of LEGOs to race – he could spend all day at Invention Convention.  Lastly, my 13 year old likes to go make as much money as she can at Kidtropolis – the shining star of the museum. Kids get to perform various jobs, earn money, deposit money, and then spend money.  It is one of the most popular exhibits, so they give everyone passes for various times to go in.  This is another "Must-do" while in Houston – and is great for all ages.
Children's Museum of Houston 
1500 Binz Ave Houston, TX 77004



Natachee's Supper 'n Punch: There is a great list of kid-friendly restaurants in Houston to try, but if I can recommend a fun one with a great kid's menu, it's Natachee's Supper 'n Punch. It's very close to the museum district, and worth stopping for the eclectic decor. They serve great comfort food – burgers, meatloaf, sandwiches, veggies – but our favorite was the kids meals served in lunch boxes!
Natachee's Supper 'n Punch 
3622 Main Street, Houston, TX
Houston Museum of Natural Science: We found one of the BEST dinosaur exhibits at the Houston Museum of Natural Science – the Hall of Palentology has over 450 fossils and fossil replicas.  This grand museum is also home to a butterfly exhibit, a sparkling hall of gems & minerals, and a planetarium.  There were a great deal of exhibits that sparked my kids minds and we really enjoyed the docents taking time to explain some of the exhibits with us. If you have the CityPass, this museum is worth stopping it for just a few hours.
Houston Museum of Natural Science
5555 Herman Park Dr., Houston, TX


The Chocolate Bar: We couldn't hit the road for home without a quick stop at the Chocolate Bar – a sugar-lover's dream store.  Along with some of the most unique-shaped chocolate bars, you can custom-make your own chocolate bark. They serve the most amazing chocolate cake and even make their own ice cream.  It's a fun, sweet afternoon stop.
The Chocolate Bar
2521 University Blvd, Houston, TX
1835 West Alabama, Houston, TX

So, yes there is a ton more to do in Houston – I haven't even scratched the surface. I would recommend a 3-day weekend trip with the family to Houston.  Grab a CityPass that includes all the big attractions we went to – it's a GREAT savings – and pick a few unique restaurants to try along the way.  We really enjoyed our 3 day trip and hope to go back to try a completely different itinerary next time!
Tell me in the comments, what's your favorite thing to do in Houston with kids? What did we miss?

Other great articles on Houston:
Houston Zoo
Kemah Boardwalk
Houston Museum of Natural Science 
Children's Museum of Houston
Things to Do in Houston
Top 5 Things to Do in Houston
Disclosure: We were invited to visit Houston by the Houston CVB and were provided with CityPasses and hotel stays.  I was not compensated for my article.  All opinions are my own.