This summer, we spent a few weeks with family in Illinois. Since we were so close, we just had to pop up to Chicago for a few days. We quickly fell in love with this great city, as it is filled with so many great museums, free parks, and delicious food. We found it to be a great city to take the entire family. Here is your itinerary for 3 Days in Chicago with Kids.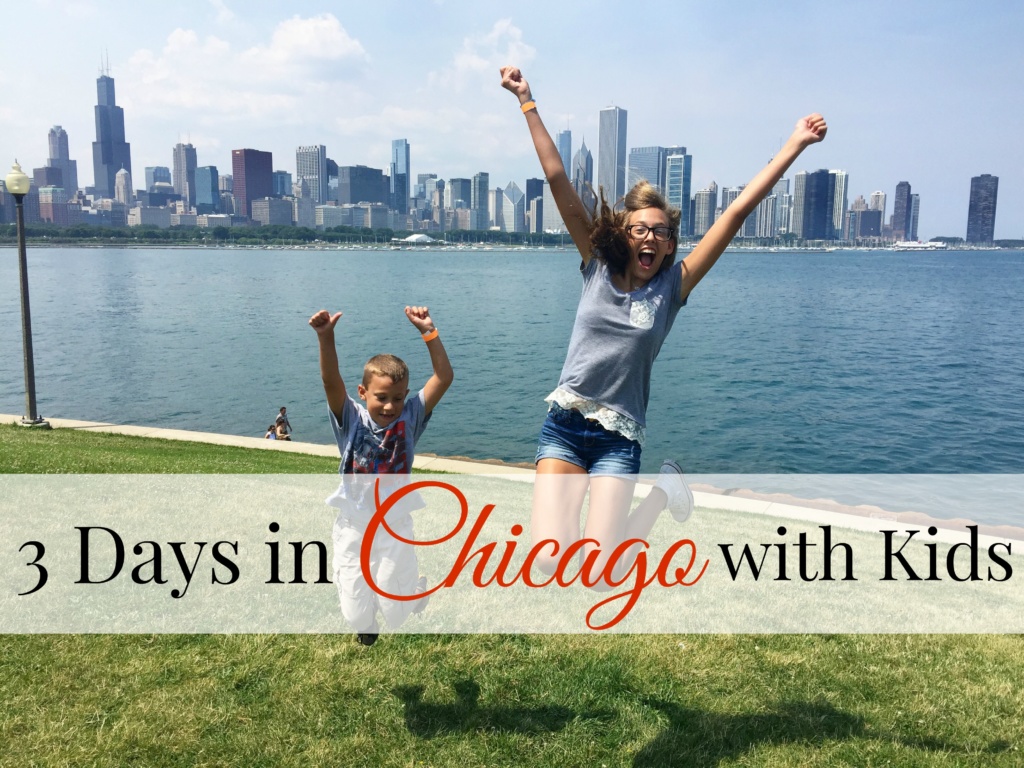 Little known fact – We spent the first 3 years of our marriage in Central Illinois. And in those 3 years, ask me how many times I visited Chicago? Would you be surprised if I said only once? And that was for a shopping trip in the suburbs.
Now I am just kicking myself for not taking advantage of how close we were to this great city. Chicago is fast-paced, yet very family friendly. I was so surprised at how much fun we had in a recent 3 day trip up to the Windy City.
Being that our visit was during the summer, there was so much to see & do in Chicago with kids that is was hard to cram in as much as i would have liked to. We could that to really appreciate all the city has to offer, you need a full week to see it all. But even if you only have a few days, you can get a great appreciation for this great city. Here's how we spent our 3 days in Chicago with kids this summer.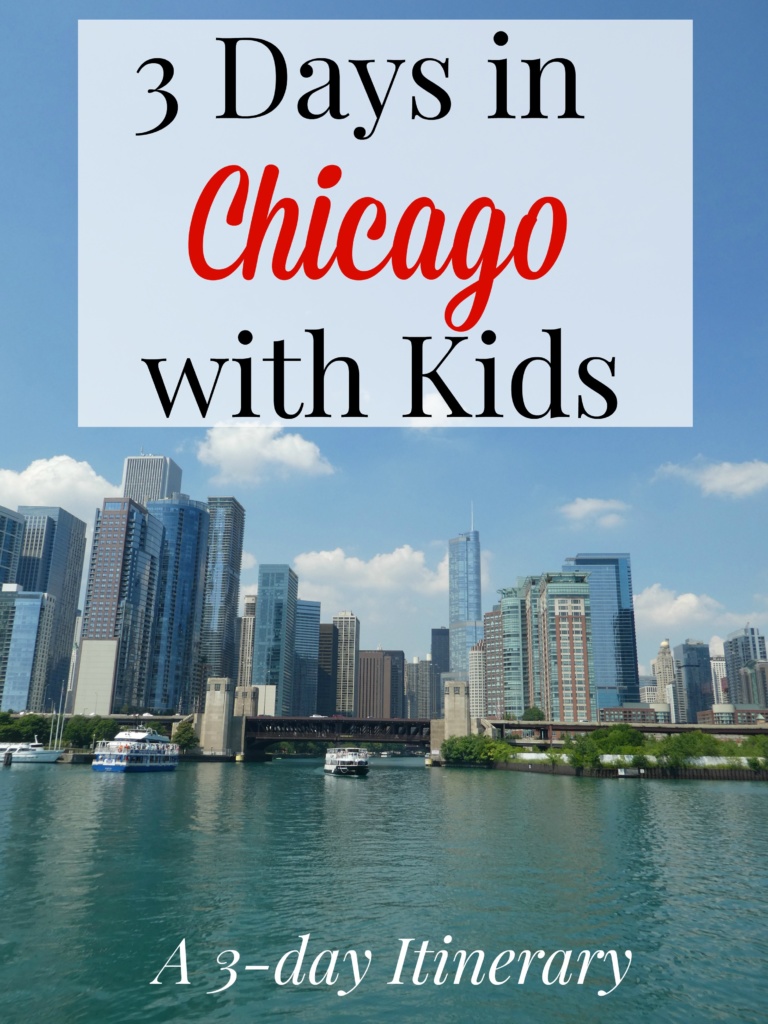 3 Days in Chicago with Kids: Day 1
Chicago with Kids: Hotel
To really maximize your time in Chicago, we recommend finding a hotel that is in the Magnificent Mile or The Loop area of downtown Chicago. Both locations are close to the places you would like to see during your time there. The Magnificent Mile area is close to the John Hancock Building, Navy Pier and shopping along Michigan Ave. The Loop is close to the Willis Tower (Skydeck), Millennium Park (The Bean) and the Museum District.
We stayed at the Hyatt Chicago Magnificent Mile and was a terrific location. We either walked or took an Uber to all the places we visited. And despite being downtown, our family suite on the 15th floor of the Hyatt was very quiet, spacious, and provided a perfect respite to our 3 day trip to Chicago.
Chicago with Kids Stop #1: Skydeck at Willis Tower
One of the most thrilling adventures to be had in Chicago, and the first stop you should make when visiting the city, is the Skydeck on the 103rd floor of the Willis Building. Formally known as the Sears Tower, the tallest building in Chicago is home to the infamous glass boxes that allow you a birds-eye view of the city of Chicago. As scary as it is to walk out onto this suspend glass platform, it's such an incredible view, that I highly encourage you to try this once-in-a-lifetime experience.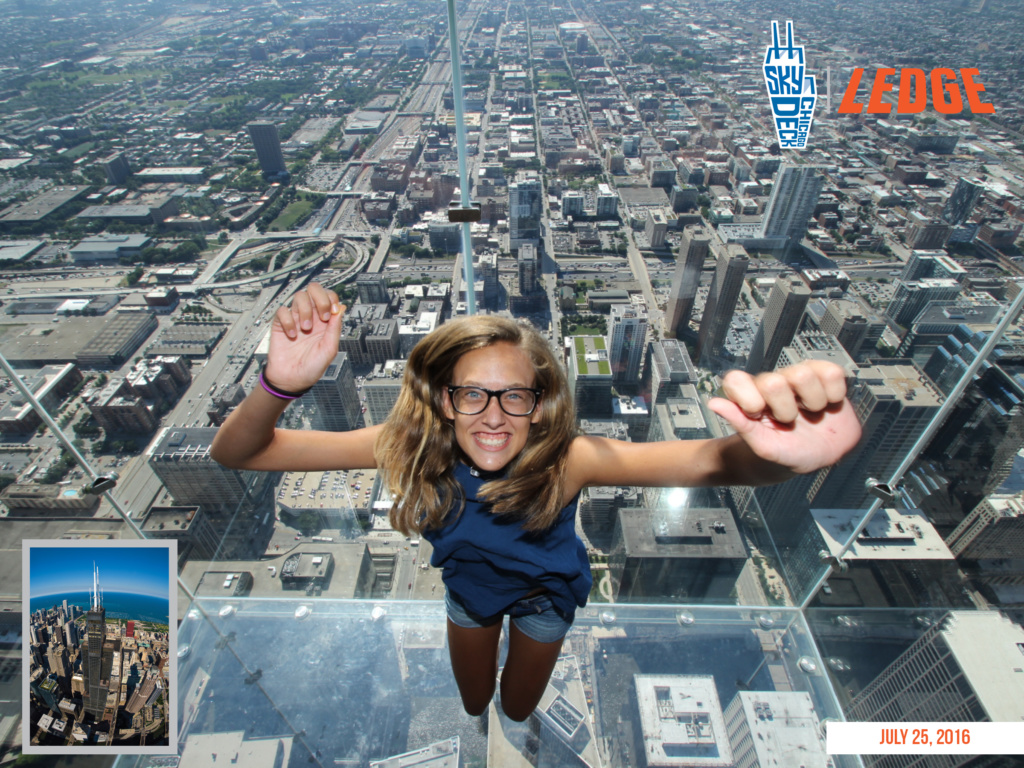 After that view, make sure to walk the entire floor to see out all sides of the building and see if you can see all 4 states, the funny-shaped federal prison, and even the building that is shaped as a diamond ring. This is a great way to see the city in it's entirety, also providing you with a visual map for the next few days.
RWeThereYetMom Tip: Make this your first stop of the day, especially if you are visiting during the summer. If you get there right when it opens, you will have little to no wait to go to the top. Another terrific time to go is around 8 pm in the summer to witness the sunset.
Chicago with Kids Stop #2: Millennium Park
A few blocks north of the Willis Building is Millennium Park, which has 2 very inventive outdoor features – Crown Fountain & Cloud Gate. During the hotter months, Crown Fountain is a popular spot to cool down in the water. We were mesmerized by the faces that light up the 2 structures, inviting you to splash in their waters below, then spitting a big stream of water at you – so fun!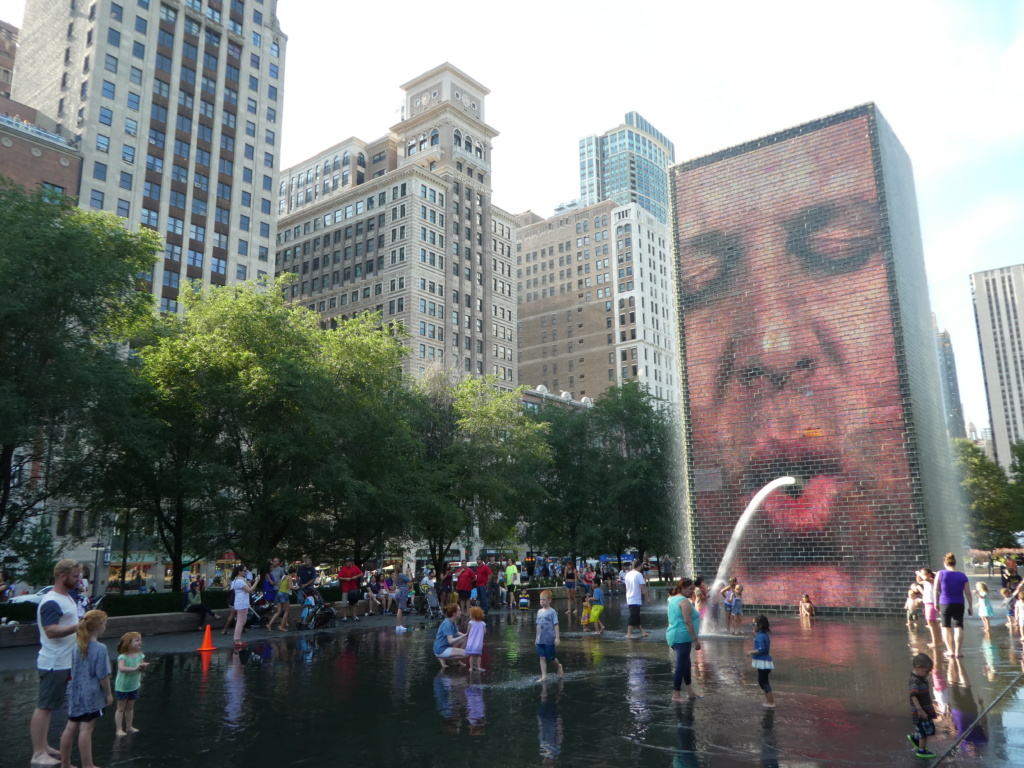 A few feet away sits one of my favorite outdoor art pieces, Cloud Gate. Commonly referred to as The Bean, it's a popular spot to take photos, especially off of the reflective surface. You can walk under it & take photos from all sides.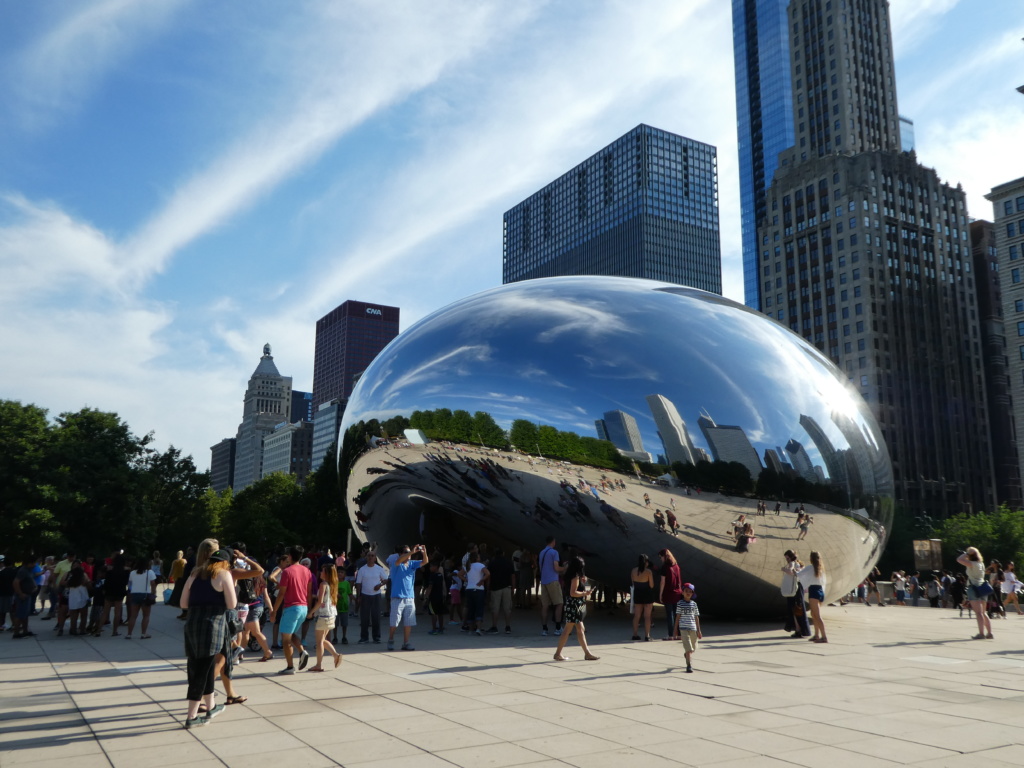 RWeThereYetMom Tip: The earlier you go to Cloud Gate, the better. I had a friend who went at sunrise & her photos were fantastic!
Chicago with Kids Stop #3: Shedd Aquarium
Shedd Aquarium sits on the shores of Lake Michigan and is one of the most beautiful aquariums we have ever visited. The Aquarium has over 30,000 animals and has fun exhibits, including a stingray-filled touch tank, an amphibians exhibit that had us mesmerized and a great show that centered on rescue & rehabilitation of marine animals. The Shedd Aquarium is a popular Chicago attraction and can be busy, but we found lots of places that allowed quiet, cool browsing of the beautiful sea creatures.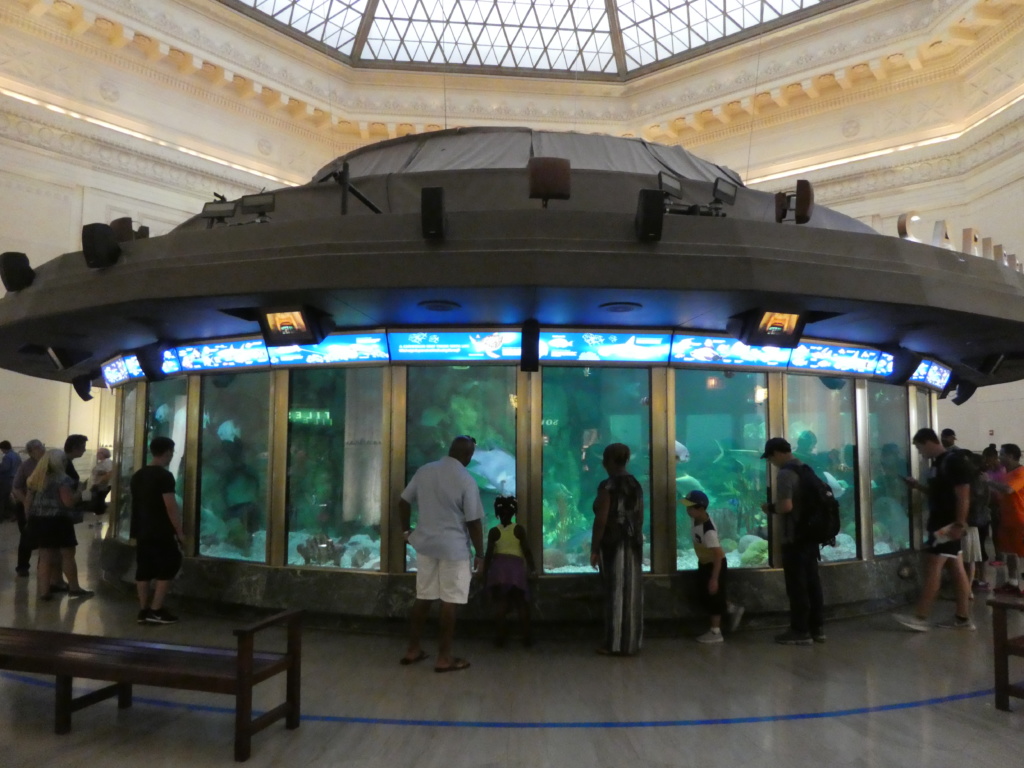 RWeThereYetMom Tip: Plan on spending 2 hours at the Aquarium, and be sure to grab tickets to the One World aquatic show when you first arrive.
Chicago with Kids Stop #3: Field Museum
Right next door to the Shedd Aquarium sits the fantastic natural history museum, the Field Museum. It's home to Sue, the most complete and best preserved Tyrannosaurus rex in the world and she is fascinating to see in person. The museum also has fun exhibits like Underground Adventure, which gives you a bugs-eye look at the world as well as mammals, gems, and more.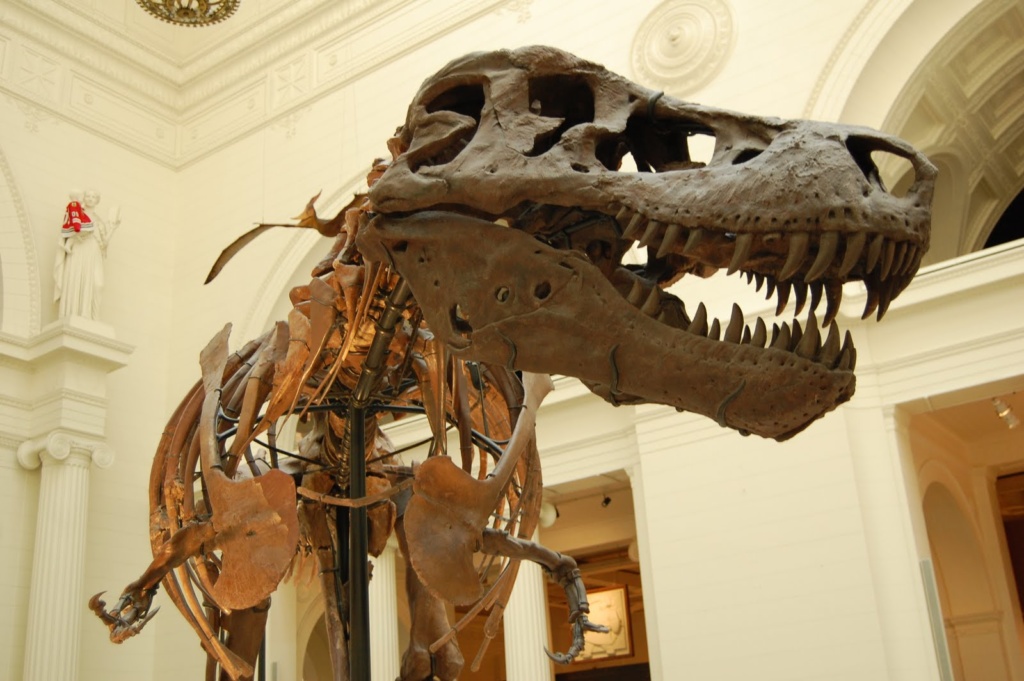 Chicago with Kids Stop #4: Dinner – Deep Dish Pizza
One of our favorite things to do when visiting a new city is sample their local cuisine. And you can not come to Chicago and not try deep dish pizza. The 3 most commonly recommend restaurants to try are Gino's East, Giordano's, & Lou Malnatis, all found in several locations downtown. We tried Gino's East, where the customer is encouraged to write/draw on every surface. But beware, make sure you bring a great deal of patience when ordering a deep dish pizza, as most take over 30-45 minutes to bake.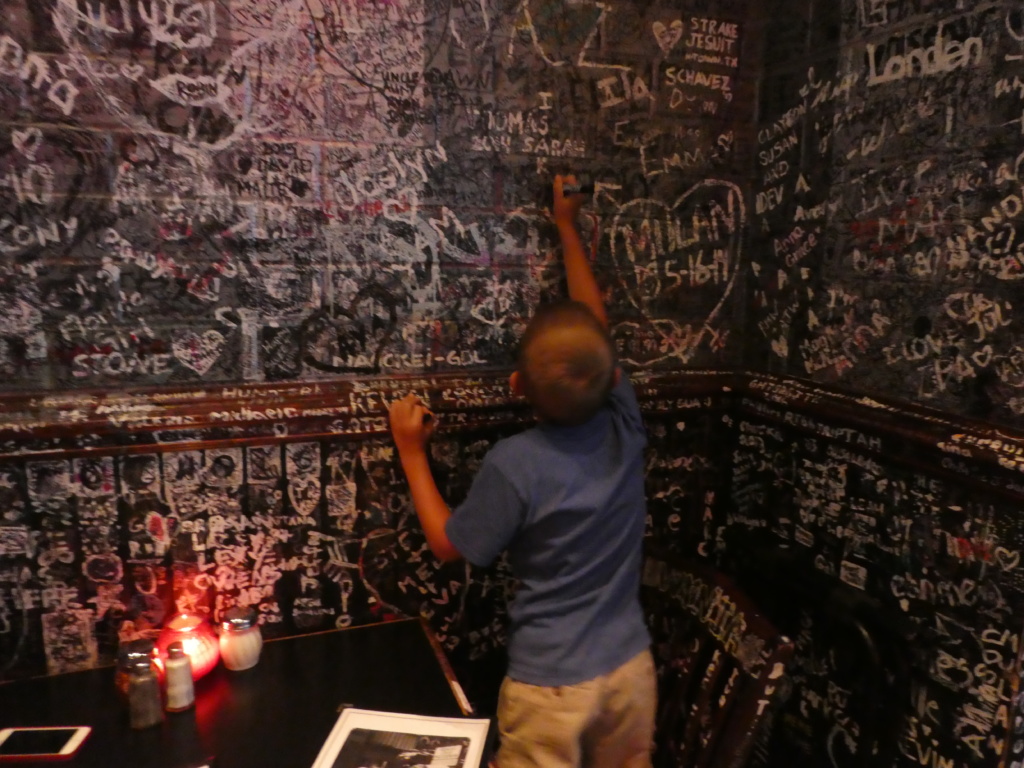 RWeThereYetMom Tip: Ask the concierge at your hotel for tips on dining at these restaurants and they may have a priority seating pass for you. We were able to get one for Gino's East and skipped the line to be sat immediately with it.
3 Days in Chicago with Kids: Day 2
Chicago with Kids Stop #1: Museum of Science & Industry
One of the best science museums we have ever visited, the Museum of Science & Industry was incredibly well done. Everyone was intrigued by many of the exciting exhibits, from the 40 foot tornado in the Science Storms to getting lost in the Mirror Maze. We also really enjoyed YOU! The Experience where you can see yourself as a 70 year old, hear your voice age, and learn more about your ever-changing body. The museum has model train trip from Chicago to Seattle, an actual U-505 German Submarine, and a Zephyr train you can climb aboard. MSI has several exhibits that cost an additional fee to enter, as well as an Omnimax theater. You can easily spend an entire day here, so plan accordingly.
RWeThereYetMom Tip: Use the Museum of Science & Industry website to plan your visit. They have a tool that will narrow down what exhibits to see based on your interest and the amount of time you have. We found it to be extremely helpful.
Chicago with Kids Stop #2: Maggie C. Daley Park
After a full day inside at the museums, a little outside time is in order for the children. The newly-opened Maggie C. Daley Park, located right along the shoreline of Lake Michigan (and Grant Park & Millennium Park), is awesome. Featuring the coolest play areas for kids, a skating ribbing (roller in the summer & ice in the winter), climbing walls, mini golf, and more, this park is an incredible addition to downtown Chicago. My youngest son, who is 7, ran from the climbing structure to the tower slide to the boat to the enchanted forest and still couldn't get enough. We spent 2 hours playing, but could have spent much longer had we had more time. The park is free with the exception of the rock walls and mini golf and is open from 6 am to 9 pm each day.
Chicago with Kids Stop #3: Dinner – Portillo's
Another Chicago favorite is Portillo's, which is known for both their Chicago style hot dogs and Italian beef sandwiches. A Chicago Style hot go includes mustard, relish, celery salt, freshly chopped onions, sliced red ripe tomatoes, kosher pickle, and sport peppers piled onto a perfectly steamed poppy seed bun. But before you turn your nose up at it, try it. It's delicious. Portillo's also offers burgers, salads, pasta, and a great kid's menu, so there is something for everyone.
Chicago with Kids Stop #5: Navy Pier – Ride the Centennial Wheel at Night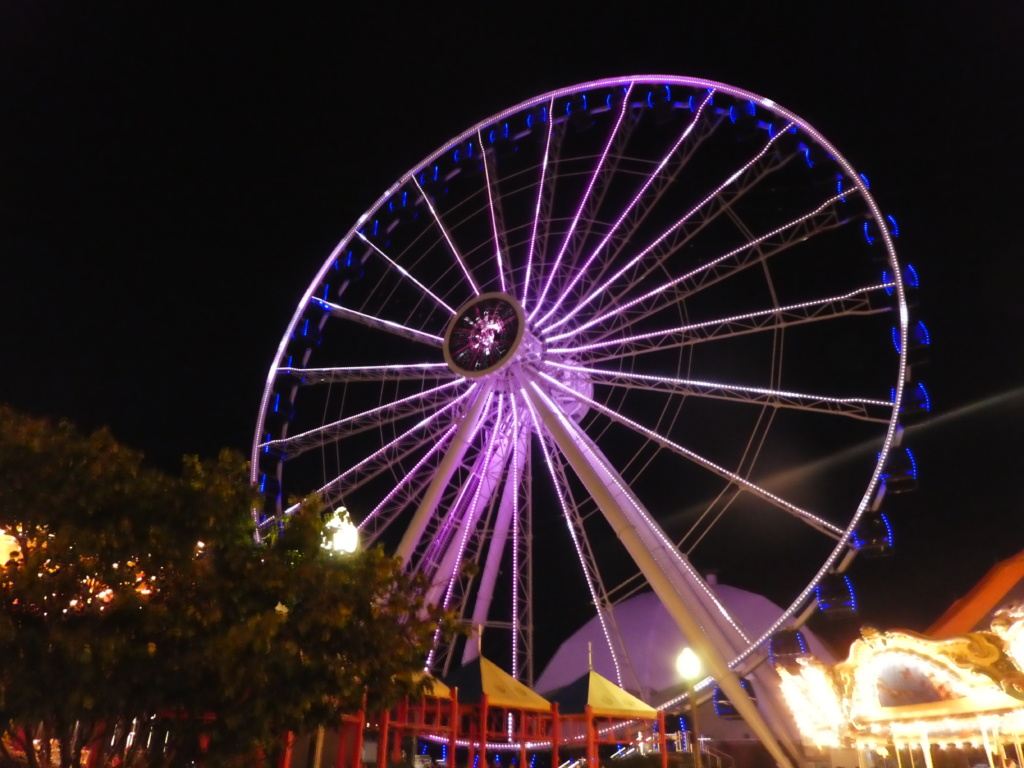 The Navy Pier just turned 100 years this summer and to celebrate has added the new Centennial Ferris Wheel. It's a fun way o see the downtown Chicago skyline, inside one of the 42 climate-controlled cars. We enjoyed date 12 minute ride at night, right after the sunset, which made for an incredible view. Navy Pier also has a children's museum, an ice skating rink (even during the summer) and lots of great restaurants to choose from. We grabbled one of these incredible stacked Rainbow ice cream cones before heading to the wheel.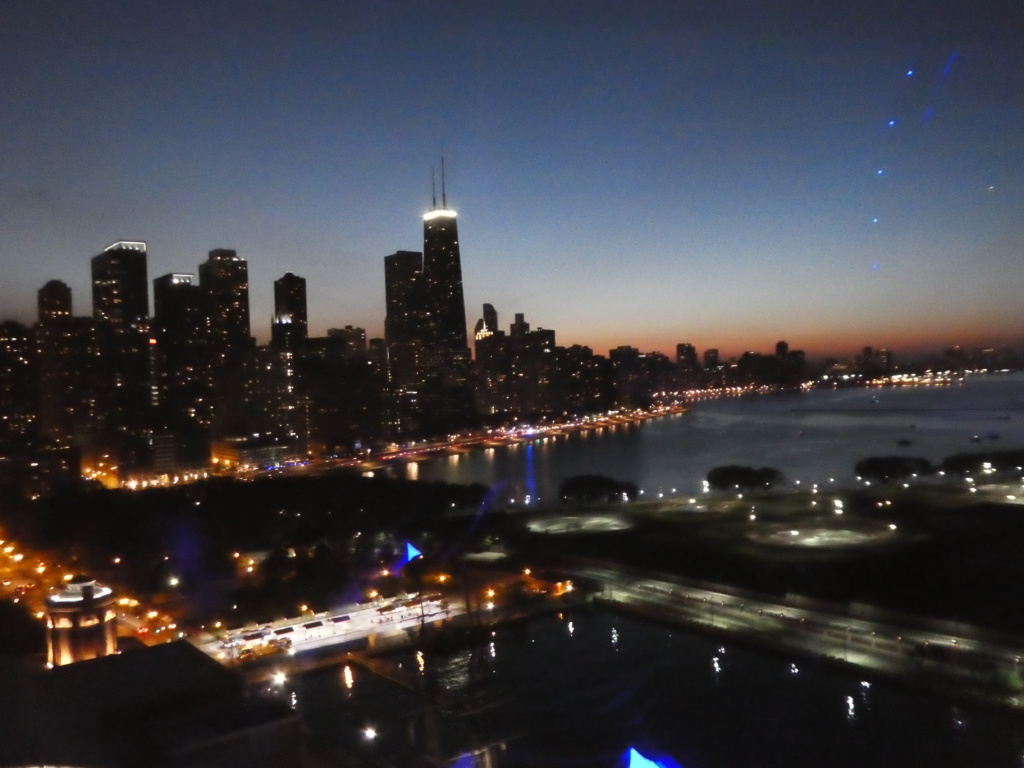 3 Days in Chicago with Kids: Day 3
Chicago with Kids Stop #1: Architecture Boat Tour
We are a big fan of taking tours of the cities we visit as a way to learn the history and see more of the city. One of the most unique city tours we have ever taken is the Architecture Boat Tour with Shoreline Sightseeing. This 75 minute tour along the Chicago River was fascinating – even the 15 year old was interested. It was most definitely all about the buildings that make up the beautiful Chicago skyline, but it also included a great deal of history too. It cam highly recommend to us by many people and I can see why it is so popular. It's a cool way to see all the buildings you saw from above at the Skydeck as well.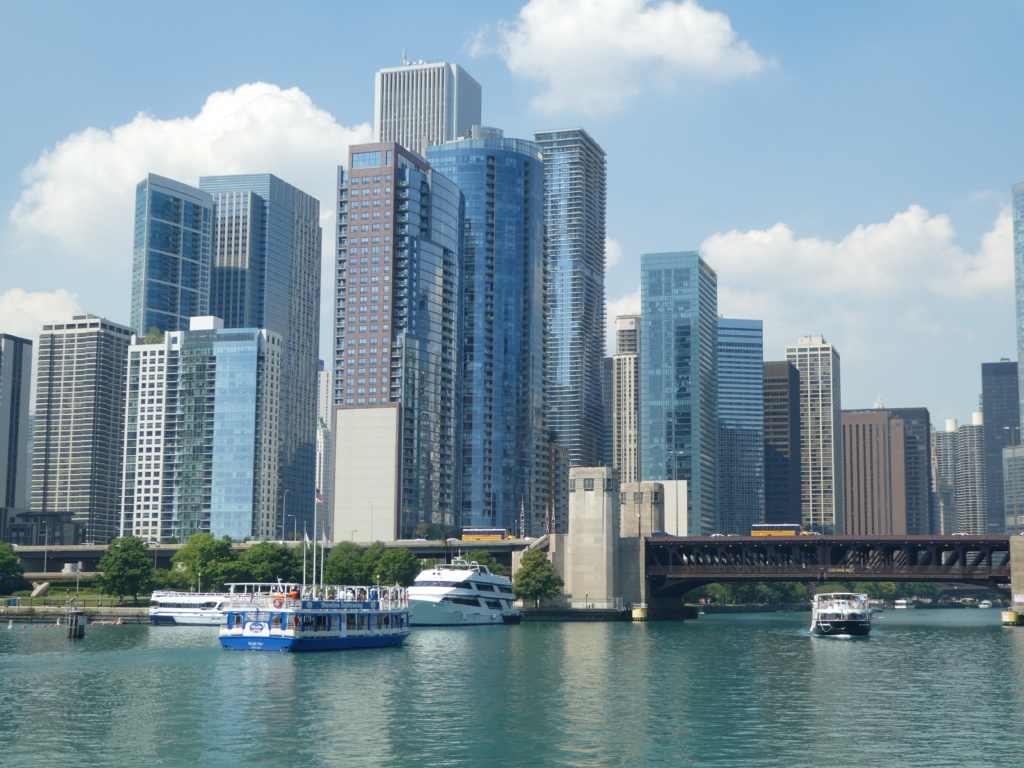 RWeThereYetMom Tip: This tour may be a bit slow for the younger kids, but we still recommend it as it's a great way to sit down and relax. My 7 year old enjoyed just sitting on the edge of the boat and resting.
Chicago with Kids Stop #2: Adler Planetarium
One last must-see museum, the Adler Planetarium is very well done. The exhibits are modern and many try to incorporate interactive experiences. My 7 year old enjoyed the Planet Explorers, where he could drive his own moon rover and learn to eat & sleep in space. There are many shows to choose to see and learn about the night sky. We choose to learn about the constellations in the night sky and that very night tried to find them ourselves, once we got out of the cities' ambient lighting.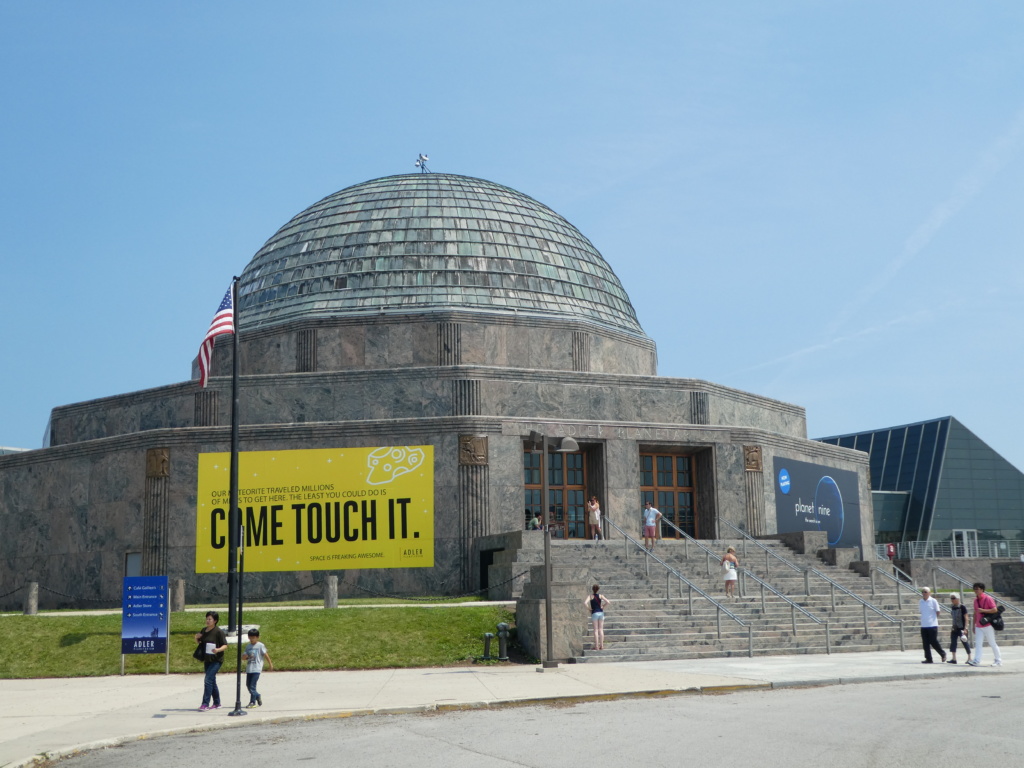 RWeThereYetMom Tip: Make sure to grab a photo of the Chicago skyline along the walkway from the Planetarium to the Shedd Aquarium. It makes for a terrific photo:
Chicago with Kids Stop #3: Art Institute of Chicago
If you have time for one more museum, a quick walk through the Art Institute of Chicago will give you time to decompress from the bustling city outside and see Picasso's The Old Guitarist and Grant Wood's American Gothic.
RWeThereYetMom Tip: If you are using the Chicago CityPASS, you have a choice between the Adler Planetarium or the Art Institute of Chicago.
Chicago with Kids Stop #5: Shopping along the Magnificent Mile
Have little time left before heading home? It's time to shop along the iconic Magnificent Mile (Michigan Ave) where you will find the American Girl Doll Store, LEGO Store & Disney Store all within 2 blocks of each other. And there is something for mom too – Nordstrom, Neiman Marcus, and more are found here.
3 Days in Chicago with Kids: Chicago CityPASS
If you are planning a visit to Chicago, the most affordable way to see all the attractions in the city is with the Chicago CityPASS. All of the above attractions are included with the pass. Also, most of the museums have a separate line/entry for CityPASS holders which will save you a great deal of time. Click here to learn more about the Chicago CityPass.
Our three days in Chicago with kids was packed full, yet I feel like we barely scratched the surface of all the fun to be had in this great city. I imagine our itinerary might look different had we visited in the winter versus the summer. Perfect excuse to plan another trip!
Disclosure: My family & I were invited to visit several of the museums listed in this article and we were provided with 2 CityPASS ticket booklets.  I was not compensated for this article.  All opinions are my own.