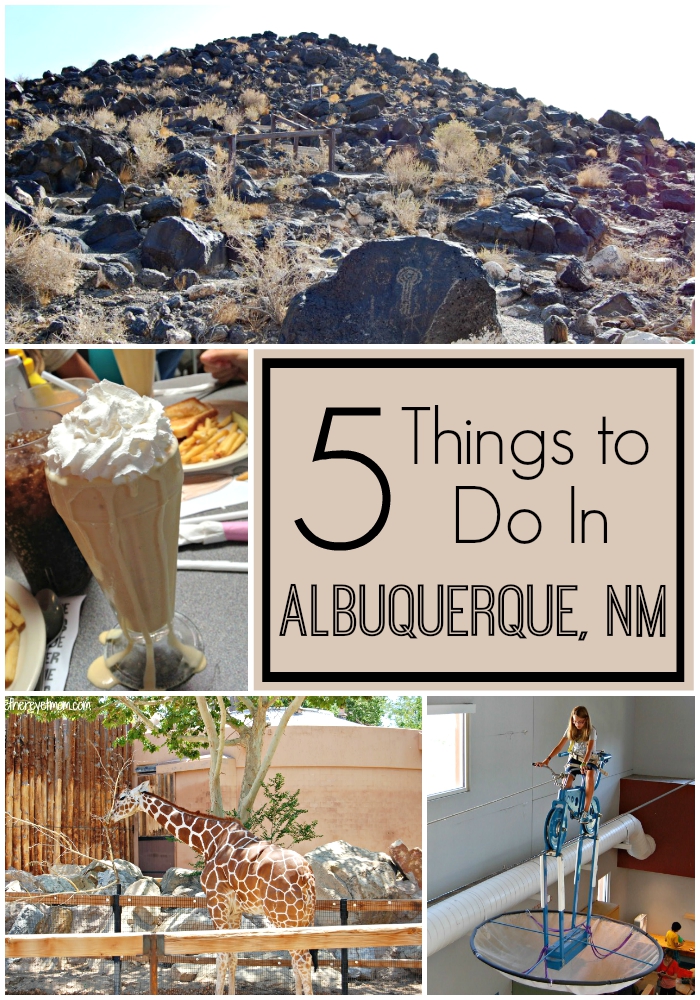 Albuquerque
, in the heart of beautiful New Mexico, has loads of
fun things to do with kids
.  We were sad that we only had one day to see this great city on our
Bigger Than Texas Road Trip
this summer, as there was SO much to see and do.  Nevertheless, here are
5 fun things that we enjoyed while visiting Albuquerque
.
5 Fun Things to Do in Albuquerque, New Mexico
1. Sandia Peak Aerial Tramway
Forming the city's eastern border, the Sandia Mountains rise above the city, offering a cool respite from the southwestern heat.  The tramway is the longest aerial tram in North America, traveling 2.7 miles up to the peak.  We really enjoyed the view and the 30 degree temperature change at the top.  You can ride the tram year round and if you visit in winter, you can even go snow skiing.
2. Explora!
We have been to our fair share of Children's Museums but Explora! near Historic Old Town was brilliant.  The hands-on experiments featuring music, water, flight and more were very well-done.  We found the employees to be very helpful, explaining the different exhibits and showing the children how to work them best.  My children loved riding the bicycle 2 stories high and of course, the bubble room. They would have stayed here all day if we had the time.
3. ABQ BioPark
The ABQ BioPark is another full-day experience in Albuquerque, with four different nature-themed facilities making up the park.  We enjoyed walking through the well-shaded zoo and Botanic Gardens. Ride the train to the Aquarium and Tingley Beach.  As hot as it was in Albuquerque when we visited, we really enjoyed our time at the ABQ BioPark, as everything was well shaded or indoors. Don't let the summer temps keep you away from this great park.
4. American International Rattlesnake Museum
Let me be honest, a museum full of snakes would normally never make a Top 5 list of mine.  However, my 10 year old son was intrigued to see the world's largest collection of rattlesnakes.  Being that it was located in Historic Old Town and fairly close to the ABQ BioPark and museums, we ventured over.  It was actually pretty cool.  We spent time visiting with the owner, who took us around the museum and patiently answered all my son's questions. It was a great reminder for my to forgo my fears and take my son to a place he really wanted to go….and I'm so glad we did.
5. Petroglyph National Monument
One of the largest petroglyph sites in North America, this national monument features thousands of ancient drawings on volcanic rock dating 400-700 years old.  We took a quick hike along the Boca Negra Canyon and were so surprised to see drawings on the rocks all around us.  We completed Junior Ranger badges while there, which really helped educate us on what we were looking at too.

Bonus: 66 Diner
We had to mention one of our favorite restaurants we enjoyed during our few days in Albuquerque.  66 Diner takes you back to the 1950s with the fun decor, music, and burgers and shakes.  We all enjoyed a tasty lunch followed by delicious shakes.  I tried the Elvis Presley – peanut butter, chocolate, and banana – yum!
One day was not enough in this fun city!  I hate to only list 5 fun things because there is so much more!  We hope to go back to try the hot air ballooning, the National Museum of Nuclear Science & History, and the near-by Tent Rocks National Monument!
My family and I were invited to visit Albuquerque and were provided with passes to visit the park, museums, and tram.  All opinions are my own.