Last week our family had a fantastic trip to Breckenridge, Colorado for our very first ski trip ever. In fact, it was the first time skiing for me and the kids (my hubby's been there, done that). As prepared as I tried to be, there is still a steep learning curve when it comes to a family ski trip. And though we learned a ton that week, there were key things that I learned in Breckenridge that could easily apply to any first-time skier's trip.
Here are 5 Lessons I Learned Skiing at Breckenridge:

1. You DON'T look ridiculous in all that clothing. As a naive winter weather person (I live in Texas y'all!), I was overwhelmed with advice on what to wear while skiing. Luckily, I took all the advice and packed ski clothes and undergarments and heavy socks and scarves, and ski gloves, and hats and on and on. Not once…NOT ONCE….did I regret my overpacking.
It was one thing to be prepared to ski, but I wanted to look "cute" when I went to dinner. Made that mistake only once when I came back from diner with frozen toes. Everyone dresses to the weather – and certainly not to look "cute". No one looks silly – everyone looks comfortable and practical and WARM in their 16 layers.
2. Ski Lessons are the BOMB! As a first-timer, there was no way I was getting on skis without lessons. Though they are a bit pricy, I felt they were worth every penny. I took an all-day lesson that had me skiing bravely down a steep hill on Peak 9 (for me that is!!) by the end of the day. While the lessons gave me the basics of skiing, they provided me with the confidence to ski with my kids the rest of the vacation. I have since spoken with other that did not take a lesson and spent the day either in the snow or scared to death, not enjoying this fantastic sport like they wanted to.
3. Tip Generously. I enjoyed meeting the various instructors, sleigh drivers, dog sledders, and waiters all week. I loved hearing all the reasons they love to live in Colorado. Everyone works really hard to make our time enjoyable and they deserve to be appreciated for the hard work they do. A ski instructor isn't teaching your kids for the money, they are doing it for the love of the sport and the love to teach others. After spending a full day teaching YOUR kids to ski, they deserve a bit of thanks and appreciation.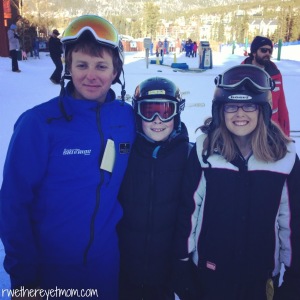 4. Be Prepared for Altitude Sickness. I read up on it and thought we were prepared – I hydrated myself, my hubby, and my older two, never thinking it would effect the little one. Wrong. My 3 year old spent the whole week sick. The first morning we put him in ski school, we received a call within 30 minutes that he had gotten sick. We quickly re-arranged our plans so that one of us could stay home with him and tried our best to hydrate him.
Just when he'd show signs of feeling better, he'd get sick again. Luckily, we were surrounded by very kind locals who helped in various ways (one even bought us a canister of oxygen!). From what I hear, you never know who it will effect. My advice is to go with the flow, make allowances, and don't let it mess up the vacation for the whole family. We traded off days at home and everyone was able to get some skiing in. If you look at it from the bright side, which I like to do, it gave me a chance to ski at my own pace and be alone with my thoughts – it was a heavenly 2 hours alone for me!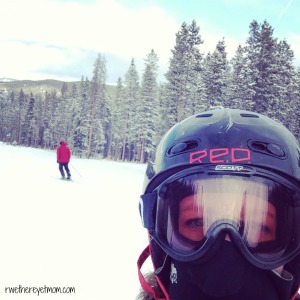 5. Know Where You Are Going & Have a Plan! This is especially true at larger ski resorts. I think I was so caught up in what to pack and how to dress, that I didn't focus on logistics. If I could do it all over again, I would have studied the bus routes (FREE, great if you don't have a car!) the city map and the mountain runs better. I would have given us more time to get from place to place. I wouldn't have skied on one Peak the whole trip because it was closest to the condo. Next ski trip I am all over the lifts and runs – planning out exactly which ones I want to hit.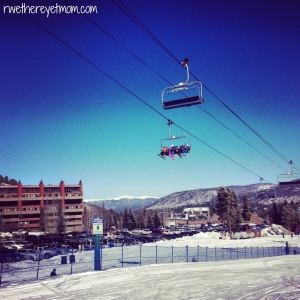 Notice I said next ski trip. Oh, there will most definitely be another ski trip. Because despite the sickness that stuck with us and the general feeling of un-prepardness, we fell in love with this amazing sport. Our winter vacation to Breckenridge was more than just altitude sickness and skiing. We had amazing adventures dog sledding, sleigh riding, in art classes, and shopping. We had yummy food everywhere we went and encounter genuine, helpful people (especially when we got lost – remember tip #5). We fell in love with the culture, the mountains, the snow. We will most definitely be back.
My family and I were invited to visit Breckenridge, Colorado as guests of the Breckenridge CVB. I was not financially compensated for this post. All opinions of Breckenridge, Colorado are strictly my own based on my experience.