For years I have said that "I will NEVER camp." Seven days this summer in a little RV completely changed my mind. I went from a non-camper to a Camping Queen! Here's 5 Myths I always assumed about Camping and how non of them were true!
I
camped
as a child – first in a tent and later we graduated to a pop-up tent trailer.
It was great as far as I could remember it.
I was a kid and I got to explore the wilderness.
But as I got older and I started wanting the comforts of home,
i.e. a mirror, a curling iron, and a big can of hair spray
, I stopped camping with my parents.
And then I think I just assumed I wouldn't like it anymore.
But recently, we took a
2013 Jayco Redhawk Class C Motorhome
out on a 7 day roadtrip across West Texas and I realized that I didn't hate camping.
In fact, I
really
liked it.
And all those myths I thought I'd hate about camping, slowly went away.
Myth #1: It's Not Comfortable to Camp
Truth: Take the Comforts of Home With You


We chose the drive-able RV to experience the road trip in a moving home.
I wanted to be able to make my kids sandwiches as we drove down the road.
I wanted the kids to be able to lie in their beds and read or play with toys. And I wanted the freedom to use the potty when we needed to.
We packed up our little RV with pretty much everything we could need, from an over-flowing refrigerator to my Keurig for coffee each morning. This baby slept up to 10 people, so my little family was more than comfortable in it. We brought outdoor chairs, a portable grill, 5 bikes, and 3 ice chests.
And we had room for even more!
It was
not
uncomfortable to live like this for 7 days.
What about sleeping? I thought it would be uncomfortable sleeping in one tiny RV – but we were worn out each night from all the fun activities – ever hiked 10 miles with a 5 year old? – we slept like babies most nights. Even through a torrential thunderstorm in Palo Duro Canyon.
So we were not uncomfortable.
Myth #2: It's Noisy Outdoors
Truth: We Observed Peace & Quiet
I thought campgrounds would be crowded and noisy.
But we lucked out and chose the perfect time & spots to camp in. Every campsite we went to was pretty empty.
And it's not that I thought it would be noisy and we couldn't sleep, I just didn't want to share my "space" with other people.
With the exception of one night, we didn't have anyone next to us.
Maybe it was a timing thing, but it turned out pretty sweet for us.
Hearing the birds tweet at you in the morning when you drink your coffee and the crickets chip at dusk is pretty cool. Even my kids noticed that they couldn't hear any cars – my son said these were the quietest places he had ever been at.
Myth #3: There Nothing to Do When You Camp
Truth: See Nature's Beauty
This wasn't a full myth on my part, but if you saw the way I packed, you'd think it was.
I brought myself 5 books thinking I'd read them all.
I packed a whole sleeve of movies for us to watch in case we "got bored".
And
I packed 20+ games to play.
With the exception of a hour or 2 of game play one rainy morning, we didn't get to any of it.
Hiking in Palo Duro Canyon State Park, Texas
What did we do? We hiked (a lot). And we geocached. And we swam in the river.
And we rode horses. And we rode bikes. And we ziplinned. And we laughed and enjoyed each other, all while seeing some of the prettiest country Texas has to offer.
Myth #4:

I Can't Potty in the Public
Truth: Yes you can.
I don't like a public potty but I'm not going to let that stop me from taking my kids camping.
Grin and bear it.
And use the RV when you can.
Myth #5: There's No Where Nice to Camp in Texas
Truth:

There are so many Beautiful Places to Camp in Texas
Being a non-camper, I haven't been to many state parks in Texas.
But after last summer's trip to 6 National Parks, I saw how gorgeous this land was.
Heading out on this trip, I still thought that camping in Texas could be a major bust – hot, no trees, bugs galore, and did I mention HOT?
I couldn't have been more wrong.
We were overwhelmed with how beautiful some of the parks & areas of Texas we visited on this trip were.
The Frio River &
Garner State Park
is lush and shaded and just pretty – "a Little Slice of Heaven" is what it's called.
Abilene State Park
had many trees – each campsite was surrounded by them – not at all what you expect for West Texas. And our last night, we picked
Fort Griffin State Historic Site
as a halfway point and had the gorgeous, tree-filled park to ourselves.
Again, every place we camped surprised me with how beautiful it was and I have committed to see as many parks as I can now – I even bought a
Texas State Parks Pass
.
Ok, but let's be honest, there are still a few things I did not enjoy and probably will never about camping.
Public showers are not fun. I learned this week to always wear my shower shoes, take a quick shower, and just not care about what I looked like.
I still can't stand the smell of campfire smoke.
I hate how my hair & clothes smell like it for days, and I doubt that will ever go away.
But I'm going to just deal with it, because we had more fun trying all the different campfire desserts we found on Pinterest (have you roasted starburst candy before??). And some of our best conversations were sitting around the campfire.
I won't ever understand why that smoke likes to follow beauty though…..
But I can confidently say that these 7 days, though a lot of work, was one of the best vacations we have ever been on as a family.
We unplugged from the world (as best we could – you know I was still posting pictures to Instagram!) And there is something so relaxing about spending the day outdoors and enjoying the land that God created.
I can't tell you how blessed I feel to have seen some of these beautiful places in Texas.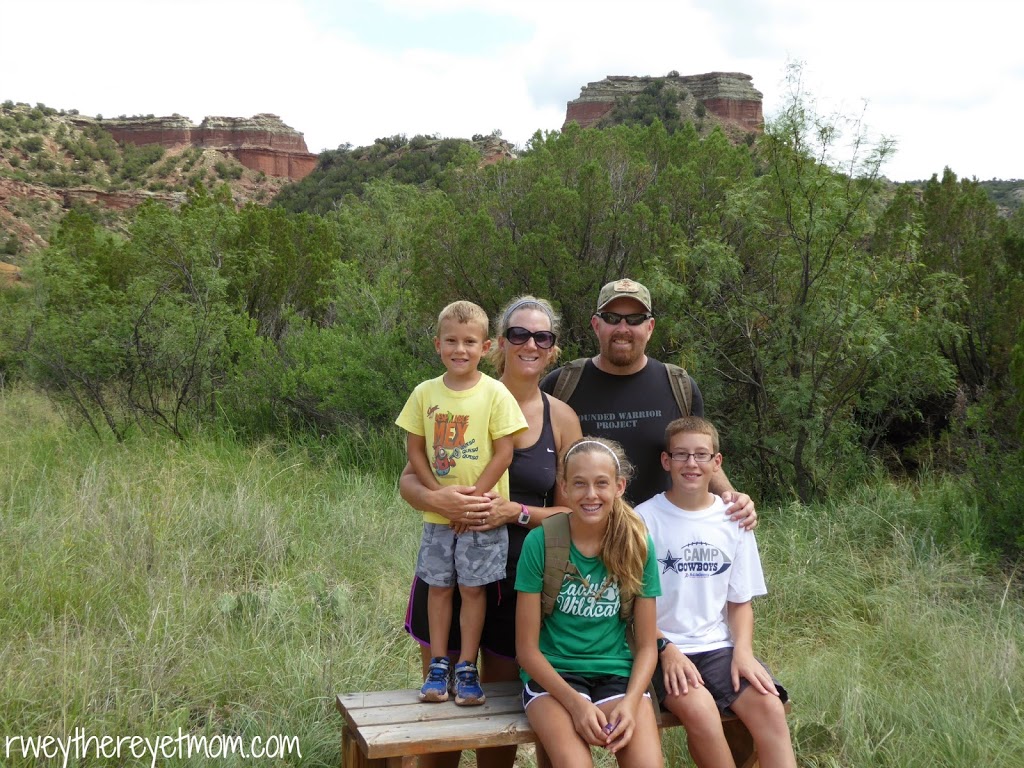 So, do we still have some non-campers out there?

Still on the fence like I was?

My advice to you is to rent an RV for a few days – take one for a 3 day trip if you just want to try it – and find a park near you to see what you think.
If you live in the Austin area, I want you to consider trying
Woody RV Rentals
.
They set us up in our Jayco Redhawk and coached us through the trip.
From the planning stages giving us advice to where to go to working with us on the dates we needed, owner Julie Woody is so easy to work with.
She her self loves to be outdoors and encourages everyone to get out and have some fun.
She has a huge fleet of RVs – from little tow trailers, to 5
th
wheels, to full-sized motor coaches –
her site
lists her inventory and even has floorplans to help you choose.
Even when we were doing a few walk-thrus, she pointed out which ones would be best for us to take to make sure we have the "best time possible".
She knows that making it an incredible family vacation is important, so they work hard to ensure that.
The RVs are clean and all in top notch working order. To rent one, you have to pay a security deposit, daily rental fee and milage over 500. But we found the rates to be reasonable – especially compared to taking a variety of other vacations. Julie and her staff are extremely helpful and they always answer the phone – even if you need help while you are out on the road.
10% Discount at Woody RV Rentals: Julie is providing all my readers who mention my blog a 10% discount on their rentals.
Just mention R We There Yet Mom when renting to receive it!
This camping trip took me completely by surprise.
I never thought I would have as much fun as I did or be as relaxed as I was. But I was.
I never thought it would compare to trips to Walt Disney World or New York City. But it did.
And I never thought I would want to camp again. But I do.
We are already planning our next trip.
Disclosure: Woody RV Rentals invited us to try camping and provided us with the 2013 Jayco Redhawk for the week. I was not compensated to write this article. These are my true thoughts and opinions.