Take a quick trip back into the days of knights, fare maidens, horses, and jousting each night at the
Medieval Times in Dallas, Texas
. Most days, this dinner theatre hosts two sometimes 3 performances complete with all the fan-fare and a great meal.
I'll be honest, I was a little skeptical to go at first – it just seemed a bit cheesy from the outside. I felt completely different when we left, and now recommend that everyone give it a try. Here's why.
5 Reasons to See a Medieval Times Show
1. Great Pre-Show Entertainment: There is a line to get in the building at least 45 minutes before the show starts, so get there early. But don't think you will be bored waiting for the show to start. Once inside, there is tons to do. Lots of great photo opps with minstrels and maidens. Watch the birthday boys and girls get knighted by the king. Visit the "torture chamber" or see the horses. Grab a souvenir – we got flags and a sword that matched the knight we were assigned to. And get a drink before you head into the show – soft drinks and tea are included with the meal, but a glass of wine, is not.
2. Our Servant & Finger-licking Good Dinner: The Servants & Wenchs who take care of you are a riot. They work hard (and really enjoy) poking fun at you and making you eat with your hands. They are totally fun and work hard for their tips (compensate them! 🙂 )
And I was pleasantly surprised to see my normally picky kids eat their dragon-wing (chicken). The thrill of eating it all with out utensils overrode the fact that they were eating tomato soup (and loving it). Considering it is all mass-produced in a big kitchen, the food comes out hot and delicious.
3. The Knights….I mean the show…… The show is very entertaining – and the knights are too. Lots of fast horse riding, jousting, sword fighting with sparks, and drama over the princess – something for every little boy & girl there (and their mamas….) I mean, the knights aren't too bad looking y'all.
4. My Kids Totally Loved It: The crowd is yelling for their knight, waving flags, and getting into the show. You can't help but join in. I loved seeing all my kids (11, 10 and 3) enjoy it so much. My daughter especially…our knight threw her a flower.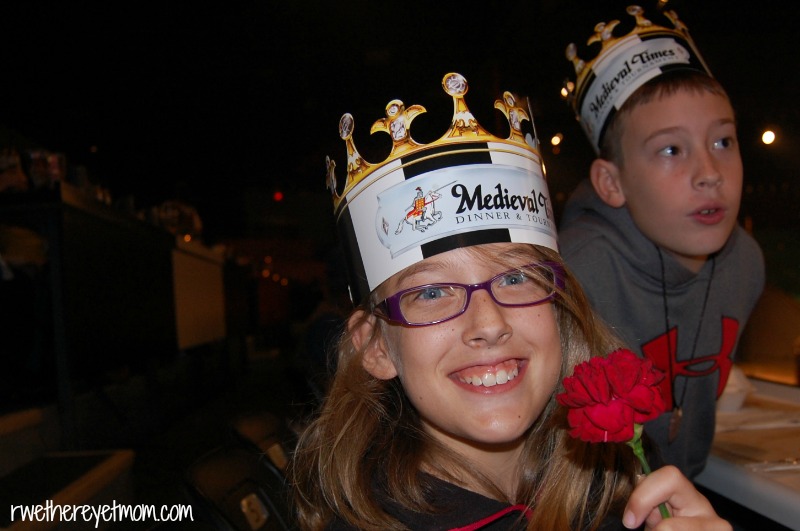 5. Meet the Knights: After the show, you have the opportunity to get autographs and pose for pictures with all the knights and characters in the show. My kids loved that. I took the time to chat them up and hear more about their really fun jobs (most learn it all on-the-job and no formal training!).
We honestly had a blast. I feel bad for waiting this long to take them. With castles in Dallas, TX, Orlando, FL, Atlanta, GA, Washington D.C., Buena Park, CA, Lyndhurst, NJ, Myrtle Beach, SC, and Toronto, ON there are lots of opportunities to try it.
While you are in the Dallas/Fort Worth Area, here are more fun things to try:
Texas Travel Facts for Medieval Times:
Location: 2021 N Stemmons Dallas, Texas
Children (Under 12): $35.95
Recommended Time: 2-3 hours
Good to know: Purchase tickets online in advance to ensure entry; Tickets are timed; Admission is good for all day; free parking
My family and I were invited to visit and were provided admission. I was not financially compensated for this post. All opinions of Medieval Times are strictly my own based on my experience.