Texas is full of incredible resorts, all of them promising "family fun". La Torretta Lake Resort & Spa in Montgomery, Texas can actually deliver true family fun. This resort offers lots of fun for all ages and makes for a great escape for a few days.
5 Things to Love About La Torretta Resort & Spa
The Quiet
On the shores of Lake Conroe, La Torretta is one of the quietest resorts I have ever stayed at. Lake Conroe is about an hour north of Houston and although the shores are dotted with homes, it was peaceful and calm the whole time we were there. It was surprising to see the resort high rise sitting on the shores of the lake, as we could see it miles away.
The rooms at La Torretta are set up in a suite-style with a separate living area and bedroom and have a gorgeous balcony to sit out on in the mornings with coffee or at night with a glass of wine.
Aqua Park
The Aqua Park is the primary reason to bring the entire family to La Torretta. Five pools, water slides, water playscape, and a winding lazy-river can entertain all ages. We spent close to 5 hours at the aqua park because we hopped from pool to pool.
There is a baby pool for little guys that has a wonderful cover that keeps it shaded all day long.
The water playscape features 2 little slides, lots of water sprays, and a big bucket that drops water intermittently.
For bigger kids, there is a much larger pool that features 2 long slides.
We spent a long time going round and round the lazy river. I loved relaxing, floating, and laughing with my kids.
And there is an adults-only infinity pool that overlooks the entire Aqua-Park. It was nice having so much to do in one enclosed park. We also had lunch poolside. It made for a really relaxing day.
Family Fun Activities
La Torretta Lake Resort had a schedule of fun activities for children posted when we checked in. We were looking forward to the Fastest Slide contest and the Lucky Duck event at the pool the day we were there, but they never happened. We were there on a Tuesday, so I'm guessing these events happen on busier days. Having fun activities help keep the older kids entertained, so I was happy to see the resort plans them.
The resort is almost completely surrounded by the lake, part of which is a quiet cove to rent paddle boards for Stand Up Paddleboarding. You can rent them by the hour for as little as $20. Many families were taking advantage of the calm waters to try this fun activity out.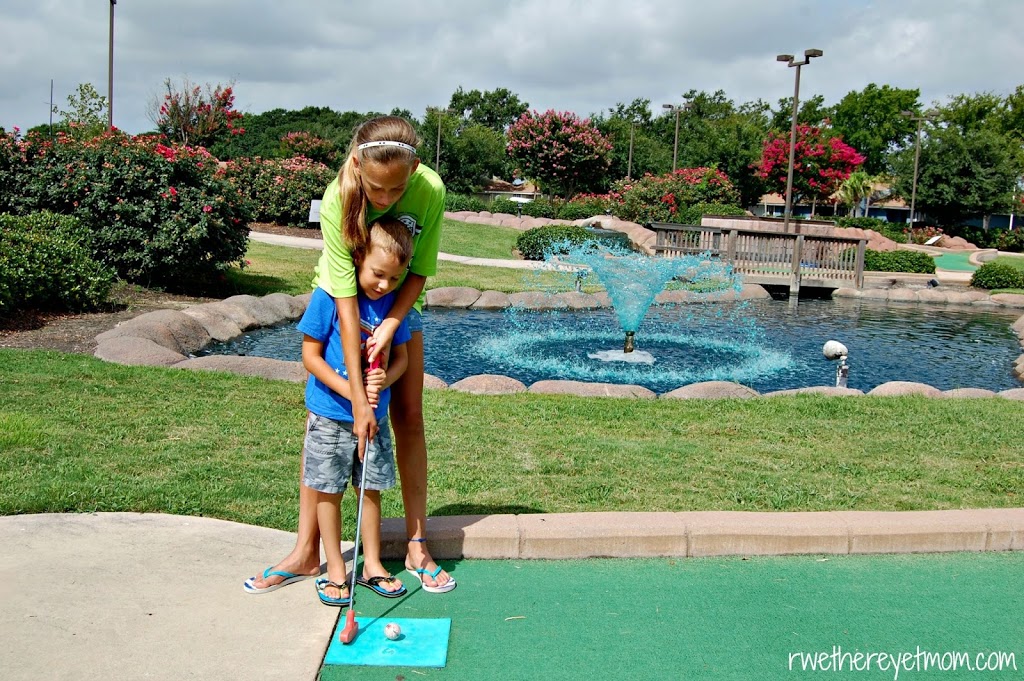 My little man loves miniature golf, and truth be told, this mom is not the biggest fan. But I did as any mom would, I put my purse down and played a full 18 holes. The mini-golf course has seen better days, but it did include challenging bumps, water tricks, and more to keep it fun. Towards the end of the course, there are bigger challenges to the game – ever had to spin around 5 times and hit a ball? Totally hysterical to watch your 13 year old attempt this:
Time to Relax
I thought I had relaxed by the pool – going around the lazy river 20 times in a float is perfectly mind-numbing. But until my masseuse rubbed those knots out of my shoulders, I was not fully relaxed. I love it when a family resort has a spa. La Torretta has a wonderful, full service spa that offers massages, facials, pedicures, and more. It was a heavenly 2 hours that I spent in their quiet spa relaxing.
Date Night for Mom & Dad
If you can find a little time for a date night for mom & dad while on vacation, it's a bonus. La Torretta features the wonderful Lakeside Restaurant for a evening meal. We visited as a family, which was very common, but it makes for a great date night as well. We enjoyed a wonderful steak meal and a glass of wine, which gave us another chance to relax together.
If you are looking for a different resort to skip away to for a few days, La Torretta Lake Resort provides lots of family fun & relaxation.
I was impressed with some of the weekend specials and promotions they have going on – especially this one where the more you stay, the more you save.
Disclosure: La Torretta Lake Resort invited me & my family to stay for 2 days. I was not paid for this article. All opinions are my own.