Holiday travel can be a bear – on both the parents and the kids.  Crowds are thick, schedules are packed and patience is low.  But with a little bit of planning, you can make the trip to "grandmother's house" much more enjoyable.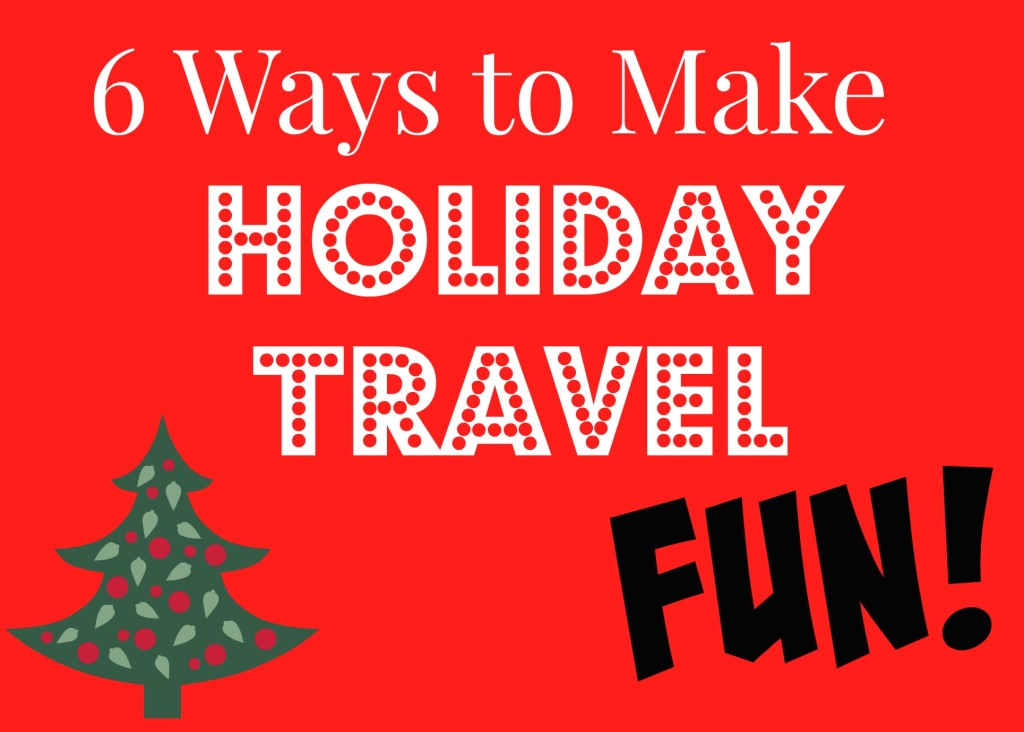 6 Ways to Make Holiday Travel Fun
Countdown to Travel Date
When you know the date you are leaving, make a countdown chain or pin up a calendar in plain site to build up excitement for the trip.  If you or your spouse are showing any type of resentment or anxiousness about the trip, your kids will pick up of this.  They to head that off by being excited about the journey and countdown the days you have until you leave.
Travel Mix
Prepare a special mix with your kids' favorite snacks to munch on along the way.  A good standby that we like is with pretzels, goldfish, dried pineapples, raisins, and peanuts.  We like to mix it up with some red & green m&ms too.  Make it something fun and festive to snack on along the way.
Make a Holiday Mixed Tape
Ok, I know we don't call it that anymore, but I think you know where I'm going with this.  Make a holiday CD or playlist for your drive, no matter how long or short the trip will be.  Add in your kids' favorite holiday songs or make one of all your old favorites.  Make a game out of it on the drive by guessing what the name of the song is first or who's favorite song it is. Or just listen to it and get into the holiday spirit real quick.

Advent Travel Gifts
Head to the dollar store and buy a bunch of inexpensive travel games or toys that you can easily wrap.  Pick out in advance when you can dole them out, such as at mile 100, 200, etc. or hour 2, 4, and so on.  It saves you from the "I'm bored!" shouts from the backseat when they get something new to play with every so often.
Holiday Scavenger Hunt
One of my kids' favorites when we travel, put a holiday twist on it.  Make a list of holiday-themed things you will see along your trip and ask the kids to find them. Some examples include holiday lights, reindeer, Santa Claus, hot chocolate, etc.
I also found this adorable printable at Home Sweet Road.
Holiday Movies & Books
This last idea is really a no brainer.  And as much as I hate advocating to hours spent watching a movie, it's a great time to watch a fun christmas tale either in a DVD player in the vehicle or downloaded to a mobile device. Some of our favorite holiday movies we watch together every year are Elf, The Polar Express, It's a Wonderful Life, A Christmas Story, and White Christmas.
This is also a great opportunity to read a Holiday book together out-loud.  We like to read a book on our travels, passing the book from person to person to read.  Some fun favorites include: The Best Christmas Pageant Ever, Letters from Father Christmas, and the classic A Christmas Carol.
Hyatt House Twitter Party & Giveaway
I am so excited to be participating in an upcoming Twitter Party with Hyatt House in regard to Holiday Travel.  I hope some of the above ideas I mentioned will help you while traveling this holiday season.  And we have even more ideas to  discuss on Monday, December 7, 2015 at 9PM/8PM CST.
During the Twitter Party, Hyatt will be giving away a 2-night stay at any Hyatt House hotel and
3 $100 Visa gift cards for 4 separate winners!  Enter to win below and then join us for the Twitter Party on December 7th at 9PM.  Winners notified during party- Giveaway Widget ends at 9:55pm EST
Make sure to use the hashtag #HyattHouse during the party!
Hyatt House Twitter Party Giveaway
Disclosure: I was invited to write a post and participate in the Twitter Party on behalf of Hyatt House.  All opinions are my own.