New Orleans is a FUN city.  Like really fun….for adults.  So when I added New Orleans to our Austin2Boston road trip this summer, I had many people question what there was to do with kids there. What's a travel blogger to do when faced with that question?? Make sure they find all the FUN stuff to do in that great city!
With only one day to discover New Orleans, we found more than enough to do.  Here's some of the fun things we enjoyed and would recommend you try with your family:
7 Things to Do in New Orleans with Kids

French Quartour Kids Tour
The best way to learn the history of New Orleans – and it's great history – is with a guided tour.  There are a variety of tours you can take of the city – walking, bus, carriage, cemetery, voodoo, and more – but if you are looking for the one that would really grab your children's attention the most, French Quartour Kids tour is the best one. Geared towards children ages 7-14, the tour guides are fun with great stories, props, and treats.  It's a great starting point for your time in New Orleans, as you learn so much about the city.

Jackson Square
Jackson Square, a national historic park, is located in the French Quarter.  Make sure to spend some time here watching the artists and musicians, getting a cool treat, or looking at the art for sale.  We also took the time to go into the St. Louis Cathedral.  It's the oldest cathedral in North America, founded as a Catholic parish in 1720. It's a beautiful building, with a ton of history.  We found it to be a nice place to cool off as well.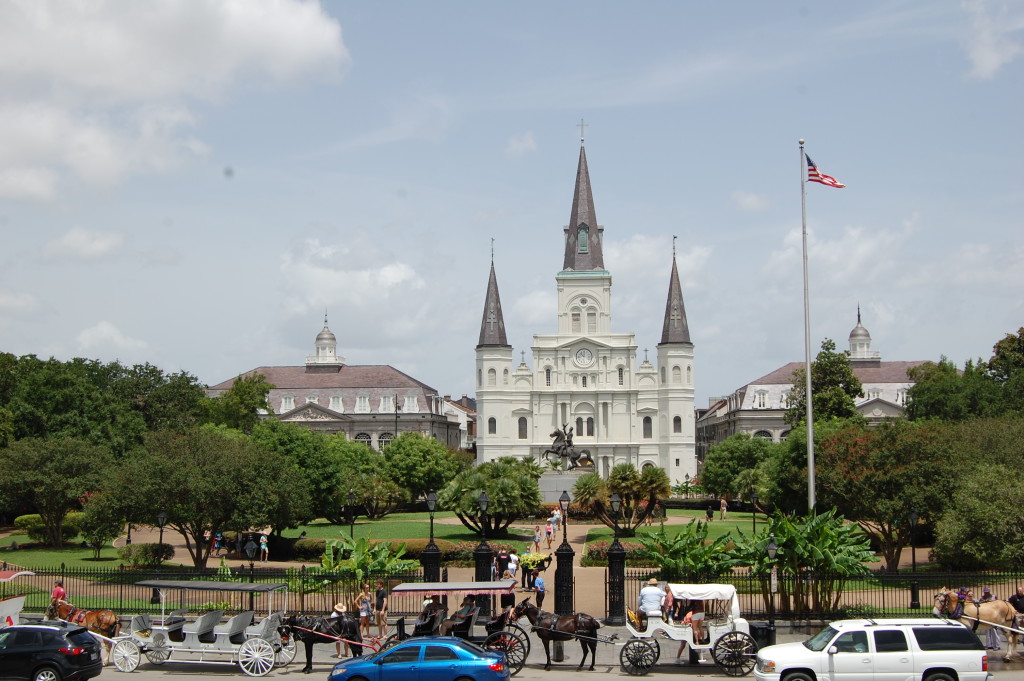 Enjoy some Authentic Cajun Food
The one thing I wanted to make sure to do while in New Orleans was to try some good food.  My Texas kids needed to try a traditional cajun-style lunch and we had several recommendations to try Johnny's PoBoys.  A few blocks west of Jackson Square, Johnny's PoBoys was nothing fancy, in fact, it looks untouched from when it first opened in the 1950's.  But the line out the door indicated that this was going to be good.  They had a variety of po-boys to choose from – I picked shrimp, my kids went for ham and beef – and the gumbo was outstanding.  They are only open for breakfast & lunch. Regardless of where you go, trying a po-boy while in NOLA is a must!
Bus Tour of New Orleans
There is so much more to see in New Orleans beyond the French Quarter and the best way to see it all was on the City Sightseeing New Orleans hop on hop off bus tour.  With 15 stops, the fully-narrated bus will take you all over the city, including out to the museum districts, garden district and Lafayette Cemetery.   It's an inexpensive way to get around town without having to drive & park yourself and you can use the bus for 3 days.  We enjoyed resting on the air-conditioned bus. And I liked that you can call them and they will tell you exactly when to expect the bus (during the summer, many buses run, so we didn't have to wait longer than 20 minutes for one to come by). We used the bus to get a nice tour of the garden district, stopped at the National WWII Museum and then used it to ride back home to the hotel.
National WWII Museum
Another highlight of our time spent in New Orleans was at the National WWII Museum.  My 12 year old son was very interested to visit but we all enjoyed our time there. One of the most well-done history museums, children and adults alike will all get something from here.  The exhibits are interactive and the displays are so well done, you feel like you are right in the action.  At the beginning, you can pick a WWII veteran and follow his story throughout the museum.  Also, plan to see Beyond All Boundaries, a 4D movie experience directed and produced by Tom Hanks.  It's an excellent way to remind us all of the sacrifices made by so many during WWII – the movie is intended for older children.  Another must do is the Final Mission: The USS Tang Experience, where you relive the final mission on a submarine.  To be honest with you, the museum deserves at least a half-day, if not more and we can't wait to go back to spend more time there.
Dinner Cruise on the Steamboat NATCHEZ
We ended our day with a leisurely dinner & jazz cruise down the Mississippi River on the Steamboat NATCHEZ.  This was a wonderful way to see the mighty Mississippi in a fun way.  The Steamboat NATCHEZ offers both daytime and dinner cruises with music and food.  You can visit the engine room while chugging down the Mississippi to see exactly how the steam engine powers the boat.  After dinner, go up to the top deck to hear the Dukes of Dixieland play while watching the nighttime of New Orleans come alive.  Also, make sure to get to the ship early to hear the calliope being played on top of the ship.

Gotta have a Beignet
A visit to New Orleans is simply not complete without trying a beignet.  This powdery-doughy-treat is available all over town, but the experience is classic at the legendary Cafe du Monde.  The original coffee stand is located on Decatur Street and is open 24 hours.  When we walked by at 9 am, there was a very long line with over an hour wait to get inside to find a table (the to-go line was just as long but moving faster). However, we went back at 4 pm for an afternoon treat and walked right in and sat down.  Don't miss going behind the building to see them making the beignets thru a window.
There are lots of places to stay while visiting New Orleans, but we found the Sheraton New Orleans to have an ideal location, just minutes away from the French Quarter and the perfect accommodations for our family.  I liked that it was located a bit away from the more adult- area of New Orleans as well.
There is so much more to do while in New Orleans with kids, but we simply didn't have the time to do more. Check out the New Orleans Convention and Visitors Bureau for more great ideas.
Here are some other helpful New Orleans articles you may enjoy:
French Quartour Kids Tour
6 Things to See at Oak Alley Plantation
Sheraton New Orleans
Disclosure: Our family was invited to visit New Orleans and were provided with passes to various attractions during our stay.  I was not compensated for this article.  All opinions are my own.