"That will be an additional $50 charge."
The first time I heard those words uttered from an airline representative to simply put my two bags on the plane I was stunned.  You mean on top of all the fees you charge us with our airline ticket, I now have to pay to take my bags with me too?
Now a days, paying for your luggage is commonplace unless you are a frequent flyer and have joined the airlines "clubs" or you find airlines that don't charge a fees (Southwest, JetBlue, Frontier, etc.).  But let's face it, not all of us have the luxury of flying these airlines to the destinations we are going.
I didn't used to think I could pack for 3 days in a carry-on, much less an extended vacation.  But I do not like to pay for my bags to go on vacation too (yes, I'm a cheapskate!).  So I have been working on how to pack my carry-on better, so that I can pocket that $25-30 and always have my items with me.  Here are a few tips that are helping me learn how to pack a carry-on.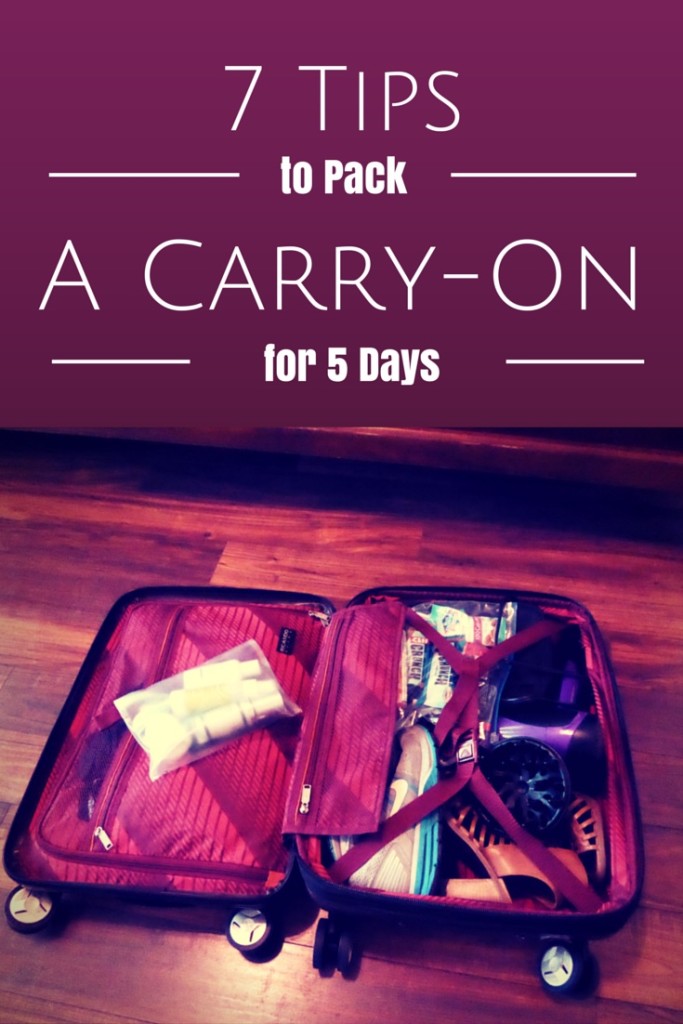 7 Tips to Packing a Carry-On Suitcase
Make a list: The act of writing down each outfit you need for your trip will allow you to see what you NEED to bring versus what you WANT to bring.  Think about taking clothing items that you can mix & match, such as one pair of jeans or a t-shirt that could work with more than one outfit.
Lay it out: Lay everything you want to pack out on your bed.  This is when you can pare down to only pack what you NEED to pack.  Do you REALLY need 4 pairs of shoes?  I'm guessing not.
Roll it up: Lay your shirts one on top of the other and roll them up tightly.  Soft, wrinkle-resistant materials like cotton & knits can all be rolled up tightly, since loose rolling will result in wrinkles.
Stuff your shoes: Stuff as many socks & undergarments into your shoes as you can and lay them on the bottom of the suitcase, as the bottom layer.
Wear the Heavy: Depending on the trip, wear your heavier items while traveling.  I always wear my coat or sweater on the plane, as I get cold easily.  Also try to wear the heaviest shoes, so there is more room in the suitcase for other items.
Toiletries: If you're bringing your DOP kit through security, be sure to get everything in travel-size bottles and pack them per TSA regulations. Follow the 3-1-1 rule:
[dropshadowbox align="none" effect="lifted-both" width="700px" height="100px" background_color="#ffffff" border_width="1″ border_color="#dddddd" ]3-1-1 for carry-ons. Liquids, gels, aerosols, creams and pastes must be 3.4 ounces (100ml) or less per container; must be in 1 quart-sized, clear, plastic, zip-top bag; 1 bag per passenger placed in screening bin. The bag limits the total liquid volume each traveler can bring.[/dropshadowbox]
Utilize the Pockets: Many suitcases have great pockets to stash other items you may need (bathing suits, books, etc.) Use them to their fullest potential!
Ricardo Elite Roxbury 2.0
Recently, I was sent a brand spanking new Ricardo Beverly Hills Elite Roxbury 2.0 for my recent travels to Walt Disney World and was able to review the luggage on our trip.  As a carry on, I was doubtful that I could fit everything that I needed for 5 days at Walt Disney World in it, but I did! Here's how:
What I love about the Roxbury 2.0
LIGHT: This is the lightest suitcase I have ever carried in my life.  Seriously – it was packed to the brim and even my 5 year old could pull it along in the airport with no problem. It's also very light to put in an overhead compartment on the plane.
MULTIPLE COMPARTMENTS: I love the 2 sides of the suitcase to separate my shoes & toiletries from my clothes.  Plus there are many different zipper compartments to fill.
WHEELS: The wheels slip around in every possible direction, allowing for it to be super easy to pull or push.
HARDCASE: I didn't think I would like a hard case suitcase, but I did.  I feel like everything is held together better and I am expecting the suitcase to have a longer life than most others.
EXPANDS: The case expands with a zip, which came in handy when I needed more room to bring home souvenirs.
SECURE: There is a built in TSA-compliant lock to secure your suitcase if you are checking it.
Other than a sticky zipper on one occasion, I have found nothing to complain about this luggage.  Seriously, it surprised me with how much I love this piece.  In the past, I used whatever suitcase my husband had bought, but after seeing the comparison of how easy it is to lift & maneuver the Ricardo, I can't see me using much else.  Plus, I like the 10 year warranty it comes with, in case something were to happen to it.
Interested?  Ricardo Beverly Hills is offering a HUGE discount for TravelingMom fans until May 31.   You can get 65% off and free shipping on orders over $99 if you use this exclusive coupon code: TMOM65Off 
Friends, do you travel with a carry-on suitcase?  What are some of your best packing tips?