The Austin Museum Partnership is proud to host the 21th annual Austin Museum Day on Sunday, September 22, 2019.  More than 35 area museums open their doors to the public for FREE in an effort of re-discovery of all the amazing institutions we have here in Austin.
I love this initiative and wish it was a week-long, not just a day!!  Having only one day and so many museums to choose from, I wanted to provide you with a few ideas of what museums your family might enjoy best.

8 Museums to Visit on Austin Museum Day 
Austin Museum Day:

Thinkery
Formally known as the Austin's Childrens Museum, the Thinkery in our opinion, is one of the best children's museums in Texas.  With tons of hands-on activities, like making your own airplane and flying it or creating music out of water, there is never a dull visit to this museum.  On Austin Museum Day, Thinkery will have all of its regular displays available as well as special activities all day in Innovators' Workshop, Spark Shop, & Kitchen Lab. Here is our experience there.

Sunday Hours: 10:00 am – 6:00 pm
Location: 1830 Simond Ave. 

Austin Museum Day: Bullock Texas State History Museum
One of our families' favorite Austin museums, the Bullock Texas State History Museum is a vast collection of rotating Texas artifacts.  Every time we visit, we see something new on display.  The museum also houses an IMAX theatre and an interactive theatre.  This Sunday, the museum will 
discover the wide variety of symbols that represent the state with hands-on activities perfect for ages 5 and up, art making, performances, and more!
Sunday Hours: 12:00 pm – 5:00 pm
Location: 1800 N Congress Ave.




Austin Museum Day:

Elisabet Nay Museum
The historic Elisabet Ney Museum is the former studio and portrait collection created by 19th century sculptor Elisabet Ney.  This Sunday, they will host Portraiture in the Park. Have a free caricature, make a cyanotype portrait, create masks of your friends and family, have a portrait bust made of you in the photo booth, write word portraits, watch stone portrait carving, and much more.  Feel free to picnic. Food and dessert trucks will be on site.

Sunday Hours: 12:00 pm – 5:00 pm
Location: 304 E. 44th Street



Austin Museum Day:

 
Lady Bird Johnson Wildflower Center
Take a walk in the beautiful gardens the Wildflower Center has blooming. We love to wander around the 
Luci and Ian Family Garden. Discover nature art, hear a story, and go on a scavenger hunt. Enjoy a BIG Tic-Tac-Toe game along with bubbles and Hula Hoops in the play lawn.  
Here is our experience there
.
Sunday Hours: 9:00 am – 5:00 pm
Location: 4801 La Crosse Avenue
Austin Museum Day:

Jourdan-Bachman Pioneer Farms
Take a step back in time at the Jourdan-Bachman Pioneer Farms in Northeast Austin.  Five individual settlements with working docents provide families with hands-on experiences that really show what life was like in the past.  
 The living-history park and museum has new exhibits and displays, historical reenactments and family fun. On Sunday, there will be Artisans, food, much more.
Sunday Hours: 10:00 am – 5:00 pm
Location: 10621 Pioneer Farms Dr
Austin Museum Day:

Texas Department of Public Safety Historical Museum
This fun museum is a treasure trove of historical DPS vehicles and artifacts, one my son really enjoyed. It's not as well known as most of the museums in town, so I wanted to highlight it for Austin Museum Day.  Learn about the Four Alerts and how DPS locates, rescues, and identifies missing persons. Interact with Forensic Artists, crime lab scientists, law enforcement officers, communications officers and emergency managers. See current and retired DPS vehicles, police dogs and the new mounted patrol. They will also conduct an informational scavenger hunt.


Sunday Hours: 10:30 am – 4:00 pm
Location: 5805 N Lamar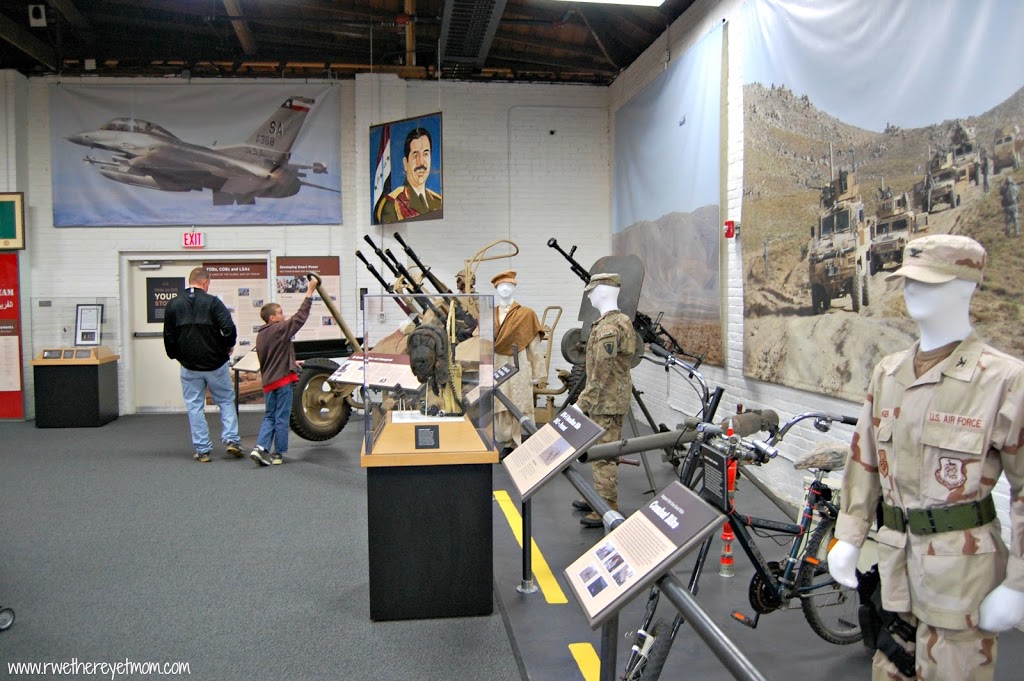 Austin Museum Day:

Texas Military

 Forces Museum
One of my son's favorite museums in town, the
Texas Military Forces Museum
is full of military history & vehicles.  He loves the collection of tanks. On this Sunday, they will have specialists on hand who will demonstrate leather working, Vietnam era weapons, Civil War uniforms and equipment and a plastic model activity.
Here is our experience there. 
Sunday Hours: 10:00 am – 4:00 pm
Location: 2200 W. 35th Street
Austin Museum Day:

LBJ Presidential Library
At the LBJ Presidential Library you can e
xperience the life behind the President – his Oval Office, his Presidential Limousine and more.  We really enjoyed the Civil Rights exhibit they have as well.
Sunday Hours: 9:00 am – 5:00 pm
Bonus Museum:

Hill Country Science Mill
If you want to drive out to Johnson City, the Hill Country Science Mill is participating in the Austin  Museum Day as well. It's a fantastic hands-on museum that my older children really enjoyed (5th grade & up). Here's our experience. 

There are so much more than just these 8 – I wish it lasted for a full week.  Check out many of the historical walking tours, such as the Capitol, the grounds of University of Texas, and the Oakwood Cemetery.  For a full listing of all the Museums participating in Austin Museum Day, click here.