When looking for a beach resort, you want to find a location that has not only has a gorgeous beach, but one that has many family-friendly activities as well. There are many things to do at Hilton Sandestin Beach in Sandestin, Florida. Take a look at all the fun you can have beyond your time on the beach.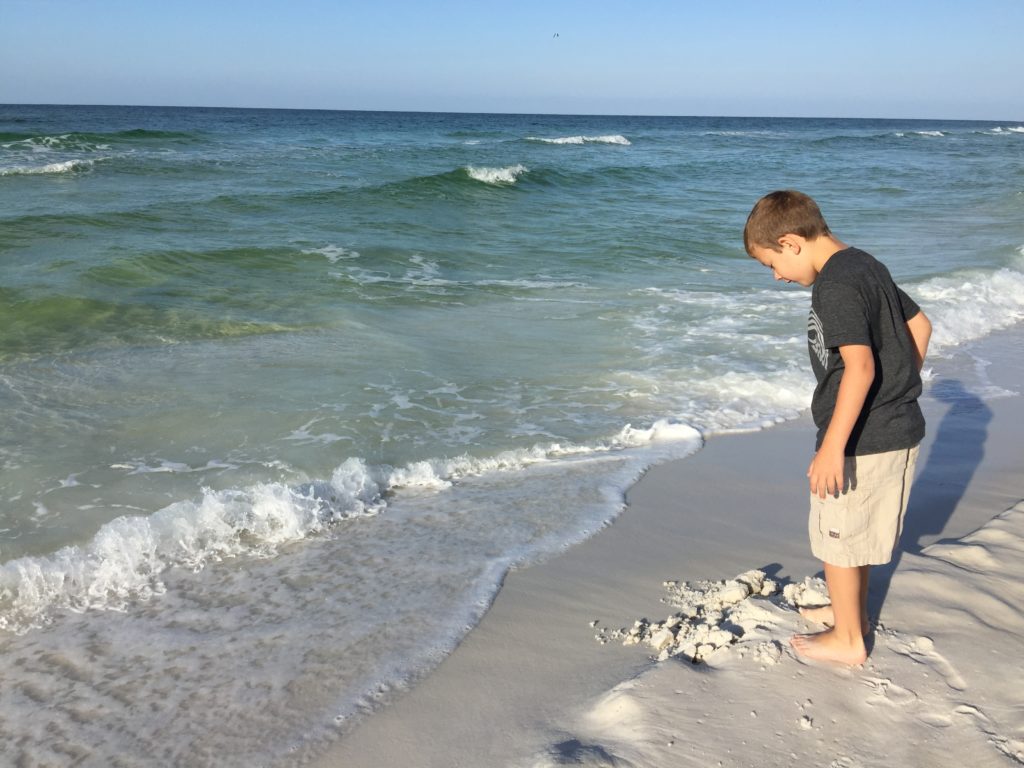 The Hilton Sandestin Beach is an incredible resort located in Sandestin, Florida. After a recent visit, I had changed my mind on what a beach vacation needs to look like. This resort has everything you need to make it relaxing and enjoyable with no work involved. What do I mean by that? Well, how would you like to be able to be able to walk down to the beach and sit in your own reserved chair & umbrella? Order lunch and drinks from your mobile phone and have it delivered to you on the beach? No meal planning because you have 7 different choices for meals – from casual coffee shops to prime steaks & seafood, all within the resort? Sounds great, right?
Beyond it being a beautiful resort, here are all the fun things to do at Hilton Sandestin Beach.
9 Things to Do at Hilton Sandestin Beach
Things to Do at Hilton Sandestin Beach:
The Beach
This resort is located on the gorgeous Florida Emerald Coast, known for it's white sandy beaches and clear, green water. The beach is impeccably clean and it has the softest sand I have ever walked on. It was quiet and peaceful in April when we visited. This is really the perfect beach.
If you want to reserve chairs & an umbrella, you can do it in advance or day-to-day. You can also bring your beach necessities from home and set up your own beach area. Honestly, I could spend all day just sitting here with my book, the kids playing in the water nearby….sounds heavenly, doesn't it?
I mean really, who wouldn't want this view all week?
Things to Do at Hilton Sandestin Beach:
The Pool
The Hilton Sandestin Beach has 2 beautiful outdoor pools, an indoor pool, and a hot tub to enjoy when you are tired of the saltwater. These beautiful cabanas can be reserved for the day, if you wanted a break from the beach.
Things to Do at Hilton Sandestin Beach:
The Spa
And while you are on vacation mode, a little pampering is always nice. The Serenity by the sea Spa is a gorgeous facility that offers massages, facials, body treatments, manicure & pedicures & ever hair styling. We spent the morning at the spa and it was so relaxing, just what you need to really recharge on your vacation.

There are separate spa areas for men & women – and both have their own locker room, sauna, steam room, & heated whirlpool spa and lounge area.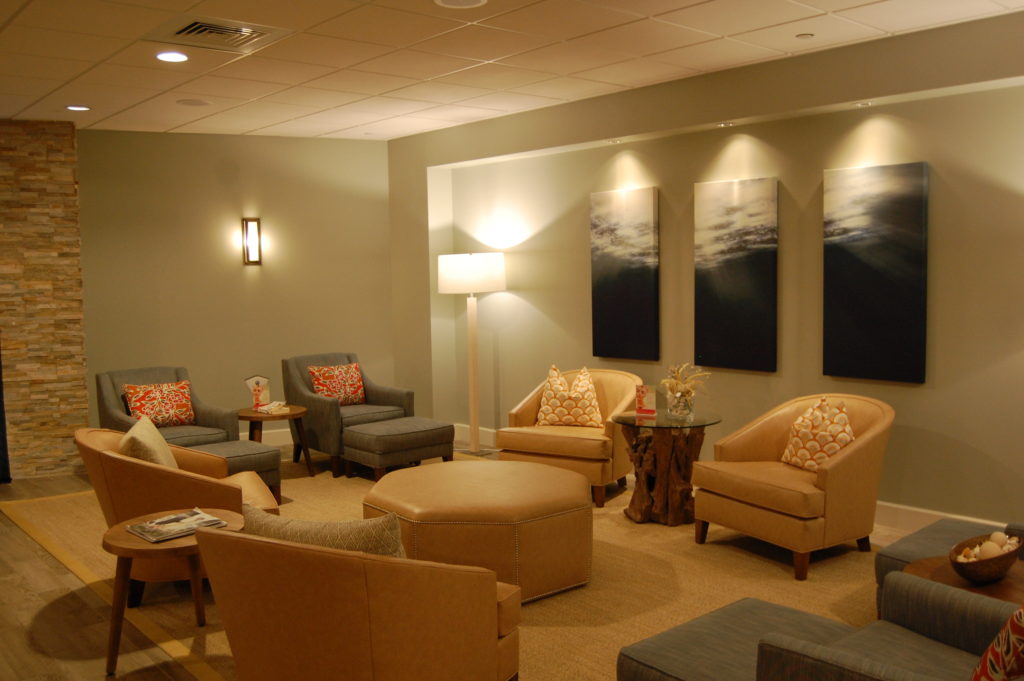 The spa also has a fitness center than is open 24 hours and fitness classes are offered at various times.
Things to Do at Hilton Sandestin Beach:
Water Sports & More
Your family can rent Paddle Boards and Kayaks to enjoy in the water from the hotel. Make sure to ask for a quick-lesson from a staff member too.
You can also rent bicycles & scooters to enjoy the paths around the resort area.
Things to Do at Hilton Sandestin Beach:
Golf
The Hilton Sandestin offers four golf courses on their property, each one offering unique characteristics. The Links Golf Club at Sandestin has 5 bayside holes. The Baytowne Golf Club at Sandestin stretches from the beach to the bay and is a great course for beginner golfers. Raven Golf Club of Sandestin was a stop on the PGA Champions Tour for two years and is considered a bit more difficult set along the wetlands, marshes, & pine trees. And lastly, the Burnt Pine Golf Club at Sandestin has been called the "Crown Jewel of Florida Golf" by Golf Magazine.
Discounts are offered for players 17 & younger and their are programs & lessons available by PGA golf instructors.
Things to Do at Hilton Sandestin Beach:
Shopping
Located across the highway, the Sandestin Resorts offers nearly 40 different retail and specialty shops. It's about a 10 minute walk from the hotel or you can take a tram over to the shops. You will find fun boutiques that offer designer labels, original art, and jewelry, toys and more. It's the perfect spot to pick up a souvenir or two.
Things to Do at Hilton Sandestin Beach:
Kids Krew & Kids Night Out
During our stay, one of my son's favorite activities was spending time at the Kids Krew. The Hilton Sandestin Beach has an amazing kids program that gives parents the time to play a round of golf, relax at the spa or schedule a date night. I was impressed with the activities they offer, from alien scavenger hunts, tie-dying t-shirts, sandcastle-building contests, and more. These kids were not just sitting around playing video games & watching movies.
The Kids Krew team also offers family activities during the summer so moms & dads can join in on the fun. Kids Night Out has crazy-fun themes like Pirates & Outer Space. Both Kids Krew & Kids Night Out are available from Memorial Day thru Labor Day and seasonally on holidays.
Things to Do at Hilton Sandestin Beach:
Date Night
With the kids securely tucked away at their Kids Night Out, it's time to enjoy a date night at Seagar's, the AAA's Four-Diamond rated steak & seafood restaurant. This elegant restaurant serves USDA Prime Beef, has over 600 different labels of wine, and prepares some dishes table side.
If you are looking for something a little more casual, you can enjoy fresh sushi at the Hadashi Sushi Bar or a quiet meal for 2 at Sandcastles, two amazing restaurants located in the hotel as well.
Things to Do at Hilton Sandestin Beach:
The Sunset
Lastly, you must make time to walk the beach during sunset. The gorgeous pink colors of the Emerald Coast are breathtaking.
You probably didn't need all these activities to convince you to stay – I mean this beach is probably enough – so you can look at all these extras as "icing on the cake", making it close to the best beach vacation you'll ever take.
Disclosure: I was invited to visit Hilton Sandestin Beach and try it out for myself.  I was not compensated for this article.  All opinions are my own.