The lights are ROCK'N in Round Rock!!
And last week we saw them up close & personal as we took the family through the Rock'N Lights at Old Settler's Park in Round Rock, TX. This drive thru light display & holiday village features over 2 million lights stretched out over a 1 1/2 mile path. Car-loads drive along the path, enjoy the marvelous light display and end up at the Holiday Village set up at the Dell Diamond parking lot. The Holiday Village will features rides, food and Santa Claus!!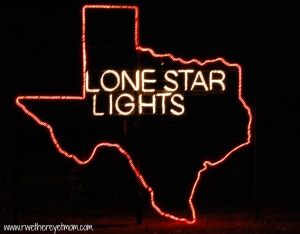 We loved the various themes – elves making snow, 50's village, and the 12 Days of Christmas are just a few of the fun displays you will see. It was nice to see the oversized nativity scene all in lights, as well as a tribute to Hanukkah.
The kids ohhed and ahhed over the lights and frankly, would have loved driving thorough it a few more times – if anything, to go through the tunnel at the end again. Take a look at some of what you will see there:
Lastly, each child in the car receives a ticket for one ride at the Holiday Village at the end of the ride – there are carnival rides, a train, a bounce house and a big slide to choose from. Of course, one ride was not enough for my crew, so make sure to bring some cash (if not, there is an ATM available).
If you go, make sure to drive towards Old Settlers Park along Old Settler's Blvd, as the entrance is on this side of the park. Also, to enjoy the show better, you are asked to turn your headlights off on your vehicle. We found that we couldn't see the speed bumps this way – not that we were zooming through the park, but we were always surprised to go over random bumps without expecting them.
We thought the Rock'N Lights was delightful – so excited to see something fun like this come up north to our neck-o-the-woods. Here's hoping it is a successful inaugural year and the Rock'N Lights are here to stay!
****If you go during a weekday, make sure you take this coupon, good for $5 off a carload!****
Rock'N Lights
Old Settler's Park
3300 East Palm Valley Blvd, Round Rock, TX
Hours: Sunday – Thursday: 6 pm – 9 pm
Friday & Saturday: 6 pm – 10 pm
Cost: Family Vehicles: $15
Limos: $50
Shuttle Buses (9-30 passengers): $45
Commuter Buses: $75
admission includes one free ride ticket per child to be used at the Holiday Village
(additional tickets can be purchased)