Alice Through the Looking Glass opened this week in Los Angeles with a star-studded red carpet premiere and after party. I had the very special opportunity to be a guest on the red carpet event and am thrilled to be able to tell you all about the Alice Through the Looking Glass Red Carpet Premiere.
My grandparents had this vivid memory of me when I was young that they would tell me many times. On my very first visit to Walt Disney World, I was sitting on my father's shoulders and Alice came over to us and sang "A Very Unhappy Birthday to You!" to me. They had so much jo in telling this story and I loved hearing it.
Alice in Wonderland has always resonated with me – I love the colorful characters that fill the stories and I admire Alice's curiosity & bravery.
Fast forward many years later, I found myself invited to the Alice Through the Looking Glass Red Carpet premiere and press event. Felling that I had such a connection with the story, I was thrilled to be a part of the event.
But you know what's even more thrilling?
Walking the Red Carpet at a Hollywood Premiere. Let me tell you more.
For the Alice Through the Looking Glass event, Sunset Blvd in front of the El Capitan Theatre was blocked off and a beautiful staging area is set, with a gorgeous red carpet – this one has a very Lewis Carroll-ish black swirly design. There was a big step & repeat area with countless journalists with their cameras, followed by an area for on-camera interviews. The carpet is set with many scenes to take pictures in front of the characters & movie titles before it leads you into the movie.
Alice Through the Looking Glass Red Carpet Premiere:
P!nk's Performance
P!nk has a very special song for Alice Through the Looking Glass, "Just Like Fire" and was asked to sing it for Jimmy Kimmel Live (which is taped in the building next door to the El Capitan Theatre). So before the Red Carpet event began, we had front row seats to watch P!nk perform a few songs.
P!nk rocks it! I mean I knew she could sing, but when she warmed up hitting the high notes of the song acapella, it gave me goosebumps. She sang "Just Like Fire" for the show and then followed it up with a special performance of White Rabbit.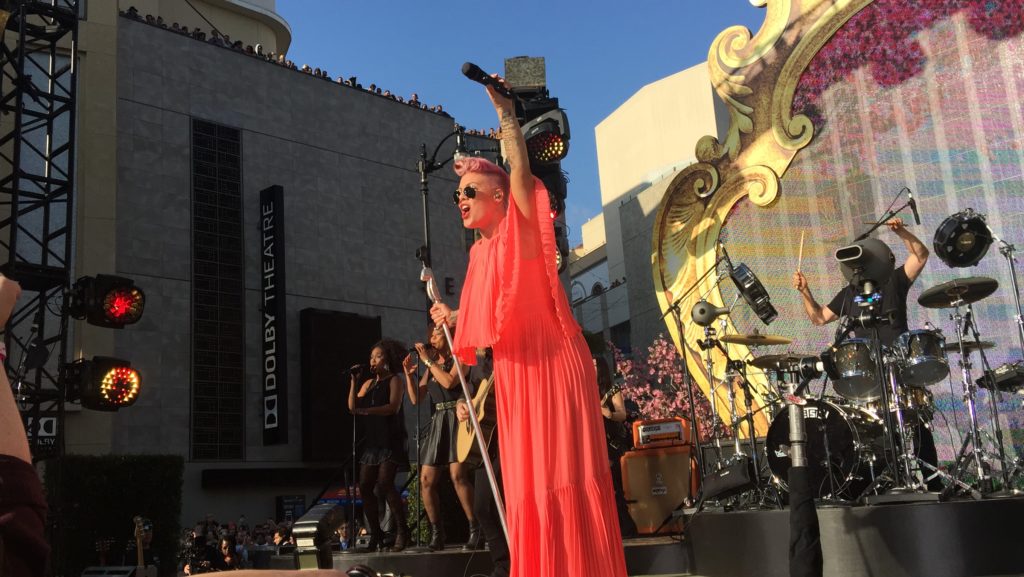 She joked with the crowd, was appreciative of her band, and even spoke to her adorable daughter, Willow, while she was onstage, endearing me even more to her. She is a mom doing her job – albeit, a pretty cool job that she is amazingly talented at, but just like us.
And check out a little clip of her performance:
And here's what made it on Jimmy Kimmel Live:
Alice Through the Looking Glass Red Carpet Premiere:
Walking the Red Carpet
When you are invited to "walk a red carpet", you really don't know exactly what that means. And when I was invited for my first red carpet event for The Good Dinosaur, it was so fast-paced and I was so excited to be there, that I just didn't take the time to really enjoy the moment. This time, I was determined to do so.
I had my camera ready to take pictures, but I slowed my pace down, looked around and recognized how surreal of an experience it all was. We arrived just minutes after Johnny Depp and Sacha Baron Cohen and this is the first site we saw:
I loved being near the entrance, as that's when the talent is photographed. They all look so beautiful and graceful.
The security does a good job of keeping everyone actually moving along the carpet.  There's very little time to stop and just watch the experience, as they want you to move on down to the theater.
But towards the end, I tucked myself away for a bit to take some video of the experience to show you all:

I think walking the red carpet is such an exciting experience. It really moves fast, so you have to be aware of everything happening around you to fully take it all in.
Alice Through the Looking Glass Red Carpet Premiere:
The 3-D Screening
It's really special to be able to watch a movie in a historic theater such at the El Capitan. So many incredible movies have previewed here. And it's not until you settle in your seat and look at the stage with it's elegant curtain do you realize the history these walls have seen.
As we were escorted to our seats, we were entertained by a gentleman playing Disney hits on a giant 4/37 Wurlitzer organ (four keyboards and 37 ranks of pipes). The El Capitan's "Mighty Wurlitzer" was built in the 1920s and plays before every premiere. It was a treat to get to hear it.
Then the curtains part and the movie begins.  What an experience to watch Alice Through the Looking Glass with the team that created it – actors, directors, producers, and more.
Alice Through the Looking Glass Red Carpet Premiere:
The After-Party
After the movie, we were escorted over to another old-Hollywood location, the Roosevelt Hotel, for the Alice Through the Looking Glass premiere party. The event was exciting, with incredible decorations, themed-food, and of course, lots of stars.
As exciting as the red carpet is, the party is so much more relaxed and fun. Everyone is easy to visit with and talk to about the movie. We briefly chatted with James Bobin, the director of the movie whom we had interviewed earlier that day. We ran into Suzanne Todd, the producer, (also interviewed earlier) who was excited to introduce us to Linda Wolverton, the screen writer and insisted on grabbing Matt Lucas (Tweedledee/dum) for a picture. And I even had a brief moment with Sasha Baron Cohen where I told him his performance was incredible – he may have touched my arm in a gesture of thanks…..
Beyond the stars, the party was filled with fun sponsors & activities. OPI had a manicure station with fun Alice colors to get your nails done, Urban Decay had a Glam room to have your make-up touched up. There was a virtual reality booth to watch P!nk's performance from earlier. And of course, we had to get this fun picture:
The Alice Through the Looking Glass Red Carpet Premiere was an amazing experience and I feel so blessed to have been a part of the event. The movie is incredible and was the real star of the evening. I can't wait to tell you more about the movie, but for now, trust me – you are going to want to see it. So make a plan this Memorial Day weekend to find time to take the whole family to see Alice Through the Looking Glass.
Alice Through the Looking Glass opens in theaters nationwide Friday, May 27, 2016
Follow all the fun here:
Other Articles from the Alice Through the Looking Glass & Zootopia Blu-ray Event you may enjoy:
My Alice Through the Looking Glass Red Carpet Premiere Experience
Get to Know Alice's Mia Wasikowski
5 Reasons Why Alice Through the Looking Glass is Better than Alice in Wonderland
Exclusive Interview with Suzanne Todd, Producer of Alice Through the Looking Glass
Zootopia's Clark Spencer, Rich Moore, & Byron Howard
9 Things You Didn't Know About Zootopia
Exclusive Interview with James Bobin, Director of Alice Through the Looking Glass
Disclaimer: Disney sent me to Los Angeles on an all-expenses paid press trip, in exchange for my coverage of the red carpet premiere of Alice Through the Looking Glass. All opinions are my own.