Yesterday we embarked from one of the
BEST family vacations
we have ever had.
We played in the onboard water park, tried baked alaska for the first time, and slept in each morning.
We danced with dolphins in the Bahamas, played mini-golf (a dozen times), and saw our first comedy show as a family.
We ordered from the "fancy menu", did a ropes course high above the sea, and ate way too many ice cream cones.
And we laughed, and smiled, and relaxed.
None of this would have been possible without
YOU – the incredible staff on the Carnival Magic.
Everything –
everything
– was taken care of for us and we were treated like Royalty for the week.
Carnival Magic's Southern Lights Maitre d'
We looked forward to dinner each night, not for the amazing gourmet meal, but to see our "friends" in the Southern Lights Dining Room.
We were greeted each evening by the maitre d', Fernando and Irisa, who both greeted us as if they were personally welcoming us into their home.
Our Southern Lights Waiters, Putra & Todor
Our wait staff, Todor & Putra, remembered our names each night, and even more impressive, remembered our likes & dislikes without even asking.
All the kids received special goblets full of apple juice each night.
After hearing that my 4 year old enjoyed strawberries, he had a plateful each night as his appetizer. 
Todor would bring us additional starters when he saw we were undecided and we learned about his home and family in Bulgaria.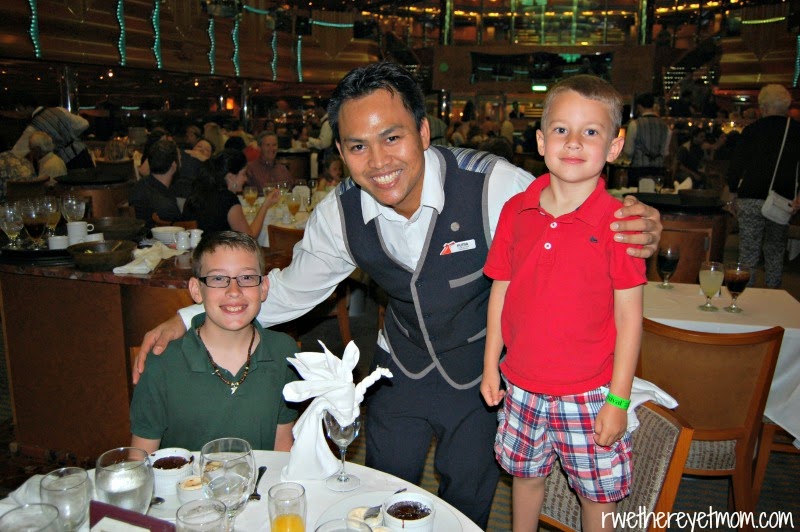 Putra and one of his amazing napkin creations
Our sons were especially fond of Putra.  He delighted them with napkin creations each night.  He was patient with our sometimes-overly-tired 4 year old and even gave him a hug one night, seeing that he was out-of-sorts.  And he told us all about his home in Bali.  He was so kind to our family, we just loved him.
Singgih, our Stateroom Steward and one of the many towel creations he made
Our Steward, Singgih, was amazing too.
He tidied up our room each evening, turning the beds down, leaving chocolates, and a special towel animal.
Something you expect each night of your cruise, right??
Well, have you ever come back to your room to find a menagerie (15!!) of towel animals?
Singgih knew how fascinated my 11 year old was with his creations, so he filled our room with them.
And he was happy every time we saw him – he always greeted us as we headed out for the day, wishing us a fun day.
So maybe you are thinking this is not that impressive, that this is the standard in the service industry?  What about the fact that each of these individuals worked in not one location on the ship, but multiple, and worked all day, seven days a week, always smiling?  That is not the norm for most individuals in the service industry. 
Many of the staff is away from their families for months during their contract.
 And they are a
lways gracious, always genuine.
  Never a sour face, never a complaint. It was incredibly refreshing.  
And there were so many others to thank – the wonderful ladies who greeted my 4 year old with a BIG hello when we came into Camp Carnival, the table side magician that came to our table each night, the lido deck waiter who knew my hubby liked Mojitos, the amazing chefs, the dishwashers, the entertainers, and on and on.
It takes a lot of staff to make the Magic run so smoothly.
It's this level of service that made our vacation that much more special.
Each of them were passionate about their job.
They took the time to get to know you on a personal level – you were not just another passenger for the week. You felt so welcome in their "home".
And so to all the staff of The Carnival Magic
– thank you for treating our family to a very memorable vacation.
Thank you for relaxing my husband.
Thank you for making my almost 13 year old feel like a grown up with a steak each night.
Thank you for allowing my son to have all the ice cream cones he could eat in a week.
Thank you for making my youngest giggle each night with the amazing napkin creations.
And thank you for providing me with all the incredible memories. This is what vacation is suppose to be.
relaxing on the cruise