Gotta love a business with a logo that says, "Wine & Unwind." How does that not resonate with a busy mom?? But when I first heard of Art By the Glass Studio in Round Rock I thought to myself, "I'm not an artist, I could never do that." I couldn't have been more wrong and I'm so glad I had the opportunity to try it out a few weeks ago!
When I met with the owner and we talked more about the studio, it made me want to give it a try. Natalie Knobloch, an accountant by trade, went "kicking and screaming" into a painting studio with friends a few years back…..and ended up loving it. She enjoyed it so much, she wanted to create an environment for friends to connect, re-charge, and make something really amazing to take home. She opened Art By the Glass Studio in May 2012 and has done a fantastic job of welcoming men & women in for fun evenings of relaxation and creativity.
So, I very nervously planned a girls night out at Art By the Glass. Natalie was very reassuring that everyone would have a great time and go home with some pretty cool pieces of art. And she was right.
We brought in a few bottles of wine and snacks ready to paint. As we sipped our first glass of wine, we really didn't know what we had in store for us. But as soon as we put the aprons on, we knew we were in for serious business.
Professional artists and art teachers lead the classes, taking us step-by-step through each process. We all started to make our oceans, thinking in the back of our minds that this was never going to amount to much. I mean, who would have ever thought that a few strokes of blues, greens, and whites could make a churning sea?? But it did.
And as we became more comfortable with the brushes and the paints, we relaxed and enjoyed the process. Let the unwinding begin……. And sure enough, those "wisps" of green became an ocean, the oblong diamond-shaped object became an umbrella, and the finger-painted dabs became clouds. It all came together and we were throughly impressed with how our "masterpieces" turned out!
What was so amazing to us, was that while we took the instructions the same, and attempted to do what we were told, each one of our scenes looked different. For me, the unwinding came when I was able to concentrate on something completely new and different for 2 hours, laugh with friends, and have a fun summery-piece to show for it.
The satisfaction that I had actually "painted" came when my daughter asked if they had it sketched out for us – no, my dear – we started with a blank canvas. This was no "paint-by-numbers" class! She was amazed. We all agreed that it was a really fun way to try something new – a great girls night was had by all!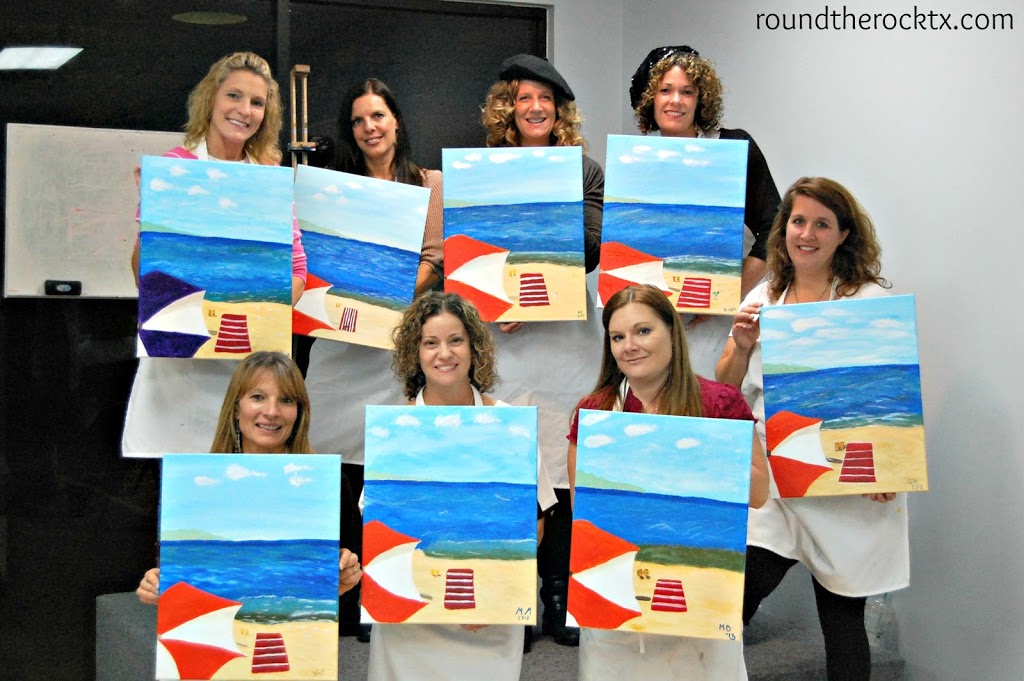 Here is what some of my friends thought about the evening:
"You really need no artistic ability! Be open-minded – it's amazing what you can create with great direction!"

"It was a fun night with the girls – everyone leaves with their own masterpiece to take home!"

"Go into the evening with no expectations and just let your creativity flow. The instructors are great at telling you what to do but don't let that stop you from experimenting with your own style."

"The instructor was patient and helpful. When I felt rushed and got behind, she was great about going over the steps again."
Art By the Glass Studio offers classes most weekend nights with a big variety of paintings to choose from. You can see their calendar
here
. You can also plan a
private party
and book the entire studio for you & your friends. Art By the Glass is a reasonable and fun evening to spend with friends here in Round Rock. Once again, you don't have to go very far to have a great time!