Atlantis Paradise Island is an epic family vacation destination. Located near Nassau in The Bahamas—a quick one-hour flight from Miami—this Caribbean resort has it all. From its 141-acre water park to its five miles of sandy white beach, the resort offers seemingly endless entertainment options. Here's what you need to know when planning a trip to Atlantis.
Atlantis Paradise Island is open and Americans are invited to book a stay at one of the resort's five hotels. When you feel safe traveling again, it offers an incredible outdoor wonderland filled with marine animals, attractions, and water fun in every direction. You'll have plenty of room to spread out. When I visited Atlantis Bahamas last month with my 8- and 12-year-olds, we felt like we had the resort to ourselves.
Travel Requirements for Entering The Bahamas
Currently, international travelers who are vaccinated and have passed the two-week immunity period are welcome to enter The Bahamas without a Covid test. All other travelers age 11 and up must have a negative COVID-19 RT-PCR test that was taken within five days of their arrival in The Bahamas. The day you take the test is considered Day Zero.
All visitors to The Bahamas, including those not required to take a test, must apply for a Bahamas Travel Health Visa online. This can take up to 48 hours to process, so it is best not to leave it to the last minute. For full travel requirements, visit the Atlantis website.
How We Prepared for Our Trip to Atlantis
This is what the week before our trip looked like:
Saturday – I went online and made an appointment to take free COVID-19 RT-PCR tests at Walgreens. This is a swab test that is self-administered in the drive-through pharmacy lane. You take the cotton swab, swirl it around inside each nostril and hand it back. It is painless.
Sunday (Day Zero) – My son and I took the test at Walgreens.
Monday (Day One) – My test results came back.
Tuesday (Day Two) – My son's results came back. I created accounts on the Bahamas Health Travel Visa site, uploaded our test results, and paid $40 for me and $40 for my son. Children 10 and under are free, so I did not have to pay for my daughter. But, she still needed a visa. (If we had been staying for more than 4 nights, the visas would have cost $60 each.)
Wednesday (Day Three) – Our visa applications were rejected. Panic! Our flight was in two days! I looked through the applications and realized I had made a date error. After fixing it, I reapplied. Thankfully, I did not have to pay again.
Thursday (Day Four) – Our visas were approved!
Friday (Day Five) – We flew to The Bahamas. During our trip, we were asked at several points to show both our negative test results and our visas, so I was glad I had printed everything out. Especially when I discovered that my phone did not work in The Bahamas.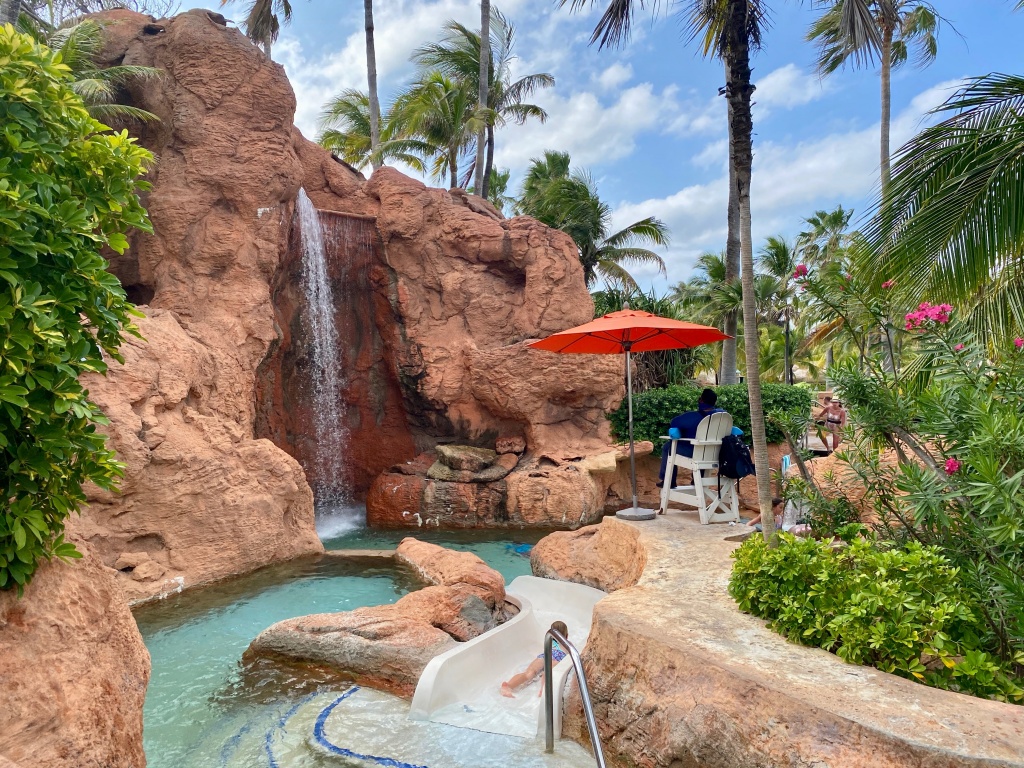 Covid Restrictions at Atlantis
To enter the resort, we needed to show our negative tests one last time. Then, we were free to explore the property. At Atlantis, masks are required at all times, except when guests are eating or enjoying the outdoor water attractions. Employees are all wearing masks. In addition, physical distancing and regular handwashing are encouraged. There are hand sanitizing stations in the hotels.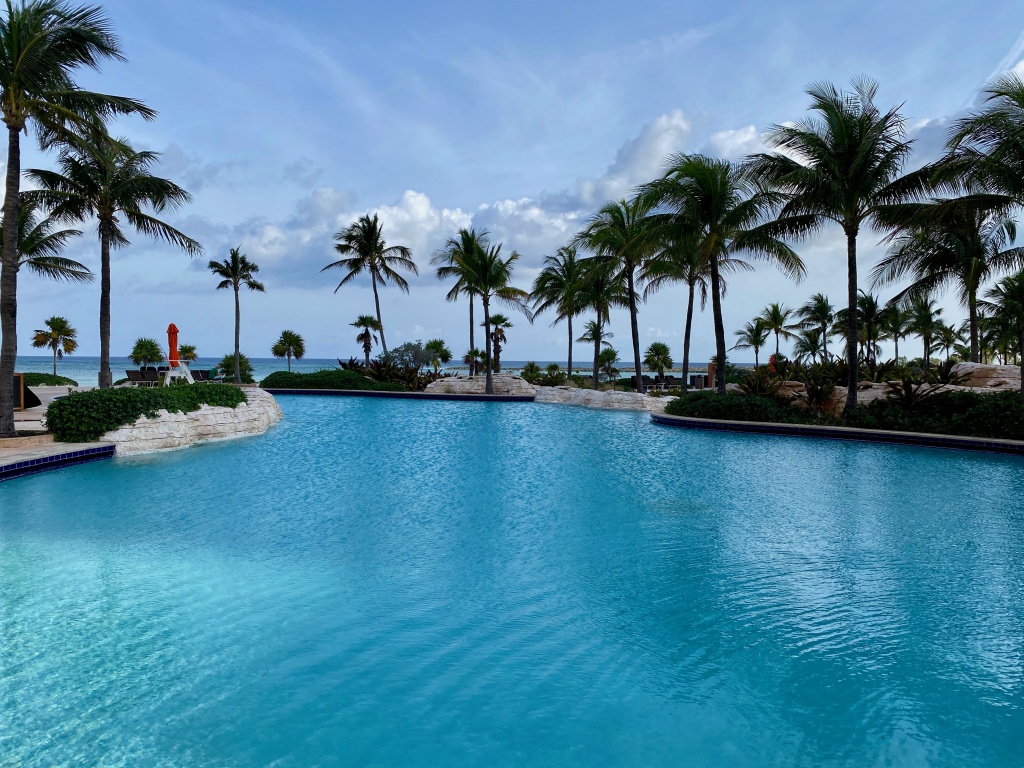 What is Open at Atlantis?
During our April visit, rides and attractions were open on a rotating basis because the resort was not yet fully staffed. So, certain rides were open one day and different ones the next. The Current—a mile-long river rapids tube adventure—was open every day of our stay. All pools were open. We never ran out of things to do. And, since we visited when the resort was at low occupancy, we never had to wait in any lines.
Almost all restaurants were open. For breakfast, we had chocolate chip pancakes at Fish by José Andrés or grabbed coffee and snacks at the Starbucks in The Reef. At lunchtime, we ate poolside—each pool has different options. In the evening, we enjoyed dining at Carmine's for Italian, Olives for shrimp and Mediterranean cuisine, and Seafire for crab cakes and steak. Each of those dinner options has outdoor seating available. Just be sure to make a reservation.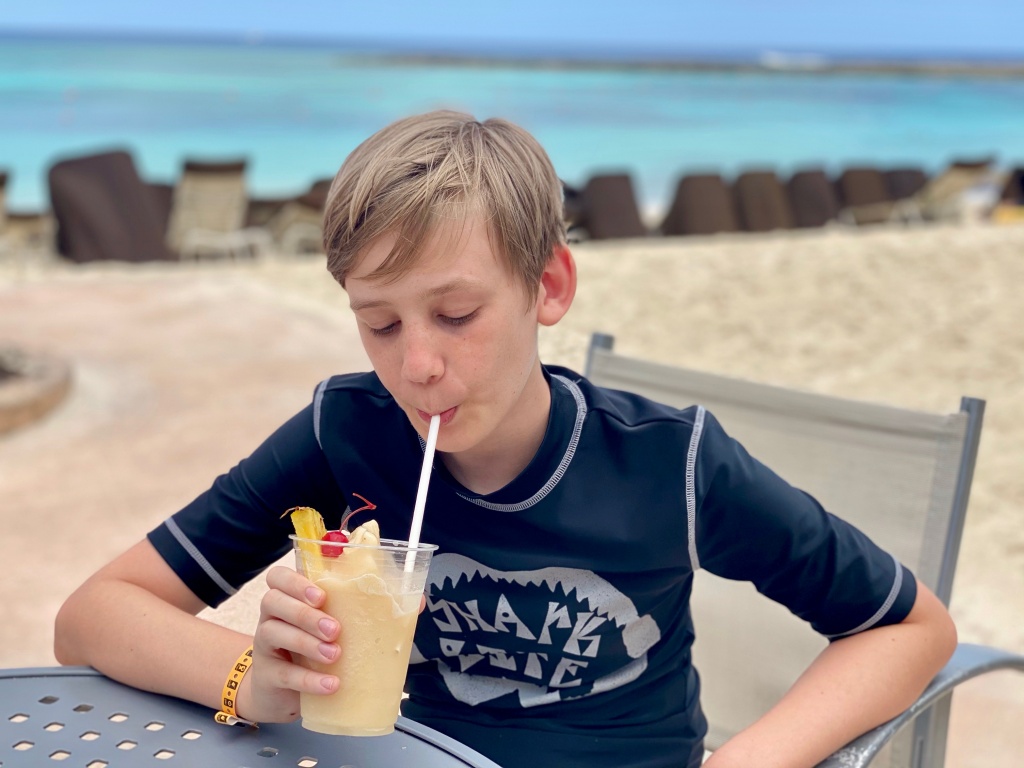 Travel Requirements to Return to the U.S.
In order to return home, we had to take another Covid test. This time, my daughter was required to take one as well. The United States requires all travelers age two and up to present a negative Rapid Antigen or COVID-19 RT-PCR test that was taken within three days (72 hours) of departure. Fortunately, Atlantis makes this process easy by having tests available in the hotels. Each room comes with two free tests and additional tests are only $20. We took our tests on Saturday morning for a Monday morning departure. The test results were emailed within hours.
Is it Worth the Effort to Travel Right Now?
Obviously, that is up to you and your family. Preparing for our trip to The Bahamas was stressful. But, once we arrived, we loved having a massive Caribbean resort as our playground. My 12-year-old's review is that Atlantis Paradise Island is the most amazing resort he's ever seen. After our whirlwind weekend visit, he said, "I've had the most fun ever on this trip!"
Disclosure: The writer was hosted by Atlantis Paradise Island. All opinions are her own.