Learn more about Austin Chefs Night Out to benefit Hurricane Harvey Relief happening on Sunday, September 10, 2017: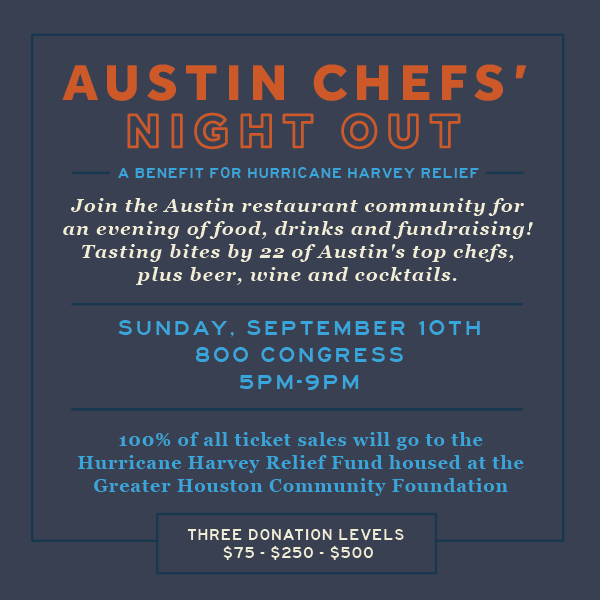 On Sunday, September 10, the Austin restaurant community will come together to host Austin Chefs Night Out: A Benefit for Hurricane Harvey Relief. The sip n' stroll event will include tasting portions from Austin's top chefs, as well as wine, beer, and cocktails. 100% of ticket sales will go to the Hurricane Harvey Relief Fund, housed at the Greater Houston Community Foundation. Thanks to the generous donations from all purveyors this is a zero cost event, meaning every dollar will go directly to the relief fund. The night will kick off at 5:00 p.m. at 800 Congress, a downtown event venue. Tickets go on sale Tuesday, September 5 at 2:00 p.m.
Participating chefs include: Shawn Cirkiel (Parkside Projects), Tyson Cole (Uchi/Uchiko), Todd Duplechan (Lenoir), Brent Fogerty (Cold Ones Pops), Kevin Fink (Emmer & Rye), Michael Fojtasek (Olamaie), Bryce Gilmore (Odd Duck/Barley Swine), Jack Gilmore (Jack Allen's Kitchen/Salt Traders Coastal Kitchen), Zach Hunter (The Brewer's Table), Rick Lopez (La Condesa), the Team from McGuire Moorman Hospitality, Yoshi Okai (Otoko), Rene Ortiz and Nayan Desai (Launderette), Zack Perez (Paperboy), Amanda Rockman (South Congress Hotel), Laura Sawicki (Launderette), Max Snyder (Pitchfork Pretty), Callie Speer (Holy Roller), Philip Speer (Bonhomie), Jim Tripi (Eberly), Andrew Wiseheart (Contigo/Chicon), and Nic Yanes (Juniper).
Tickets will be offered at three donation levels of $75, $250, and $500; the difference in ticket price allows donors to give at their individual comfort level. All tickets are general admission and all-inclusive. Tickets can be purchased at: austinchefsnightout.ticketbud.com.
This is a terrific and creative way to give back to our neighbors to the south of us. Grab a group of friends and make an evening of it!
For additional ideas on how to give back to those affected by Hurricane Harvey, click here.