For my daughter's 14th birthday, we wanted to do something fun & original with her friends.  As we all know, this family loves Austin – everything about it – and it was the perfect idea to plan an Austin Scavenger Hunt!
The below plan is an easy scavenger hunt for teens.  The clues are fairly simple but can be adapted to make them harder.  Also, we planned the hunt to only have to drive to 4-5 places & park, so we didn't have to worry about traffic or finding parking spots.  Lastly, we did the hunt as one big group and not as a race, but it can work for either.
Austin Scavenger Hunt for Teens
Start at your favorite restaurant and fuel up for the race.  We love Homeslice on South Congress, but it gets busy quick.  We arrived right when they opened at 11:00 am and were seated right away.
Clue 1: In this outdoor art gallery, you can climb right up to your favorite pieces. Head there and  take a selfie of you & your favorite art piece to receive your next clue.
Answer: Hope Outdoor Gallery – 1012 Baylor Street, Austin, TX
Helpful Hint: Take a look at the HOPE Outdoor Gallery Facebook page before you go to see what new murals have been painted.  You may be able to add a clue in here as well.
Clue 2: Built in 1888 out of "Sunset Red" granite, this building has a Godess of Liberty atop it. Head to this building and find the Tribute to Texas Children. Take a picture with them to receive your next clue.
Answer: Texas Capitol – 1100 Congress Ave, Austin, TX
Helpful Hint: The tribute is located outside, northwest of the building.  We parked in the Capitol Parking Lot for free (Saturday).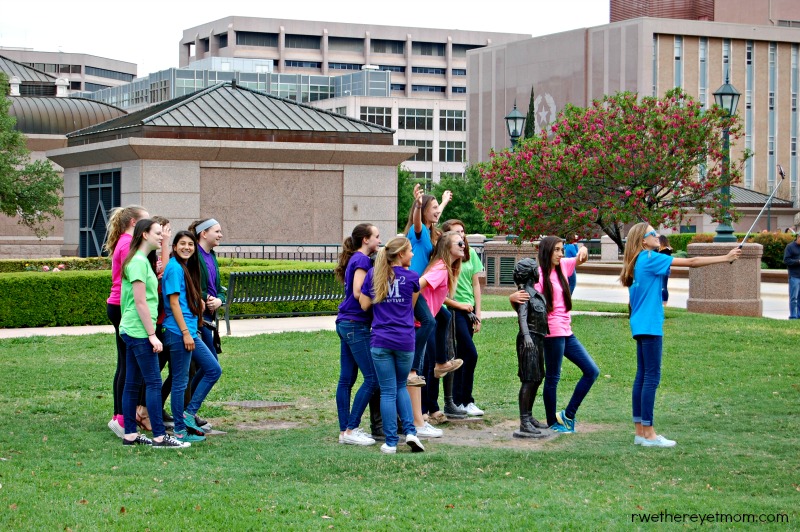 Clue 3: Head inside but don't talk too loud. In fact, we want you to whisper. Yep – go find the gallery where you can whisper across the room and take a selfie with the only lady on the wall.
Answer: Inside Texas Capitol: The rotunda is a whispering gallery.  Take a selfie with Former Texas Governor, Ann Richards.
Helpful Hint: If the rotunda is crowded, you will not be able to hear one another whisper.  Also, you need to go through security to get in the building.  My advice is to go in the back entrance by the Tribute to Texas Children monument, as there is typically no line.
And we couldn't resist this fun shot:
Clue 4: Where can you find the biggest star in Texas? Head there & take a selfie for your next clue.
Answer: Bullock Texas State History Museum – 1800 Congress Ave, Austin, TX
Helpful Hint: Great place to take a bathroom break if needed.
Clue 5: This famous building on 6th street is known for it's paranormal activity. Head there to take a photo on it's gorgeous veranda.
Answer: The Driskill Hotel – 604 Brazos Street
Helpful Hint: I called the Driskill Hotel Concierge in advance to arrange the picture on the veranda.  If they have a wedding or an event, chances are you will not be able to go up there.  Be prepared to take a picture elsewhere in the building.
Clue 6: No walking back to the car! You must find this 3-wheeled vehicle to take you back. Take as many pictures of your group as you can! When you reach your cars, you will receive your next clue.
Answer: Pedicab Ride – 6th Street
Helpful Hint: If you are doing the hunt during the day, chances are you will not see any pedicabs out.  We walked down 6th street a few blocks to find them, but couldn't.  Instead we took this great shot:
Clue 7: Austin's favorite mural, take a selfie with this iconic greeting.
Answer: Greetings from Austin – Corner of Annie & South 1st Street, on the Roadside Relics building.
Clue 8: Head to this street that often gets shortened with 4 letters and park to receive your next clue.
Answer: SoCo: South Congress Ave
Helpful Hint: Parking can be challenging on SoCO on weekends.  I always try the church parking lot behind Hey Cupcake (Elizabeth Ave) and the streets that run parallel to South Congress behind it and usually have great luck.
Clue 9: #happychalk
Answer: Have everyone look up #happychalk on Instagram or Twitter.  They will need to create a motivational message on the sidewalk on SoCo out of chalk, use the hashtag #happychalk and post it to Instagram.
Helpful Hint: Bring a box of colorful chalk.  Encourage the team to write small to be able to take an Instagram photo.  And get creative with your motivational message!
Clue 10: Another endearing mural, our day in Austin would not be complete without a photo here.
Answer: I Love You So Much Mural – Corner of South Congress & James on Jo's Coffee Shop
Helpful Hint: Make sure everyone is in the green background.  It makes the shot so much better.  Look at the difference between the 2 photos:
Clue 12: Kid's love it….ok adults too! Head to this famous store for your next clue!
Answer: Big Top Candy Shop – 1706 South Congress Ave.
Clue 13: Spell the alphabet with candy – grab one of each single kind of candy in 2 bags – one for each team/birthday girls/groups.
Helpful Hint: Make sure everyone grabs from the same priced bins of candy. Also, we took a quick break here and all shared the candy before moving on.
Clue 14: Antes De Morir- tell us what you'd say. Head here to get your next clue.
Answer: Before I Die Mural – 206 E Elizabeth Ave
Helpful Hint: This is 2 blocks east of Hey Cupcake & Homeslice off of Congress Ave. Make sure to bring a bucket & water & rags to wash off the area you want to write on.  And again, bring chalk.
Clue 15: It's time to sing & blow out candles! Now where can we do that?
Answer: Hey Cupcake – Corner of South Congress & Elizabeth Ave
Helpful Hint: You can pre-order you cupcakes so you don't have to wait in line.
And here's the finished product:
Additional clues if needed (we ran out of time and cut them):
Clue 7: Home of many festivals, the view of the Austin skyline can't be beat. Get creative girls, and strike a pose.
Answer: Zilker Park – 2100 Barton Spring Rd
Clue 8: Known by another name, head to "Parthena" to learn the name of this endangered species whose only home is here. Tell us the name to receive your next clue.
Answer: Barton Springs & Barton Springs Salamander
Austin Scavenger Hunt Tips
Each girl who attended the party got a matching shirt – it made for great pictures.
We texted each clue to the birthday girls rather than print the clues out on paper.
We created a hashtag and encouraged everyone to post pictures to it on Instagram & Twitter
We did the race all as one group, you can divide into teams too.
The day before, I planned out the driving route, so I wouldn't lose time getting lost.
And we took our time.  If the girls were having a good time, like at the HOPE Gallery or on the lawn of the Capitol, I let them do what they wanted.  No rushing.
The entire hunt took 5 hours.
My daughter said it was one of the best birthday parties she has ever had.  It took a bit of work and a lot of stamina, but it was totally worth it!
Where/what else would you add to the Austin Scavenger Hunt for Teens?