Gettysburg, PA is the site of the largest battle ever fought in North America.  During the Civil War, the North & the South clashed for 4 deadly days.  Over 51,000 causalities resulted in those 4 days. This battle was a turing point in the war and was a MUST on our Austin2Boston road trip.
Just a quick 90 minute drive from Washington D.C., Gettysburg is a quaint Pennsylvania town that has a beautiful historic downtown.  As you drive in, you notice markers dotting the hillsides and roads – like hundreds of these monuments and memorials – what do they all commemorate?
We found out when we stopped at the Gettysburg Heritage Center – for years, different regiments, organizations, and individuals have placed markers to help honor those who fought at Gettysburg.  It is both honorable and sad.
At the Heritage Center, we took a quick tour through the museum, which tells what it was like being in the town of Gettysburg when the actual battle happened – something you don't really think much about.  It's very well done with a 4D cellar to make you feel what it was like to hide down there while the battle took place above you.  They also have a film that provides a great overview of the 4 days.
We picked up an iPad from here to take the InSite Gettysburg Battlefield tour.  it's an audio and visual tour that takes you to 16 different spots where important moments of the battle occurred. Its very information and kept the kids attention so well – they also have several "augmented reality " scenes where you can "see" the battle take place on the screen at the exact spot it happened. It was really cool.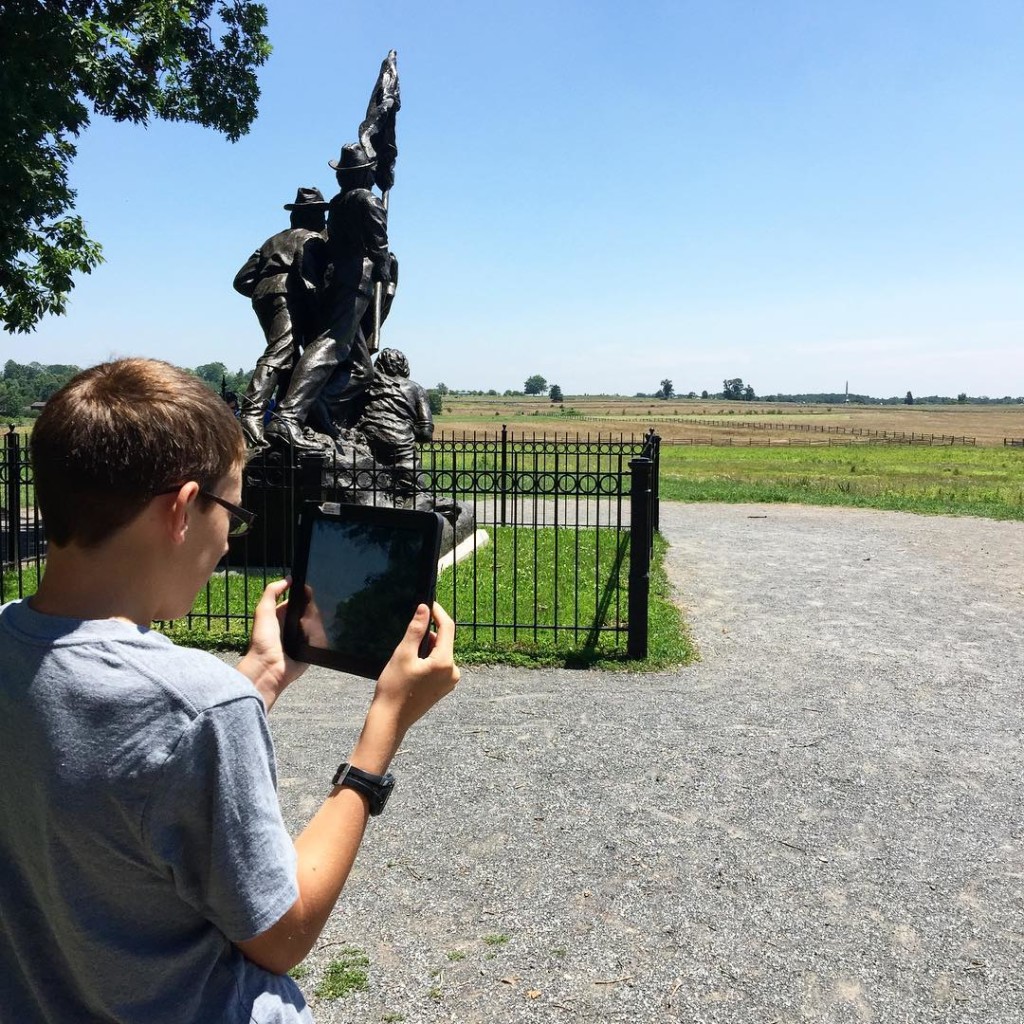 We like that is was self-paced so we could get out and interact with all the volunteers we found along the way.  This Union Officer told us the story of the surrender pencil, and how his daughter later chewed it up!
This Union Regiment from New Hampshire were camping at one of the stops and made fun of the kids' "unusual clothing".
But my favorite stop was the site where Abraham Lincoln gave the Gettysburg Address a few days after the battle.  Did you know it was only about 2 minutes long?  But some consider it to be one of the most important speeches in US History.
It took us a good 4-4.5 hours to do the whole tour.  It was a really informative day and I know the older 2 got a lot out of it!
Take a closer look at what we saw: