I spent last week in Los Angeles for Disney Pixar's Incredibles 2 Press Junket, where we screened the newest film and interviewed most of the cast, including Samuel L. Jackson. Today I am excited to tell you all about the adorable short that comes before Incredibles 2, Bao.  Check out my interview with the Director Domee Shi & Producer Becky Neiman.
Before every Pixar movie comes an adorable short film that a new, up & coming director at the Pixar Studios gets to pitch and create.  I was really excited to learn more about Bao, the Incredibles 2 short, from the Director, Domee Shi.  Not only does Domee have the honor of her first Pixar short placed in front of one of the top blockbuster movies of the summer, but she is the first female director of a Pixar Short too!
Photo Credit: Louise Bishop | <a href="https://momstart.com" target="_blank" rel="noopener">Momstart.com</a>
What is Bao?
Bao is a precious story about love and loss and it is absolutely touching – especially for a mother to watch.  I don't want to give away ANY MORE of the plot as I want you to enjoy it yourself when you see it for the first time.
Here is a little clip:
Bao has two meanings. One is steam bun and one is treasure or something precious.
What is your inspiration for the film? How did you come about it? 
Domee Shi: I came up with the idea over four years ago technically. I think it was in my office late one night and I was really hungry. I really wanted to do a modern take on a classic fairytale like The Little Gingerbread Man but with a Chinese dumpling. And actually I was just doodling this image of this mom nuzzling her little baby boy dumpling to death. It just popped into my head. I had to draw it out, and as I was drawing I started developing this story.
I was also drawing a lot of inspiration from my own life growing up. I'm an only child, and ever since I was little I feel like my mom and my dad have always treated me like a precious little dumpling, always making sure that I'm always safe and never wandered away too far.  I want to explore that relationship between this parent and this child and this mom character learning to let go of her little dumpling. 
Tell us why you chose to do the point-of-view from the mom verses the dumpling?
Domee Shi: When I'm coming up with stories or when I'm developing any art or anything like that, I want to learn something new as well. And if it was just from the dumpling's point-of-view, I already know what that is, 'cause that's me. And I guess I wanted to learn what it was like for my mom learning to let go of me. And so, I decided to explore this idea from the parents' point-of-view.
Did you consult your mom?
Domee Shi: Yes, she has a creative consultant credit actually. We brought her in twice to do dumpling-making classes for the whole thing. It was really important for us to get all of those little details right and to get the animators and effects artists in there studying my mom's technique of how she folds the dumpling exactly and kneads the dough and poking the dough and smelling the pork filling. 'Cause it was important to get those details right,  just to get them as accurate as possible on the big screen.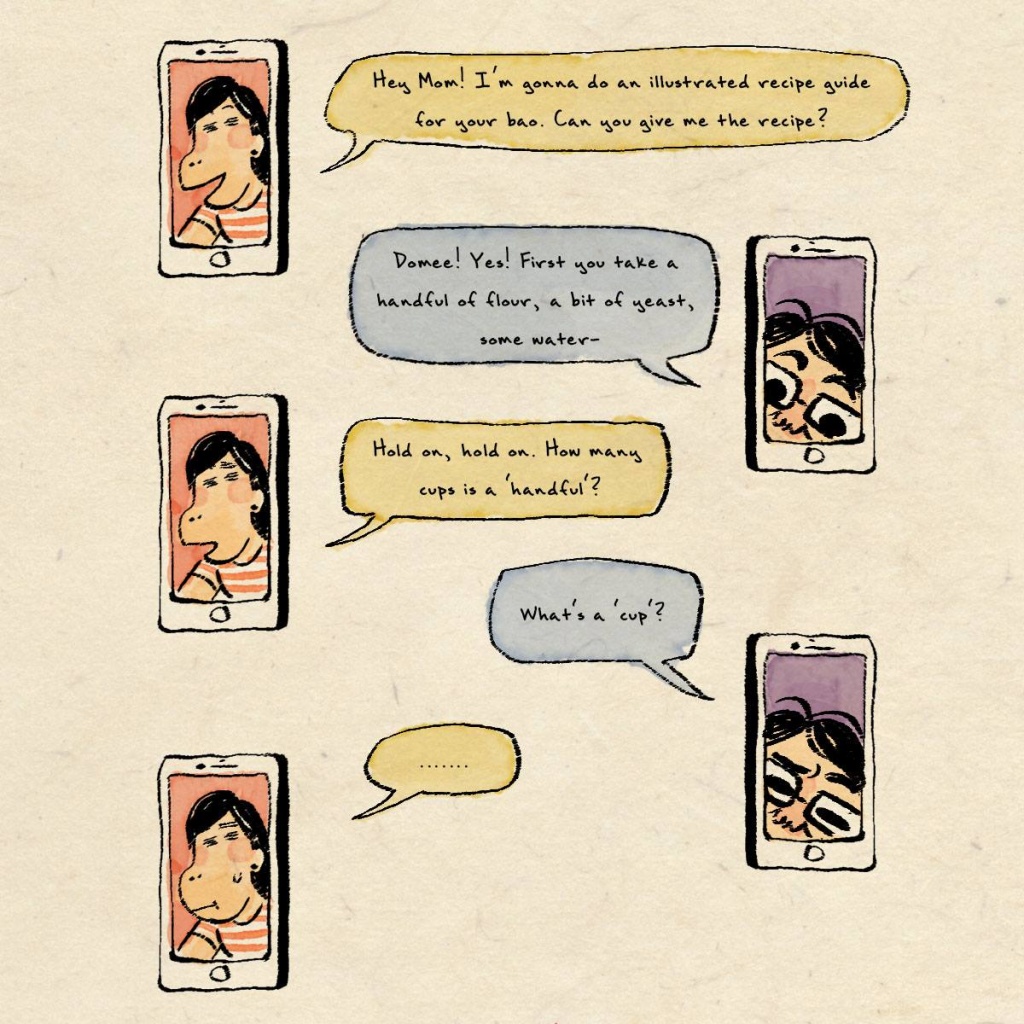 Want to learn how to make dumplings?  Click here to see Domee Shi's mom's recipe.
Hopefully I'm the first of many female Pixar Short Film and feature film directors.
Could you give the story of how you came to work with Pixar?  What a dream come true. 
Domee Shi: I came to Pixar as a story intern in 2011, and the story internship is like a three-month storyboarding bootcamp, and you just do assignment after assignment. You pitch to a whole room full of veteran story artists, supervisors, directors, every week. And that was kind of my way of training myself to be up for this job. And then they offered me a fulltime position as a story artist on Inside Out. 
And so, I worked on Inside Out for about two and a half years, and then I moved on to The Good Dinosaur. Then I moved on to Toy Story 4. I even did a small stint on Incredibles 2. I boarded the sequences with Edna and the baby. 
Then it just so happened that one year Pixar did an open audition at the studio for anybody who has ideas for short films. And I signed up and pitched three ideas. Bao was one of them. And the rest is history. 
As the first female director of a short at Pixar, how do you feel about? 
Domee Shi:  I feel super honored and humble, but hopefully I'm the first of many female short film and feature film directors. It's been awesome. It almost didn't hit me that I would be the first, because making the short I was just focused on finishing it and hoping that people liked it or understood it. And now I can kinda sit back and bask and be like wow. We're blazing that trail. 
Becky Neiman: It's happening. And you had a really strong female leadership team. It's us, but it's also our editor, our production designer, our sound editor, our production manager, technical manager. It was super inspiring for us. 
They Both Feature Strong Super Moms
How did you feel when you found out your short was going be in front of Incredibles 2? 
Domee Shi: Oh, my gosh. It was amazing. 
Becky Neiman:  When we start on these things, one, we're not even sure that they'll green light it.  And two, we're not sure we'll be able to finish it. We're definitely like the indie wing of Pixar, the shorts programs is — you know, the feature films are what need to get made. And so, oftentimes we'll have to stop production so that artist can go work on those. So, we had a lot of starts and stops. And, yeah, and then we don't even know if we'll be able to be in theaters or — you know, so, we didn't. 
We only just found out like within the last year that we could finish it and that we'd be attached to Incredibles 2. And we could not believe it. We know that this feature is so highly anticipated and so that just means we hope more people will be able to see it. And the thing too is that we've noticed is, on the surface they look like very different films, but they both feature strong super moms. And so, we feel like there's this really sweet connection between two. So, it's been awesome for us.
We loved meeting with Domee and Becky and hearing their passion and hard work they put into Bao.  You are going to love this sweet short and may even shed a tear or two! 
Disney Pixar's Incredibles 2 is in theaters June 15, 2018 
This movie was, for lack of a better word, INCREDIBLE – full of laughs, tender family moments, and edge-of-your seat fun.  It is truly a great movie for the whole family to see and perfect for Father's Day.  I can't wait to tell you more about it – stay tuned for my review on Friday, June 15 – but in the meantime, make sure you have grabbed your tickets now!
Other Incredibles 2 articles you may be interested in:
Frozone Tells Us How To Be Cool: My Interview with Samuel L. Jackson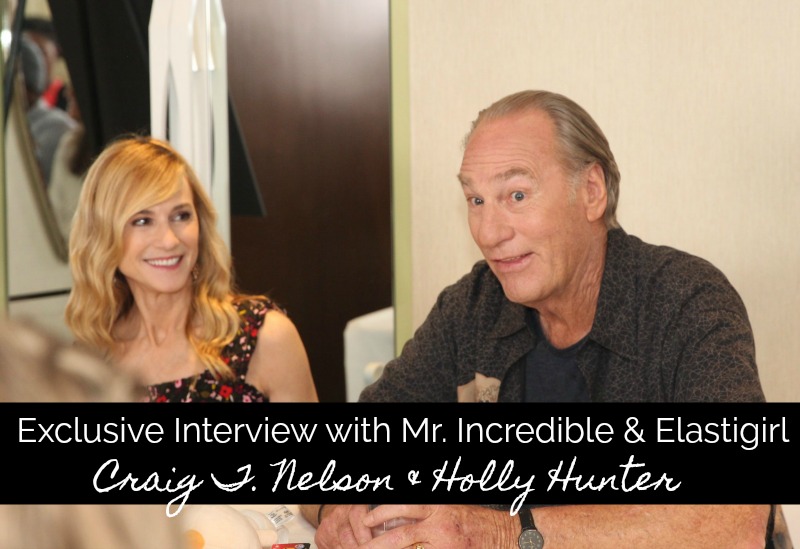 Exclusive Interview with Craig T. Nelson & Holly Hunter

Incredibles 2 and Pixar Fest? What an INCREDIBLE Trip!
10 Things You Can Not Miss at Pixar Fest at Disneyland
Disclosure: I was invited to attend the Incredibles 2 Press Junket by Disney in return for my review of Incredibles 2. All opinions are my own.