One of the most highly anticipated rides at Disney's California Adventure in Anaheim, California is the Cars Land Radiator Springs Racers. This rides boasted wait times of over 90 minutes on average this summer and a FastPass to this ride is one of the most sought-after tickets in the park – we're talking Willie Wonka Golden Ticket equivalent.
As a family that grew up loving the Cars franchise, we were thrilled to get the opportunity to visit Cars Land this summer. After hearing all the hype about Radiator Springs Racers, we were a bit nervous that either we wouldn't have the opportunity to ride it or we'd spend half our day at the park waiting to ride it. I had done a bit of research and read that line waits were up to 220 minutes by 10 am and FastPasses for the day were gone by 9 am. I was pretty scared that we'd go all that way and NOT get to ride it.
With a little bit of smart planning, this family of 5 was able to ride it not once, not twice but THREE times with very little wait each time. Y'all, it was such a fantastic ride and absolutely worth all the hype. But there is no need to think you will not be able to ride it. As long as you are prepared, you won;t have to wait in the long lines.
If you are heading to Cars Land anytime soon, let me give you a few tips that worked for us to ride Radiator Springs Racers 3 times!
1. Visit California Adventure on the slowest day of the week
Obviously, if you can plan it, visit CA during the low peak times of the year. We didn't have that option, as our trip was smack-dab in the middle of the summer. So we did the next best thing, and planned our day to visit on the recommended slowest day of the week, which for us in the Summer of 2013 was a Tuesday. It was still pretty crowded, but it was not a Magic Hour day for the park, so attendance was lower than what it could have been.
2. Get in Radiator Springs Racers FastPass Line first thing in the morning (before the park opens)
We arrived at the California Adventure gates one hour before it opened and there were already about 20 people in each line. They opened the gates 30 minutes before the park opens and we were "walked" in with a roped barrier just past the circle on Buena Vista Street. From here, you have the option of standing in line to get into the park OR to get a FastPass for Radiator Springs Racers. One person can wait in line for the FastPasses and get one per ticket. So, have dad wait in line for the FastPasses while the rest of the family wait to get into the park. This line starts in front of the Carthay Circle Restaurant and when the park opens will be "walked" to the FastPass booth for RSR by a cast member – it is in front of "It's Tough to be a Bug." The above picture is the line we stood in after they let us in the park (luckily, this was the crowd behind me).
3. When the park opens, the rest of the family walks directly to Radiator Springs Racers
It's really fun to be at a Disney Park when they open for the day. At California Adventure, Lighting McQueen escorts you all the way back to Cars Land. If you walk directly to Radiator Springs Racers and get in line, the wait is less than 20 mins (depending on how far back you are in the line). Our wait time was under 15 minutes and that was plenty of time for Dad to catch up with us in line with our FastPasses for an hour later. Ride #1 of the day.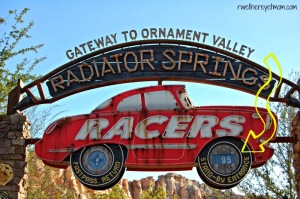 4. Ride Radiator Springs Racer with FastPass #1
After our first ride, we hopped on over to ride Luigi's Flying Tires. By the time we waited in line and rode it and popped over to the Cozy Cone Hotel to meet Mater and get a snack, it was time for our FastPass window to ride RSR again. Ride #2 of the day. The picture above is the wait time one hour after the park opened – yikes!
5. After FastPass #1 is complete, get another FastPass
We loved the ride so much, that we sent Dad again to get another set of FastPasses if they were still available. It was 9:30 am at this point and he was able to nab another set of FastPasses – for 7:00 pm. When we walked by later that morning, the machine was closed for the day. You snooze, you lose….. And when we rode RSR at 7:00 pm, the wait was over 2 hours. Ride #3 of the day.
6. If all else fails, Ride in Single Rider Line
If you don't mind riding in a car with a bunch of strangers (there are 6 seats in each car), than hop in the Single Rider Line. Each time we rode RSR, the single rider line had less than 20 people in it. The wait times can be unpredictable, but it would beat waiting 2 hours to ride it.
So, at this point, you think we're crazy for a plan like this, right? Wrong!! Trust me, you do not want to visit Cars Land and not ride Radiator Springs Racers. It is a fantastic journey through the adorable story of Cars, complete with a race at the end. As expected, Disney does everything well and this ride is an example of submersing your senses for an exciting 2 minute ride. Well done and not to be missed!!
If you have any other tips to riding this ride, I'd love to hear them. Please leave them in the comments below.