I spent last week in Los Angeles for Disney Pixar's Incredibles 2 Press Junket, where we screened the newest film and interviewed most of the cast, including Samuel L. Jackson. We also spent a little time learning about the newest animated series to come to the Disney Channel – Big City Greens – it's adorable and a must see for kids this summer! Here's why.
For kids, summers are all about sleeping in, grabbing a bowl of cereal and popping on a cartoon.  I did it as a kid and now my kids do it too.  When my older two were younger, Disney's Phineas & Ferb was their show of choice.  It's was all about summer adventures!
I'm excited to tell you about Disney's newest animated series that debuts next week that is another fun summer show for kids.  We screened the first 2 episodes and meet the creators of Big City Greens while in Los Angeles last week for the Incredibles 2 Press Junket.
Big City Greens premieres with a week of new episodes daily, Monday, June 18th – Friday, June 22nd, as part of Disney Channel's GO! Summer. After the debut week, new episodes will premiere throughout the summer on Monday and Wednesday mornings at 10:00 a.m. EDT / PDT.  I really enjoyed the show and think my 9 year old is going to love it to! Here's why:
5 Reasons Why You're Going to Love Big City Greens
Big City Greens is Created by Brothers
Brothers Chris & Shane Houghton created Big City Greens together.  As they described their experiences in our Q&A with them after we screened the show, they were a delightful pair, working well together as they riffed and joked with each other.  They both have a background in animation – most recently, Chris worked on Gravity Falls and they both worked on Harvey Beaks together.  And so they decided to collaborate on Big City Greens, basing the cartoon off their own childhood.
I just think it's so cool to see siblings working so closely together – I know their parents must be proud.  As Shane put it best, "The biggest benefit of working together is that we are family.  We know exactly what each other likes, what they are going for, what they mean even if they are not using the correct words.  It works very well and we are very thankful and blessed to be working together."
Big City Greens is Based on their Childhood Experiences
Chris & Shane grew up in a small town in Michigan, on a farm, where they played outdoors with animals and ran free each summer – sounds idyllic doesn't it?  They both went to college in big cities and moving from a small town home into a big, scary city was a bit of a culture shock for them. They took that, along with the people that they knew growing up and created Big City Greens.
The characters of the show have been drawn from inspiration from the people they knew growing up. Cricket Green is based on Chris – a rebellious little boy who gets into a lot of misadventures.  Gramma Alice is based on their own Grandma Alice – they describe her as "sweet & sour".   Bill Green, the dad, is based on Chris' father-in-law, who's actually named Bill – a farmer they created based on the farmers they grew up around.
In the show, Cricket joy rides the lawn mower often, which Chris & Shane both described loving riding the lawn mower around the farm at a young age.
Big City Greens has a Family Moral in Each Episode
I was impressed that beneath all that fun in each episode, there is a moral that your kids will see – it's not always glaringly obvious but it's there. As Shane puts it, "We always said we wanted the show to be 2 parts funny & 1 part heart – we want every episode to say something." As a mom, I love this.  There are TOO MANY shows on TV now that are just brainless.
Big City Greens has Fun Guest Stars
Big City Greens have a lot of fun guests showing up to voice the cast including Emmy Award-winner Jon Hamm as store manager Louis; Emmy Award-nominated Raven-Symoné as news reporter Maria Media; GRAMMY Award-nominated Busta Rhymes as a wise fish; and Danny Trejo as bodyguard Vasquez. They are both excited to have so many great actors join the cast.
Big City Greens is Renewed for a Second Season
Disney has renewed Big City Greens for a second season, so you know they are confident that it's a great show that will resonate with kids.  They already have over 20 episodes completed, and they (and we) hope they continue on for many seasons.
Make sure you catch Big City Greens next week with a new show coming out each day, Monday, June 18th – Friday, June 22nd, as part of Disney Channel's GO! Summer. After the debut week, new episodes will premiere throughout the summer on Monday and Wednesday mornings at 10:00 a.m. EDT / PDT.
And don't forget to catch another terrific summer animated movie, Incredibles 2!
Disney Pixar's Incredibles 2 is in theaters June 15, 2018 
This movie was, for lack of a better word, INCREDIBLE – full of laughs, tender family moments, and edge-of-your seat fun.  It is truly a great movie for the whole family to see and perfect for Father's Day.  I can't wait to tell you more about it – stay tuned for my review on Friday, June 15 – but in the meantime, make sure you have grabbed your tickets now!
Other Incredibles 2 articles you may be interested in:
Frozone Tells Us How To Be Cool: My Interview with Samuel L. Jackson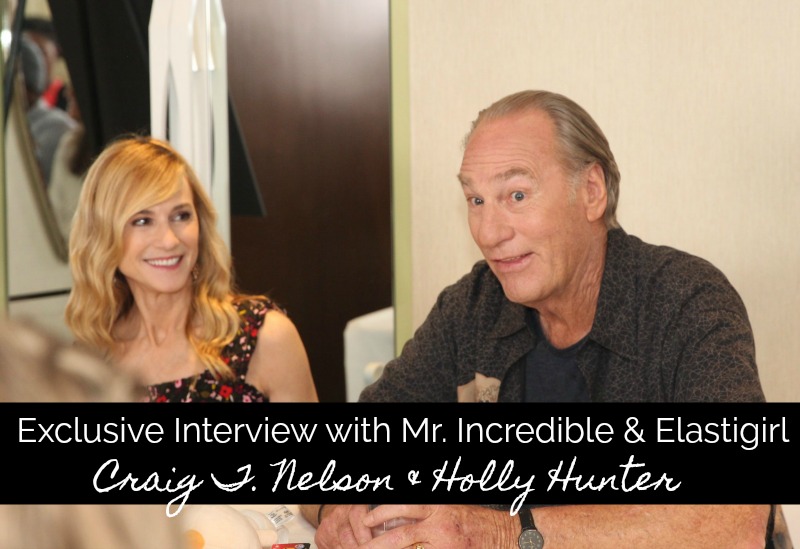 Exclusive Interview with Craig T. Nelson & Holly Hunter
You're Going to Fall In Love with Bao, the Pixar Short Before Incredibles 2
10 Things You Can Not Miss at Pixar Fest at Disneyland
Disclosure: I was invited to attend the Incredibles 2 Press Junket by Disney in return for my review of Incredibles 2. All opinions are my own.