In light of the success of Disney Pixar's Incredibles 2,   I am so excited to bring you interviews with the cast of the movie, including Samuel L. Jackson   and Craig T. Nelson.  Today, we are talking to the brother & sister duo, Bob Odenkirk ("Winston Deavor") & Catherine Keener ("Evelyn Deavor").
When I first learned I would be interviewing the cast of Incredibles 2, I was so excited to be meeting the original cast – Holly Hunter, Craig T. Nelson, & Samuel L. Jackson.  But after screening the movie, I was just as excited to interview the newcomers to the Incredibles franchise – Bob Odenkirk from Breaking Bad & Better Call Saul and Catherine Keener – seen in Get Out, Capote, and Being John Malkovich to name a few. The Deavor siblings were such an important role and after meeting both, you can see why they were perfect for the role.
When Catherine Keener walked into the room, she was overjoyed to see a room full of women, calling us "her people." And of course when Bob Odenkirk joined her a few minutes later, he jokingly told us he was a "good dad – only dropped his children a few times." From this, we knew were were going to have a great interview.
Bob Odenkirk: I related to Mr. Incredible, and I want to make the observation that eventually he got good at it. Right? And they came to like a kind of equilibrium with the kids. And it's very true that, you know, a lot of times, if it's just one parent it's kind of easier, especially after a little while or you get in sync with the kids. Right? I experienced that a lot. I loved being a dad. 
What was it like getting the call from Pixar to do the film?
Catherine Keener: It wasn't Pixar, by the way. It was Brad Bird. I got a call from my agent and she said that Brad Bird wants to call me.  So we had an appointment to talk. I didn't know that the movie was being moved up a year. 
So, I got on the phone and I started pouring praise and all this on it. And he said, "well, I'm really busy" and I said, "oh, well, I'm in." And he goes, okay, great. It was like that. It was like go back to your work. So, it was about a minute phone call. For real.
What makes Brad Bird different to work with than other directors in Hollywood? 
Bob Odenkirk: Well, he's not just different from all of the directors. He's a lot like the best directors.  These guys know what they want, and they dial it in just so — and that could sound like oppressive to an actor. It's not though. 
Somehow it's like a challenge that you wanna meet, and it's like a neat thing to do it. And you feel accomplishment when you do it. But also they're all willing to hear, especially in the early stages of a scene, what do you wanna try. Try something or even maybe after they got exactly what they want, you can say, yeah, but I don't know. I had a different thought about how to say that line. And they'll go let me hear it. And then they go down that road together, but they all are dialing it in just so. 
Catherine Keener: It's so exciting, because you go into somebody else's world and then create your own. It's really exciting when that happens, which is why all actors want to work with great filmmakers. That's really where it goes. When they start out and before they're compromised by the business and stuff, everybody does it because of the creative reasons.
What's it like seeing yourself animated? Can you look at you characters and see yourself? 
Bob: I don't know. People have said my character looks a lot like me, and there're ways I think that it is. And then there are ways I'm like, wow, I'm not remotely like that. Obviously I don't dress as well as the character. That's for sure. 
Catherine Keener : But you're so — he's so handsome, right? I mean you're so handsome. I mean come on. 
If you could have one super power in real life, which one would it be and why? 
Bob Odenkirk: Very good question. She's got a best answer. 
Catherine Keener:  No, I don't. 
Bob: We've been asked it. I like her answer. I'll say mine, because it's dopey. I would like to be able to eat whatever I want and not gain weight. It's an obsession. It's a part of my life too much, and that's what I wish I could have. But I like hers. It's a better idea, and it's really — it would be wonderful. 
Catherine: Well, I would just like to be able to go home — that's all I wanna do,one direction though.
Bob: Like, she'll still go to the airport, wait in line, go through to get somewhere – but then going home is always [CLAP] like that. 
Catherine: And I'm home. I'm in my pajamas. My bed's made. Clothes are off the floor. And I'm ready to go to bed, you know. 
Bob: Wouldn't that be the best?
For this role, were there any challenges, or did it just come like clockwork? Were there any scenes that maybe you go, oh, let me try it again? 
Catherine Keener: There was one scene.  It was like one run on tape for hours.   I would start and I'd be, 'oh, wait, wait' and he's like 'that was good. What are you doing?'  Sometimes you feel honestly, I was in the pocket there. I'm gonna walk away. But, you know, often you don't. And mostly you don't really know the truth anyway, you know.
You have to trust Brad, because he's putting that movie together, obviously, up at Pixar. So, you're not really seeing that. And he knows the tone of it all and the other characters, and it's changing over time. So, you could feel it changing in the script, the tone, a little bit, but you don't really know where or how.
And you never have the whole script. But you're guessing at what might work. So, you give him what he wants, get that first and then maybe say what if I tried this and that.
Bob Odenkirk: Last night, he said 'I used a lotta your stuff.' So I think he was saying that a fair amount of the things that I tried or offered up, he said he used. 
Catherine: But that's also the mark of a great filmmaker. If it's like in a — it might be another way to go or an improvement. I mean that's the thing that they want their worlds widened too.  They're saying it's your part. Here you go. 
Bob:  Because they have confidence in their own vision, they can listen to anybody. And if it's better, they just go, yeah, let's go there. 
Evelyn Deavor was Suppose to be a Man?
Catherine Keener: Brad told me last night that my character was originally a man.  Which clearly what woman could play this man? 
Bob Odenkirk: And I want to say – you guys are all great brains. Everybody talks about Holly Hunter,  Elastigirl's story and being a female superhero is so great for women, and it is. And I'm glad my daughter saw that.
How about that scene where Evelyn and Elastigirl are kinda facing off?   That to me is a scene that you don't see. Two women characters, fully intelligent — super strong, not rushing past it, taking the time, picking each other apart, picking apart the themes of the movie for an extended moment. 
If that was a guy and Elastigirl, fundamentally not the same message to the audience that subconsciously female characters can be well-rounded. And they can be evil and good and both at the same time and be a part of the story on the level those two characters in that moment. It would not be the same to just have Elastigirl be the superhero. That's great.
Catherine:  I am very lucky that I have friends of all kinds. But when I sit around and talk stuff with my friends, it's very enlightening. Just to comment on what you said, which I totally agree with and appreciate is that Brad never made an issue out of that. It's like he never said, oh, this is, like you said, subconsciously. It is unusual, but he just presented it as reality. And in our experience, it is so reality. 
When I saw the movie again last night, I focused on this scene – the one on the couch with them planning how to get Screenslaver.  And it was just as Catherine said – REALITY.  Two women having an intelligent conversation.  When's the last time you saw that in an animated film.  Bravo Brad Bird. What an honor it was to have listened in to these two incredible actors thoughts on Incredibles 2.
Disney Pixar's Incredibles 2 is in theaters NOW!  
This movie was, for lack of a better word, INCREDIBLE – full of laughs, tender family moments, and edge-of-your seat fun.  It is truly a great movie for the whole family to see and perfect for summer.  Make sure you grab your tickets to see it today!
Other Incredibles 2 articles you may be interested in:
Frozone Tells Us How To Be Cool: My Interview with Samuel L. Jackson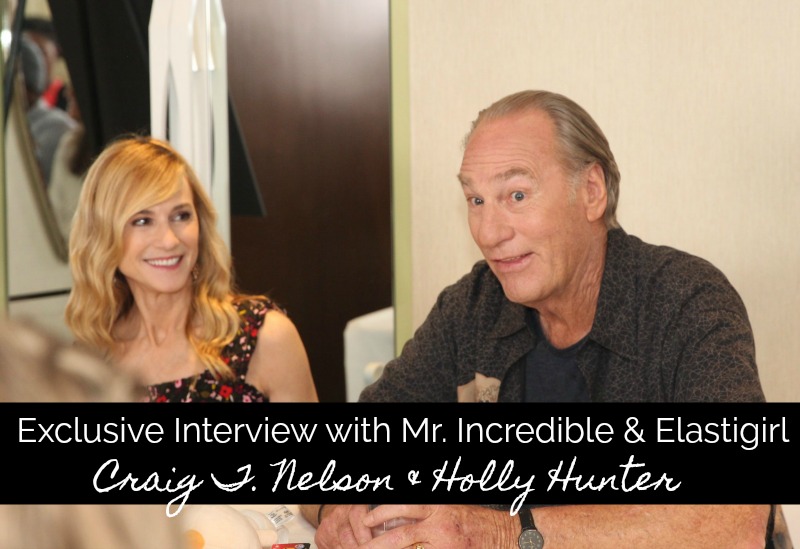 Exclusive Interview with Craig T. Nelson & Holly Hunter 
Why I Think Incredibles 2 is Better than the First One!
You're Going to Fall In Love with Bao, the Pixar Short Before Incredibles 2
10 Things You Can Not Miss at Pixar Fest at Disneyland
Disclosure: I was invited to attend the Incredibles 2 Press Junket by Disney in return for my review of Incredibles 2. All opinions are my own.