There lots of boxes of goodies floating around the internets and begin sent to your doorstep these days but I would arguer than none of them do more good than the Sevenly CAUSEBOX. This beautiful blue box showed up on my doorstep late last week, and I was overwhelmed with not only the contents, but the message of hope it is spreading as well.
Who is Sevenly?
I was first introduced to Sevenly a few months ago by a friend. She had given me a gift from their website – a gorgeous t-shirt, and it intrigued me to learn more about this organization. Based on a core belief that "People Matter", Sevenly commissions the creation of "cause art" to help celebrate the work of charitable partners.
[dropshadowbox align="none" effect="lifted-both" width="650px" height="" background_color="#ffffff" border_width="1″ border_color="#dddddd" ]Sevenly exists to bring funding and awareness to the world's greatest causes. Every item purchased on sevenly.org gives $7 to the designated charity.[/dropshadowbox]
By creating 7-day cause campaigns, customers can purchase this cause art and $7 of their purchase will go back to that cause. By doing this, Sevenly has raised over 4.3 million dollars and helped over 1,363,000 people.
What is the CAUSEBOX?
Sevenly has a new way of giving through the CAUSEBOX by Sevenly. It's a subscription box filled with socially conscious lifestyle goods geared towards women. The box comes every quarter and is filled with $150+ worth of goodies from amazing companies who have goals to change the world. Sevenly gives back 7% of every CAUSEBOX to the charities reflected in the box. In the first CAUSEBOX, Sevenly donated $3,500 to the Jessie Rees Foundation which provides joy and hope for children who have been diagnosed with cancer. But even more than that, the items in the box help provide jobs, meals, education, clean water and more to people around the world. I can't think of a subscription box that does that, can you?
What's in the CAUSEBOX?
Here's what was in my CAUSEBOX02:
HALF UNITED "Fighting Hunger" Necklace – retails for $34

I saw these necklaces last year and have been fascinated with their message. I was humbled to learn from the designer and founder of the company that the necklace is symbolic of a movement away from violence in the direction of positive change. The necklace is made from recycled bullet casings — they are melted down to symbolize the end of something negative, while boldly representing action toward hunger relief. HALF UNITED donates HALF of their profits from every product sold directly to global hunger relief efforts. It is such a beautiful necklace.
Denik "Be The Change" Journal – retails for $17.99
This inspiring journal is perfect for everyone who is always taking notes, doodling, or dreaming of traveling..like me! A portion from every notebook that Denik sells goes toward funding schools in developing countries through amazing foundations like Pencils of Promise.
Perf Turkish Towel – retails for $55
I didn't quite know what a Turkish towel was until I received one in my CAUSEBOX. This flat towel was woven in Turkey and is highly absorbent, fast-drying, and rolls up perfectly for easy packing. It sounds like the "perfect" beach or picnic towel. Perf gives 15% of profits to community development projects in Haiti.
"Good Day" Sevenly Cling – retails for $9.95
I loved placing this cling in my daughter's bathroom mirror to wake up to. I love the message it conveys and it's perfect for a teenage girl to see every time she looks in the mirror – "Today is a Good Day". This is a Sevenly original product that peels on and off windows & mirrors easily.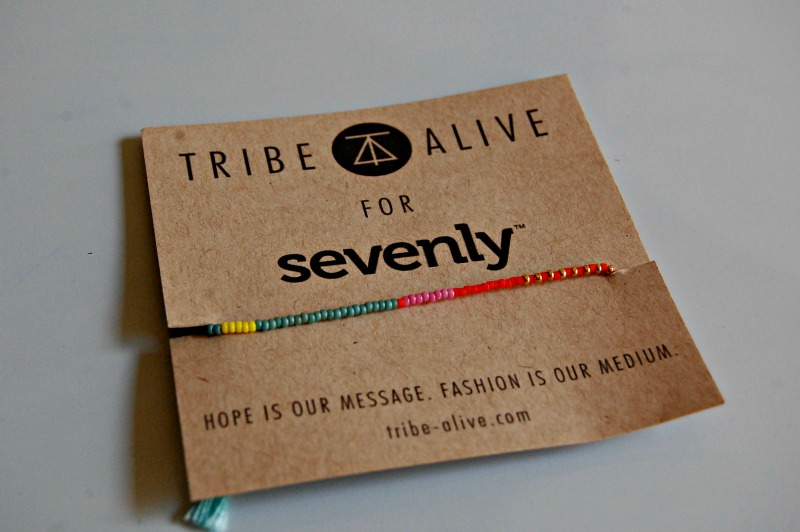 Tribe-Alive Bracelet – retails for $35
This is a delicate, beaded bracelet hand-crafted by women in Honduras under fair trade working conditions, and each piece contributes to community development and job creation in developing countries. Sevenly helped design this beautiful piece and helped Tribe- Alive provide 20 jobs for women in Honduras.
Smarty Pants Vitamins – retails for $4.25
Smarty Pants partners with Vitamin Angels to give vitamins to a child in need for every bottle of vitamins that they sell. Together they have helped over 500,000 at-risk children and counting. We received 3 travel samples in the CAUSEBOX.
Good Spread Peanut Butter & Honey Packet (sample)
We eat a ton of peanut butter in our house, so it was nice to receive a sample of Good Spread. This company helps to feed malnourished kids thought their peanut butter, which makes you think twice about picking out that jar of commercially made stuff, doesn't it? P.S. It was yummy too!
How can you get a CAUSEBOX?
The CAUSEBOX is shipped out every quarter and the one I received last week is currently available. Subscribe to the CAUSEBOX for as low as $49.95 and receive free shipping. You can pause or cancel at anytime. You can also choose to support a specific charity through your subscription by having the option to pick from several charity partners.
By receiving the CAUSEBOX, I was reminded that we can give back in so many ways. It was nice to see all that we can do by purchasing these products in such a unique way. Check out the CAUSEBOX and other great items that Sevenly makes. I promise you, it will make you think twice about the items you are purchasing. We need to get beyond the What's-in-it-for-me mentality and switch to what's-in-it-for-others!
Disclosure: I am a Sevenly CAUSEBOX Brand Ambassador and I was provided with the Sevenly CAUSEBOX to review.  I was not compensated for this article. All opinions are my own.