This week, I had the amazing experience to attend the Guardians of the Galaxy Vol 2 Press Junket in Los Angeles, which included the World Premiere of the movie, as well as interviews with Chris Pratt, Zoe Saldana, and the rest of the cast.  Take a peek at what Chris Pratt said about his time as Star-Lord in my exclusive interview. 
My kids think I am the luckiest person in the world. But not because I am super smart or that I'm their mom.  Only because I was invited to meet their movie star hero.  Chris Pratt.  In my 7, 14, & even 16-year old's eyes, he can do no wrong.  He is funny and charming and smart and he plays these incredible roles….like Star Lord in the upcoming Guardians of the Galaxy Vol 2.  And he's just so darn likable.  Read on and you'll see….
Exclusive Interview with Chris Pratt
Chris Pratt  walked into the room filled with 25 lovely ladies and took a brief step back as we all clapped for him.  "Best entrance of the day….can I go back outside and y'all can do it again?"
"I was so relieved when I saw the movie….."
The interview begins with Chris Pratt asking us if we liked the movie (um….YES!) and then he tells us what relief he had when he saw it for the first time. 
I was so relieved when I saw it because I knew that movie is exactly how the script read. And so when I read the script, I knew it was good. But there's so much stuff that can happen between reading the script, and then watching the movie. There's so many moving parts, some of which I'm responsible for. So, I was like "please be, still be good." I was just relieved to see that the movie was as good as the script.
"I was the first person to hear about it."
He goes on to discuss the fact that he has a father in Guardians of the Galaxy Vol 2.
The nuances I was going to be allowed to play as this character was way different from the first movie. There were certain emotional tones in the first movie with Peter Quill with his mother, with that side of his origin. But this new story, feeling the reality of his biological father and this guy that he's built up in his mind.
It's a very contemporary story, and there's a lot of kids that are going to relate to that, whose dads weren't around. And who have another man in their life who's been responsible for raising them, and possibly how we can take relationships for granted that aren't those relationships we have built up in our mind.  
Maybe just a few weeks or so after the first movie came out, he [Writer & Director James Gunn] invited me to his house and just told me the whole movie. I was the first person to hear it. And, I'm crying at the end.
And he's like, "So, what do you think? Would you?" 'Cause he was kind of asking if I was willing to go there, you know? And I said, "Are you crazy? Yes. Please, it's amazing."
What was it like working with Kurt Russell?
He's such a great dude. He really is.   You know, I've heard a few people say, "It really feels like you guys could be father and son." And we share a lot of the same passions. He's a really cool guy. He's a really open book. Definitely know where you stand with him. He tells it like it is. And, I really like that.
Obviously he's like this iconic dude, who I've known about him for decades before he ever knew I existed. And so, there's always that strange moment when you meet someone and you're a big fan, you feel like you have to tell him, because otherwise you try to build a friendship and it's a little inauthentic.  You just say, "Listen, I have to get this part out of the way, but I love you so much. Oh, you're the best. You're the best. You've always been the best." And he goes, "Yeah, I know. Thanks." All right, let's get to it.
I love the funny parts of your character. Are there any scenes that make it into the movie, or things that you do that like you're like, I have to say this, and they just roll with it?
Yeah.  For sure.  James really knows my voice. And especially in the second movie has written the script in a way that it sounds like stuff I would improv.  But there are a few jokes that I improv that made it.
I remember on the day we were filming one scene,  it wasn't that funny. It was just like we'd done that scene a bunch of times, and they had to do it again because they needed to get something else. And so, I knew they already had whatever the line that was written. They already had it. And so, I knew when they already have it, then that's my room to play, you know?
I say, you're gonna throw this take away anyways, I'm just gonna say whatever I want. And that's what I said when a [different line]. And, you know, it wasn't that funny. And then he put it in the movie. 
**** for spoilers sake, I have taken out the line that he improv-ed but when you watch it, look for the line about who drives the ship the best. 🙂
Peter Quill & #WhatsMySnack
As I mentioned previously, my kids think Pratt is hysterically funny, especially with his Snack Nation bits.
So of course, I had to ask him about it.
So, I have a fun question for you. It's coming from my kids who follow you on Instagram. Thank you for being funny & authentic on Instagram. They wanna know what Peter Quill's favorite snack is, and in turn, what Chris Pratt's favorite snack is.
I'm glad that they asked that, and thanks for following me on what's my snack? snack nation. Peter Quill's shirt in the movie, that's his favorite snack.  That's actually a label from, this is a little Easter egg  from the first movie, some candy on the table and I think I'm eating some of the candy. I don't know if it  ever made it in the movie, but James really loved the label, the art department had gone the lengths of creating this language, and created a label for some candy.
And so, he put that label on the shirt. So, that's like a snack that Peter Quill likes to eat. That's probably his favorite snack. 
What about your snack?
I like cheese and crackers and Crudités, that kind of thing.  If I could, I would just live on that. And Doritos with my face on it I should say.
Chris Pratt & Keeping in Shape
So, speaking about weight and fitness, you obviously got a killer body for the first movie, and you've kept that off and kept your physique up. And lots of people have trouble with that. So, what have you done that kind of flipped the switch?
Well, if I'm gonna be fully authentic, I'm pretty careful about when I reveal myself to the public. So I do it in a way to make you think that I've kept it off the entire time, but I haven't.
Seriously, I keep close to what I need to be, but I have to live my life as well. So, when I do a shirtless scene, or I do a magazine cover, or a photoshoot that I know is gonna get a lot of press, then I dial it in so that I can take a good picture. And so, really, all my eating habits and diet fitness habits are very shallow of me, but they're very much based around how I'm going to put myself out there. 
The best way to think about it is not to have a goal of a weight goal.  It's not to say my goal is 225 pounds. That's not my goal. My goal is six months. It's like six months of consistency. Go to the gym, or do something every day for six months. See if I can do that. Make the goal, a consistency. Build up a bunch of consistency and make it more of a lifestyle, rather than seek out a [weight].
I just did it a couple weeks ago where I had a photoshoot for Men's Fitness, and I made that my goal.  I worked hard for weeks and weeks and weeks, I got in great shape. I felt good. I did the photo. And like three days later I put on like 20 pounds.  Just 'cause I was so goal oriented, you know what I mean? 'Cause then you hit that goal and you're like, nailed it, let's eat.
"You don't have to be present to be a presence." 
Chris, you're a family man, and you talk a lot in interviews about the importance of your marriage, and being a dad.  But you have to balance as well. You're a great husband, and a great father, and you show that socially. But, how do you balance it all?
Thanks for asking me that question.  I know Anna gets asked that question all the time, and she's like, "How come no one ever asks you that question?"
It's really, just a lot of communication. I think you don't have to be present to be a presence, and with technology now, Facetime, little tricks, little things like that. Checking in every day, and nurturing your relationship with your spouse, and not making it just about the kids is important.
We were just in London, and I hadn't seen them in a while, but they got to come visit me, and stay with me for a few weeks. We took a weekend trip for ourselves to go to Paris, and left Jack [his son] behind. And when we were there we're like, "God, it'd be really fun if Jack was here."
Our interview with Chris Pratt flew by but my time with him confirmed exactly what we all think of him.  He is down-to-earth, easy to talk to, and an everyday guy who everyone wants to be best friends with.  So go support your man-crush and make sure to see him in Guardians of the Galaxy Vol 2 when it's out next week.
---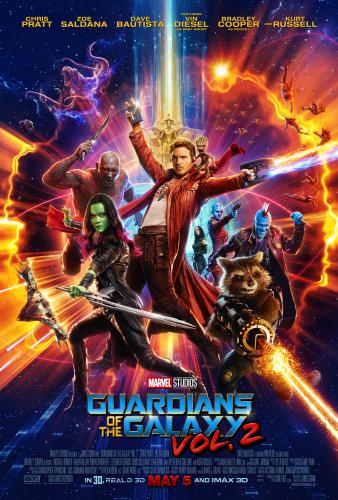 Guardians of the Galaxy Vol 2 opens in theaters nationwide Friday, May 5, 2017
Like GOTGVol2 on Facebook: https://www.facebook.com/guardiansofthegalaxy/
Follow GOTGVol2 on Twitter: https://twitter.com/Guardians
Follow GOTGVol2 on Instagram: https://www.instagram.com/guardiansofthegalaxy/
Visit the official GOTGVol2 website here: https://marvel.com/guardians
Other Articles from the Guardians of the Galaxy Vol 2 Event you may enjoy:

I'm Heading to LA for the Guardians of the Galaxy Vol 2 World Premiere!
Fun Facts About Born in China
That Time When the Dancing With the Stars Cast Taught Me How to Dance
My Purple Carpet Experience at the World Premiere of Guardians of the Galaxy Vol 2
Chris Pratt Reveals Peter Quill's Favorite Snack: Guardians of the Galaxy Vol 2 Easter Eggs
Radio Disney Music Awards
Disney Channel's Descendants 2 Spoilers
Zoe Saldana Reveals Why She'd Like a Break From Playing Kick Ass Science Fiction Females
Does American Housewife Katy Mixon Read Our Thoughts?
Dave Bautista: Guardians versus the Avengers
Meet the Ladies of Guardians of the Galaxy Vol 2: Karen Gillian, Pom Klementieff & Elizabeth Debicki
10 Guardians of the Galaxy Vol 2 Toys You Must Have
Kurt Russell Reveals Why He Thought He Would Kill Guardians of the Galaxy Vol 2
Disclaimer: Disney sent me to Los Angeles on an all-expenses paid press trip, in exchange for my coverage of the red carpet premiere of Guardians of the Galaxy Vol 2. All opinions are my own.