CELEBRATE A MAGICAL CHRISTMAS AT THE GAYLORD TEXAN
Last year after the Christmas season was over, my son had just turned 10 and he didn't want his Christmas elf to "go home". I saw his tears and suggested to him that he wrote a note to the elf and ask him to stay; the response, potentially written by an elf's assistant who looks like me, was favorable. He and my husband made a bed for the elf and the little guy became a permanent part of the family.
A couple of months later, our son started asking questions about the elf, Santa, and Christmas. Pausing for just a moment, I honored his request for honesty and explained to him that Christmas magic is about faith. It's about believing in magic even when you know the practical side. He nodded somberly, taking it all in.
To keep that enchanted, childlike feeling alive for our family, one of our favorite traditions is to spend a holiday weekend at the Gaylord Texan in Grapevine, Texas, just north of Dallas. When they say that everything is bigger in Texas, that definitely includes the magic at this gorgeous resort. As soon as you walk in the door, it's going to be a toss-up as to which of you is most wondrous about the sparkling lights and decorations that turn the Gaylord Texan into a fairyland of Christmas and Hanukkah cheer.
Read more and we'll tell you all about the holiday fun at Gaylord Texan, and how R We There Yet Mom readers can save 50% on tickets to ICE!
CHRISTMAS AT THE GAYLORD TEXAN: LONE STAR CHRISTMAS
Whether visiting Gaylord Texan for the day or staying for the entire weekend, you're going to leave feeling happier than when you arrived. Now through January 1, 2020, you'll find an awe-inspiring number of lights, ornaments, and fun strewn across the resort's four-acres. We're talking miles of lights, millions of pounds of ice, thousands of blooming poinsettias, and then some. The five-story-high Christmas tree will take your breath away, and everywhere you look there is a photo opportunity to catch your kids in a spectacular holiday setting.
When you are ready to eat, there are several options inside the resort. For a kid- and adult-friendly dinner buffet complete with a nacho station, salar bar, delicious fajitas, and a delectable dessert bar, the Riverwalk Cantina is sure to please. A steak house, Italian bistro, and more awaits.
If you opt to stay overnight, reserve a room facing the interior and take a moment to relax on the balcony to soak in the sights and sounds of the Gaylord Texan.
GOOD GRIEF! PRESENTING THE GAYLORD TEXAN ICE! 2019 THEME
The big and beautiful ice sculptures of Charlie Brown and friends are carved from more than two million pounds of colorful ice. Crafted by master artisans who travel to Texas from Harbin, China, families can enjoy spectacular holiday scenes, colorful characters and ice slides!
Before you enter the ICE! display, Gaylord Texan staff will hand each of the people in your party a giant blue parka to help keep you warm. You'll feel the chill of 9°F as soon as you approach the door to the tent, so be sure to bring your hat and gloves. My friend Heidi recommends hand warmers, which is a brilliant idea to keep both your hands and your photo-taking devices comfortably warm.
Winding your way through the ICE! display, you'll find hand-carved scenes from the holiday movie classic A Charlie Brown Christmas. Two million pounds of ice have been shaped by Chinese artisans into colorful, whimsical sculptures. And as you prepare to exit ICE!, an ethereal clear-ice set of sculptures will tell the story of the Nativity.
On your way out of the ICE! tent, rub your hands together, get warm, and turn in your parka. Then turn toward the hot chocolate and warm up. Or if you're a little crazy, like me, get Carvel ice cream (with sprinkles, of course).
KNOW BEFORE YOU GO: GAYLORD TEXAN ICE!
ICE! is a self-guided, walkthrough experience that lasts approximately 15-30 minutes. Plan to spend 30 minutes to 2 hours for the entire ICE! experience. That includes having all the fun you want on six two-story tall ice slides (including one that is designed for smaller children).
Ticket must be purchased by 30 minutes prior to listed attraction closing time.
Snow Tubing Height Restrictions: Must be at least 36 inches tall to ride with an adult on double tube; 42 inches tall to ride by yourself on single small tube; and 60 inches tall to ride on single large tube.
GAYLORD TEXAN CHRISTMAS ACTIVITIES
Celebrate the season than with a Lone Star Christmas! The Gaylord Texan offers lots of delightful activities throughout the resort, including ice skating, Gingerbread House decorating, a Charlie Brown and Friends character breakfast, two Escape Room themes, photos with Santa, and more. If your budget allows, the Build-A-Bear experience is worth the time; staff leads your child through a process of stuffing the lovey and adding a small heart to the inside, hugged and sewn into her new stuffed animal. Bears start at about $16 and range upward from there.
ON THE BLOCKS ICE BAR
Any chance you have some kid-free time or a babysitter along? Go check out the bar inside ICE! Adults 21 and over can upgrade their ICE! experience to enjoy one of two select cocktails. This unique VIP experience is one you won't want to miss!
PROPOSE ON ICE!
You could even propose at the Gaylord Texan! The resort offers a special proposal package complete with the unveiling of a "Will You Marry Me?" ice sculpture in the ICE! tent for the big moment.
R We There Yet Mom readers can save 50% on ICE! tickets on select dates in November and December 2018. To purchase your tickets, visit GaylordTexanTickets.com and enter the promo code RWETHEREYET. Offer valid 11/24-11/28, 12/1-12/5, 12/9-12/12, 12/16-12/20 and 12/22 – 1/5.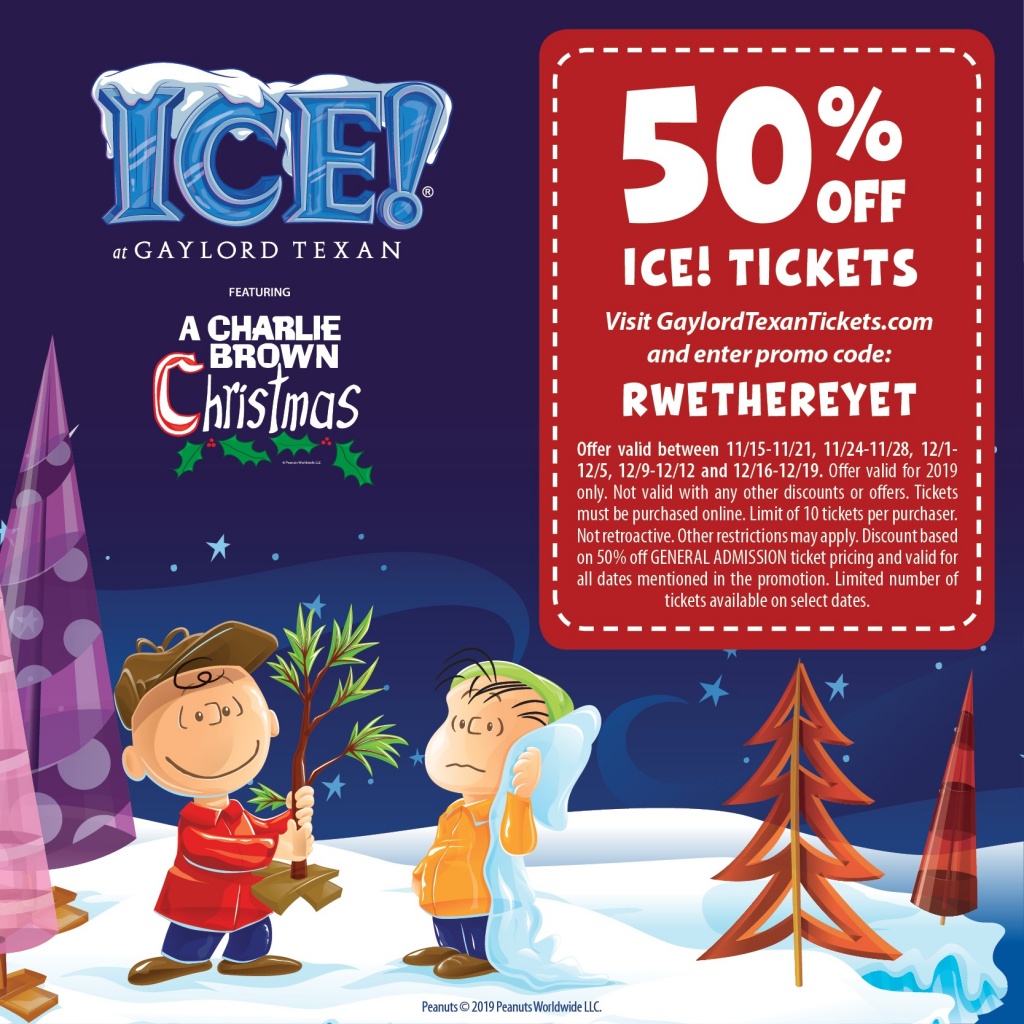 Want more information on Lone Star Christmas at Gaylord Texan Resort and Conference Center? Head over here.
This article was written by guest author, Kristin Shaw.